The official presentation of new livery, branding and first of three new generation Airbus A320neo, powered with Pratt & Whitney GTF engines - this is the beginning of new era of growth has begun for AEGEAN. During the official reveal ceremony with the attendance of the Greek Prime Minister Kyriakos Mitsotakis, stakeholders and employees, Eftychios Vassilakis, Chairman of AEGEAN, and Dimitris Gerogiannis, CEO, stressed that AEGEAN's long-lasting investment in Greece is a token of its faith in the country's potential and prospects for development.

Having already expanded the initial order with 12 additional aircraft, AEGEAN is expected to receive by 2025 a total of a minimum 46 aircraft, A320neo and A321neo, with an option for 12 additional aircraft (up to 58 aircraft). This is the largest private investment in Greece, valued at $2,5-3bn at market prices ($6-6,5bn at list prices). For the next 6 years, AEGEAN will invest more than $500mn per year for the expansion and modernization of its fleet. Until July 2020, AEGEAN will receive a total of 6 new aircraft reaching a fleet of 65 aircraft, adding 1.5 million seats (19 million seats in total for the year) and supporting the expansion of its network in 155 destinations and 44 countries in 2020.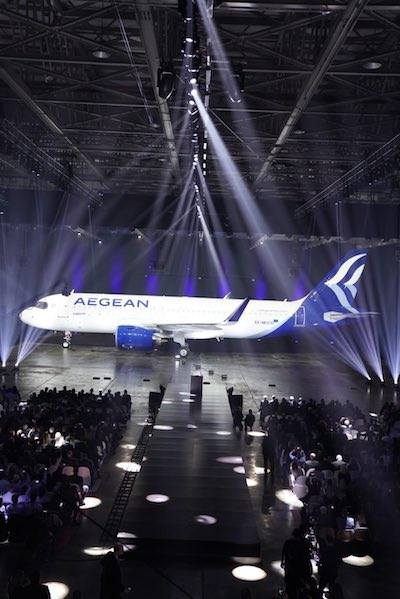 AEGEAN CEO, Dimitris Gerogiannis, highlighted the significance of the investment, reiterating the company's commitment for ongoing growth. "2020, signifies a new beginning, with a new dynamic, new potential and new identity for AEGEAN. The next 24 months will be extremely creative for us, since we will design our renewed product offering. For all of us, the new aircraft represents primarily a platform that enables our people to work consistently towards creating a better travelling experience for our passengers", he mentioned.

Eftychios Vassilakis, Chairman of AEGEAN, during his speech emphasized on the significant and ongoing contribution of air transport in the development of the tourism sector as well as the total footprint for Greece. Moreover, he stressed: "In the wake of our 3rd decade we are committed to continue investing and working towards gaining our passengers trust, operating responsibly, protecting the environment as well as offering growth opportunities for our employees. We will continue joining forces with partners to achieve common goals. With a new brand identity, that embodies the true spirit of Greece and our values of hospitality and credibility we aspire that our new fleet will continue our legacy and become a symbol of a new dynamic period for Greece as well".

Pratt & Whitney celebrated the delivery of the airline's first Airbus A320neo aircraft, leased through Aviation Capital Group and equipped with GTF™ engines. "We are very pleased to take delivery of our first GTF-powered A320neo aircraft, the first out of 46 in total that will be delivered within the next five years initiating our new era," said Eftichios Vassilakis, Chairman of AEGEAN Airlines. "The fuel savings and reduced emissions enabled by the GTF engines will enhance our competitiveness, and the ability to reach further destinations will benefit our passengers and Greek tourism overall."
The new aircraft will start their flights within February, with the first aircraft operating the flight Athens-Munich on Friday, February 14th 2020.