Aeroflot has received its first Airbus А320neo, becoming the first operator of the aircraft type in Russia. The A320neo cabin design has a lot in common with that of Airbus A350, which has been operated by Aeroflot from March 2020. The A320neo bears the name of Anatoly Dobrynin, an outstanding Soviet and Russian diplomat.
The Airbus A320neo will provide a new level of comfort for Aeroflot passengers. The Airbus A320 family aircraft feature the widest and most spacious cabin among narrow-body airliners. The A320neo is configured with 12 Business class seats and 144 Economy class seats. The seat pitch of business class seats is 96.5 cm, that of economy class seats is up to 76.2 сm.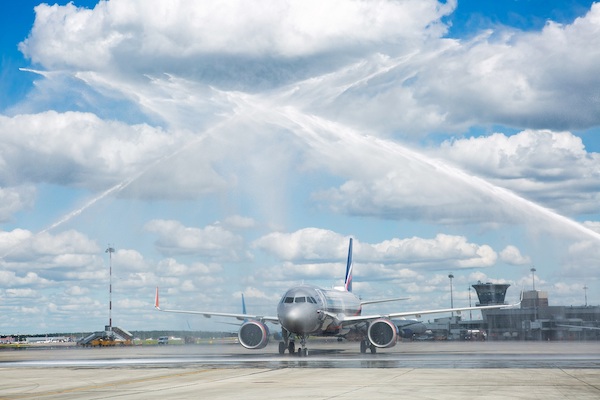 The comfortable Economy class seats feature the ergonomic backrest concept.The adjustable headrest is fitted with neck support function. Economy class passengers can charge their electronic devices on board; each seat is equipped with a tablet holder. Business class seats are designed with premium Jacquard upholstery and are fitted with 13-inch HD monitors, individual sockets, and USB-ports. All passengers can connect to wireless in-flight entertainment system on their personal device. The airliners offer access to high-speed Wi-Fi.
The Business class galleys are equipped with Nespresso coffee makers, which ensure that passengers will enjoy the taste and aroma of freshly brewed coffee.
The A320neo cabin lighting system with colour changes make the flight experience enjoyable at any time of the day or night. Enlarged overhead bins are designed to hold carry-on items.
The Airbus A320neo family aircraft are equipped with new-generation engines and wingtip devices known as Sharklets, which reduces CO2 emissions and fuel burn by 20% (as per the manufacturer's data) compared to previous-generation jets.
By end of 2021, Aeroflot will take delivery of another 8 A320neo family aircraft.