Cyprus' largest airline to interline on Abu Dhabi services
Opens up 100-plus route connections to the East from Cyprus
Cobalt Air, Cyprus' largest airline, is pleased to announce it has entered into an interline agreement with global carrier Etihad Airways. The deal will help Cobalt Air to widen its passenger reach and encourage more tourism from the Middle East and beyond to Cyprus.

The agreement opens Cyprus to a wealth of 100-plus routes from Abu Dhabi to the East. Cyprus originating passengers can book onward services via Abu Dhabi to Sydney, for example, checking in their luggage at Larnaca Airport through to final destination – but with two boarding cards. At present, all Interline reservations (reservations connecting Cobalt flights via Larnaca and Etihad flights via Abu Dhabi) should be made via your preferred travel agent.
The arrangement gives Cobalt a stronger presence in the Middle East and Etihad has a connection once again to Cyprus, a route it stopped serving in its own right in 2014. Cobalt started flying to Abu Dhabi from Larnaca at the end of February this year with Airbus A320 aircraft, with economy fares from 75 Euros one way.
Cobalt's inflight experience was recently enhanced by the introduction of Bluebox Wow IFE on all aircraft. All of Cobalt's flights to Abu Dhabi also feature its new Business Class featuring large bespoke business seats and dine on demand catering.
Paul Simmons, CCO of Cobalt Air, commented:
"Cobalt is less than two years old and to be adopted as an interline partner by Etihad Airways, one of the biggest and most prestigious carriers in the world, is major recognition for us. We are delighted to start this exciting new relationship and offer Cyprus people more convenient connections beyond Abu Dhabi. We anticipate great demand year-round from the UAE for our beautiful Island and this new connection with Etihad opens the market up even more. UAE originating passengers can also fly onwards from Larnaca on our growing network."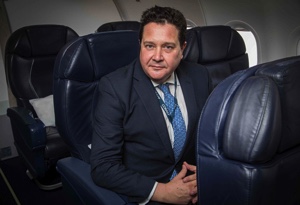 Paul Simmons CCO Cobalt Air

Cobalt Air, which joined IATA at the end of last year, flies Airbus A320 aircraft from Larnaca to Abu with 12 seats in Business and 144 in Economy. Its new business class product is in a two-by-two configuration with a 40" pitch and economy a generous 30". Its business fares include a large seat and a generous baggage allowance (2 X 20 kg checked bags) plus inflight entertainment, where passengers can wirelessly stream movies directly on to their own devices.
Cyprus' largest airline offers flights to 21 destinations in 12 countries.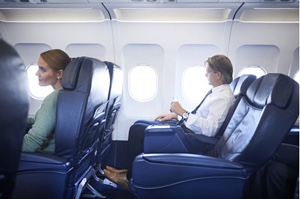 Cobalt Air Comfort