Vistara took delivery of its first Airbus A321neo aircraft. The aircraft - which is part of the order of 50 from the Airbus A320 Family signed in 2018 - arrived in Delhi from Airbus production facility in Hamburg, Germany. This addition makes Vistara the first airline in South Asia to offer lie-flat beds on a narrowbody aircraft and one of the few such airlines across the world. Vistara today also revelead the new cabin products for its A321neo aircraft, which includes world-class cabin interiors and features.
Overall, Vistara's A321neo features a three-class layout with 12 seats in business class, 24 in premium economy and 152 in economy class. The aircraft is the first of six A321neo for the airline, on lease by Air Lease Corporation and part of the 50 A320neo Family aircraft order signed in 2018.
All Vistara A321neo will be powered by latest-generation CFM-Leap 1A engines. These aircraft will be supported by Airbus' Flight Hour Services Tailored Support Package (FHS-TSP) programme to optimise and secure Vistara fleet operations. The aircraft will complement Vistara's current Airbus fleet of 32 A320 Family aircraft.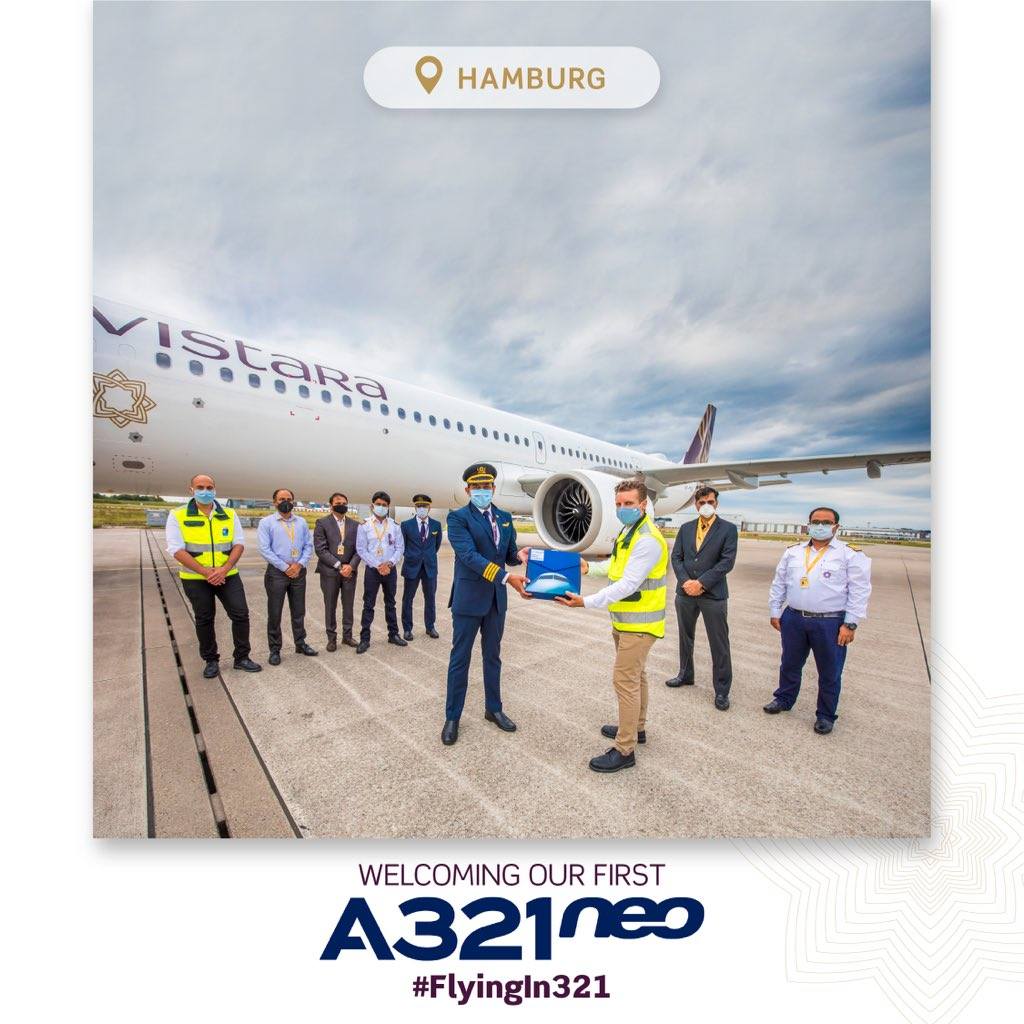 "We are excited to welcome our first A321neo aircraft, the latest addition in our growing fleet. The new aircraft ensures operational enhancement, cost efficiency as well as reduction in carbon footprint for us while enabling extra payload capacity, greater fuel efficiency and higher range. The new cabin products on our A321 aircraft truly complement our promise of providing a premium and world-class flying experience to travellers from and to India. All of these aspects perfectly align with our international growth strategy," said Leslie Thng, Chief Executive Officer, Vistara.
"In these challenging times, differentiation through efficiency, product and customer mindset is what truly matters, and we are proud to see our A321neo as an essential cornerstone in meeting Vistara's strategic objectives for the future," says Christian Scherer, Chief Commercial Officer, Airbus. "Providing a competitive edge through India's best in class business cabin as well as significant advantages in terms of operations, efficiency and environment are a truly wise way for a growing airline going forward."
Featuring Vistara's three-class cabin configuration, the aircraft has a total of 188 seats – 12 in Business Class , 24 in Premium Economy and 152 in Economy. All of them feature 4-way adjustable headrests and movable armrests. Vistara customers will enjoy seat-back entertainment and in-seat power/USB Charging Ports in every seat. The airline's state-of-the-art In-Flight Entertainment (IFE) system features a content-rich multimedia library that total up to 700 hours of content, a superior map experience with 3D flight path map and flight tracker. The aircraft is also equipped with wireless connectivity, which will allow passengers to access the internet through onboard Wi-Fi, 3G mobile data through GSM and GPRS for SMS and MMS services, subject to necessary regulatory approvals.
Vistara's Business Class seats on the A321neo are upholstered in premium, genuine leather that recline into fully-flat beds. They come with 16" High Definition (HD) touchscreen in-seat TV, a Video Handset to navigate the IFE system and generous stowage space. The seats in Premium Economy and Economy cabins are upholstered in high quality, breathable fabric that provide an airy, modern in-flight experience.
Vistara's A321neo aircraft are powered by next generation CFM LEAP-1A engines that reduces noise footprint by nearly 50% and also emit less carbon. The A321neo aircraft are at least 20% more fuel efficient per seat than the previous generation aircraft with the new technology engines and new aerodynamics of the wings (sharklets). The aircraft also boasts an increased operating range due to an additional Centre Tank installed in the Aft Cargo compartment, which increases fuel capacity by 2300 kgs. Additionally, the Airbus Cabin Flex configuration on the A321neo also ensures optimum utilisation of space without compromising on cabin comfort. The powerful, in-built air filtration systems on this aircraft ensure elimination of viruses and bacteria to refresh the cabin air every 2-3 minutes.