The airline was honoured to join Al Fursan, the aerobatics demonstration team of the United Arab Emirates Air Force in this special display on the closing day of the Airshow. flydubai's Boeing 737 MAX 8 aircraft joined the formation and on the flight deck were Captain Rodrigo Barradas from Brazil, Captain Alessio Desideri from Italy and First Officer Sultan Alsharif from the UAE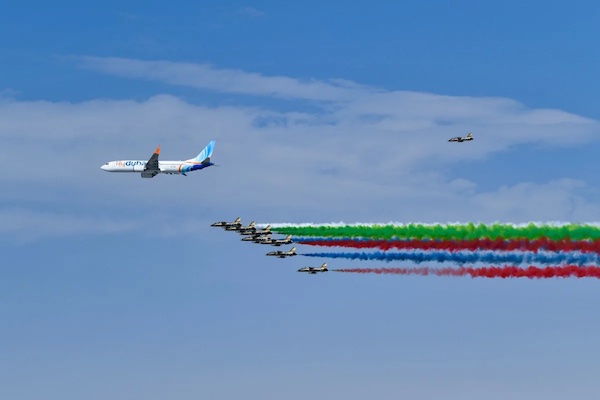 The Boeing 737 MAX 8 aircraft is designed to offer flexibility, reliability and efficiency in the single-aisle market with a configuration of 10 flatbed Business Class seats and 156 Economy Class seats. The MAX business seat takes comfort to a new level with a focus on space, privacy, rest and entertainment while the MAX economy seat offers comfort and comprehensive entertainment options delivered through an 11.6-inch HD screen.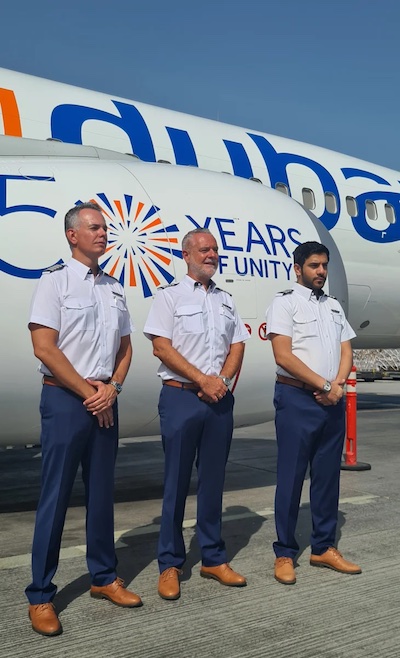 The aircraft has a maximum range of 6,560 kilometres which represents an extension of 370 kilometres compared to its predecessor. The Boeing 737 MAX 8 is powered by two cutting edge CFM International LEAP-1B engines which each produce 28,000 pounds of thrust. Fuel burn, emissions and noise have all been noticeably improved compared to earlier models. The Boeing 737 MAX 8 weighs-in at a maximum takeoff weight of 82,190 Kilograms, with a wingspan of 35.9 meters and a length that measures 39.52 meters.
flydubai operates 18 Boeing 737 MAX 8 aircraft as part of a wider fleet that includes 3 Boeing 737 MAX 9 aircraft, 34 Next-Generation Boeing 737-800 and 55 Boeing 737 models.