United chef Gerry McLoughlin talks about the oddities of serving fancy meals at 35,000ft.
AN AIRCRAFT HAS to have eight glasses on board for every business-class passenger in case they all like a few extra tipples.
That's according to United Airlines' senior executive chef, Gerry McLoughlin, who was in Dublin recently to launch the American carrier's revamped business service, Polaris.
The extra glasses, the Irishman told Fora, are not a testament to the business passenger's appetite for the hard stuff – it's just a precaution because there is no dishwasher on board an aircraft.
It's one of the many peculiarities of serving fancy food and drink at 35,000 feet.
"The food has got to be a little bit more robust," McLoughlin said. "In a restaurant the food can be stacked on a plate fairly high. We're limited because of the space on the (flight attendant's) trolley."
Space – of the lack thereof – is crucial in the aviation game and every inch counts.
That's why it's unlikely you will be offered a steak as you soar across the Atlantic: it takes up more room than the short rib of braised beef that United will serve.
Kitchen to cabin
McLoughlin, who started his food career as an apprentice in The Shelbourne hotel, is in charge of designing the airline's recipes from his kitchen in Chicago.
Every component of a meal – the mains, sides and sauce – must fit into a foil takeaway tray and be able to withstand the journey from kitchen to cabin.
"We put it on a trolley in a truck, it goes up a ramp, the airplane takes off at a 40-degree angle, there might be bit of turbulence – and we still have to be able to put it on a plate and make it look like restaurant-quality food."
McLoughlin road tests every meal from United's headquarters. The recipes are then sent out to regional chefs who cook the food and chill it for reheating on board.
The menu is updated every three months with seasonal ingredients and regional chefs are encouraged to source produce from local farmers.
Since he has no control over how the final product will be presented on the plate, McLoughlin has devised clear, step-by-step instructions for cooks and flight attendants alike to make sure they get it right – and don't accidentally burn themselves.
As well as competing for space and dealing with the reheating process, McLoughlin has to consider the physical changes that occur mid-flight.
"There is research that because of the dry air, you actually lose your taste buds a little bit," he said. "You lose about 30% of your actual taste, so we try to stay away from anything that's too salty because salts come out stronger.
"It's a bit like waking up on a Sunday morning and you've got cotton mouth. We recommend that you stay hydrated on the aircraft because that will open up your taste buds."
He recommends a good helping of herbs because the fragrance "helps your brain" make up for the loss of taste.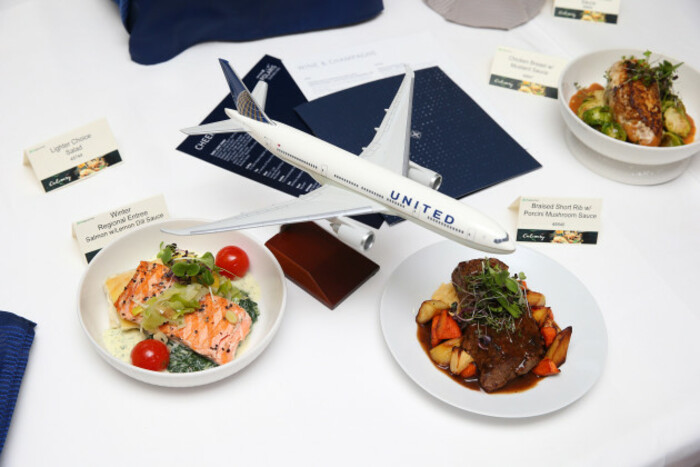 More stressful
Having spent the early part of his career cooking in hotels in Dublin and the US, McLoughlin reckons airline cheffing is on the Gordon Ramsay end of the stress spectrum.
If a meal is late in a restaurant, the chef will get a bad Tripadvisor review. If it's late for an airline, the plane can't take off.
"There's a lot more stress because you've got a whole plane-load of people and the chef has got very tight timelines so the food has got to be cooked and chilled at a specific time," he said.
McLoughlin has been cooking for airlines for 25 years, starting out at United, moving to Continental Airways and then rejoining United when the two carriers merged.
"It was one of those jobs that I thought I would do for a year or two and get a free flight home," he said. "But once you get into the airline business, it's a hidden food industry."
He has travelled the world, explored exotic food markets and worked with highly-skilled chefs – "a fantastic experience".
McLoughlin said he expects to work more with Indian and vegetarian dishes in future cycles because that's what business passengers are demanding.
When pressed for his favourite cuisine, McLoughlin said he finds himself "leaning towards Thai and Filipino food" these days.
"But everywhere has great food cuisine," he said. "I would say I love food. Food is my world. I love it."