While experts are discussing the impact of corona crisis on global aviation industry, 50skyshades had amazing opportunity to see by ourselves how Latvian aviation industry is living the recovery after this unprecedent crisis. Latvian national airline - airBaltic - welcomed us at their home at Riga International Airport. We had great discussion with Chief Operation Officer Pauls Calitis, it is a pleasure to share key points with our readers:​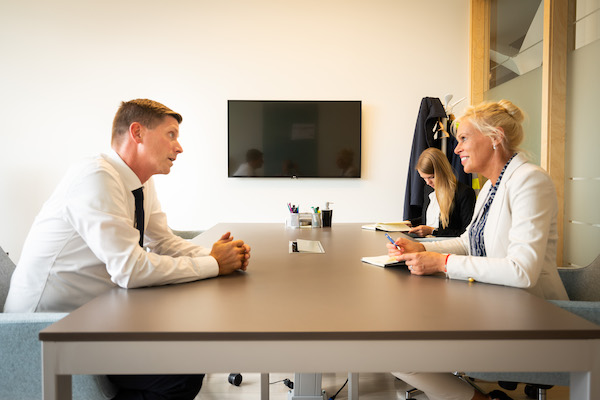 Q. How the airline managed all repatriation flights during the covid-19 lock down? It was the first time in airline's history…
A. I must confess, it was dramatic, when at midnight suddenly everything stopped. We never lived such situation before and I hope we won't have to live it again. It was quite difficult for everyone involved emotionally, especially without any clear visibility of what and how will happen next. Our first concern for repatriation flights was the protection of our crews. Taking in consideration very specific conditions of these flights, we had to adapt our protocols to the unprecedented situation. Cabin crew had to wear full protection equipment all the entire flight, no matter how long haul they were. I am proud and grateful to people working at airBaltic, as we had enough of crew members willing to help our passengers in this situation. To give you numbers, we repatriated approximately 7000 people, Latvian and EU citizens. Also, there were special multi-leg repatriation flights between Germany, Azerbaijan and Latvia. Again, it was especially emotional and meaningful for us as company and our flight crews to help people in such situation to get back home.
Q. Cargo flights during lockdown, what the airline has learned, how it happens now?
A. Again, we were proud to be able to help Latvia and deliver medical equipment when it was crucially needed. Our aircraft are normally meant for passenger flights, so we had to adapt ASAP our aircraft to cargo operations. We were working in close cooperation with Latvijas Civilās aviācijas aģentūra (CAA) in order follow all the rules and regulations and be effective very quickly. I vividly remember the first flight with medical masks. At the time, the number of masks for hospitals was already running low. This is just to tell that we felt responsible to accomplish the mission for the nation, even if it sounds desperate.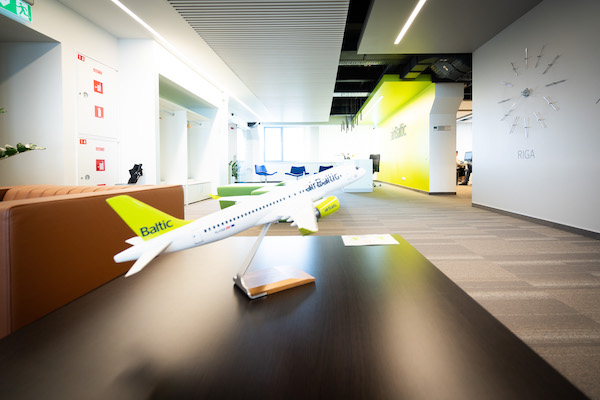 Q. How would you describe the resuming of flights, how soon passengers were back, how their behavior changed the travel?
A. As you know we started resuming our flight from 18 of May, slowly growing the network. We are glad to see airline's passengers back. Before resuming flights, we were considering different scenarios of passenger behavior. But the reality has been quite a surprise, a positive one. Our passengers are very respectful, very collaborative. They are happy to have again the opportunity to fly, to travel. They are strictly following the sanitary protocol and measures. To this day we had very few incidents with any kind of issues with passengers.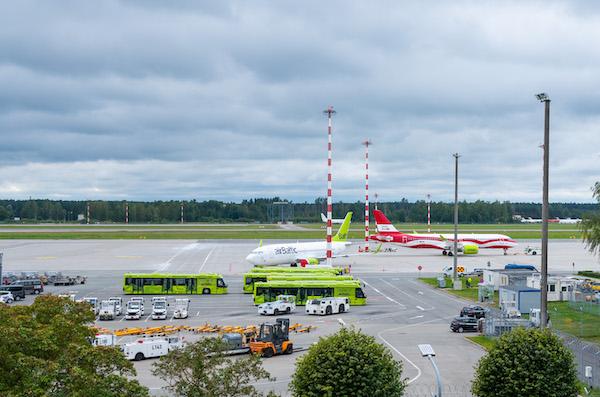 Q. How the corona crisis impacted airBaltic training center and airBaltic pilot school?
A. For a time, the corona crisis stopped everything, every single activity of training center. Today, we're doing much better, especially with pilot training. I must tell that it was a very fortunate decision last year to buy a A220 full flight simulator. The simulator allowed us became operational quickly, as the simulator is located at our base in Riga. Prior to the restart of operations, all our pilots had refresher training in the simulator. Luckily, we didn't have to send our pilots somewhere else. That would be more then complicated due quarantine and multiple travel and stay restrictions. Today the simulator is working 24/7, to qualify our pilots from aircraft types to the Airbus A220. Our Pilot Acadamy is also back to business. We added one more Diamond training aircraft this summer and its been a busy summer for training flights. The Pilot Academy has an important role to produce pilots the pilots airBaltic will need to execute our business plan Destination 2025 Clean. In mid September, the 8th Pilot Academy student group will start their training.
Q. Recently you've became Diamond aircraft Authorized service center, how you see the development of this service?
A. This designation and recognition was very important. It is only the first stage of the project. Right now, we have already started to service Diamond aircraft and we are expecting the demand of services we're offering to grow on the market. Our hangar was completed earlier this year and allows us to already now to cover services for 3 Baltic countries, and even more. Thanks to great collaboration with Liepājas Valsts Tehnikums, this year they launched a new study program for aircraft technicians. The students will have an amazing opportunity to have on the job training with us on real Diamond aircraft. This is more than important to have stable job in their future. After secondary school young people can already make their choice and find their place in the aviation industry.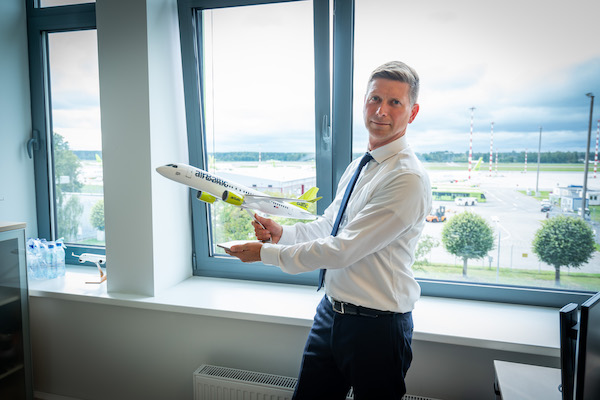 We wish the best to airBaltic and hope to keep you updated on the development of Latvian national airline!
Veiksmi, lai visi jūsu plāni tiktu realizēti!