Tecnam Aircraft appointed three new Exclusive Sales Representatives with the aim to focus the sales and support representation in the United States. Altisky, Volare Air and Flightline Group represent decades of sales and support experience. Altisky's territory includes; Georgia, Alabama, Mississippi, Tennessee, North Carolina, South Carolina, Kentucky, and Virginia.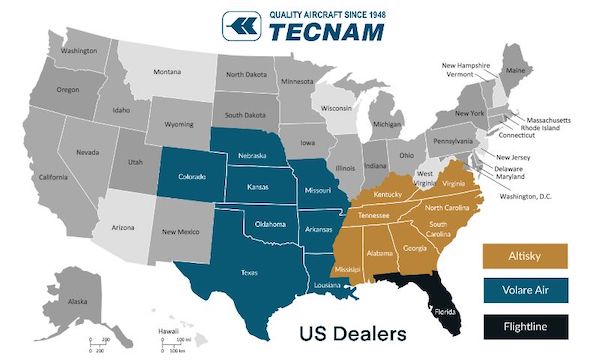 Volare Air's territory includes: Texas, Oklahoma, Kansas, Missouri, Arkansas, Nebraska, Colorado and Louisiana. Flightline Group's territory includes the State of Florida. Each of these companies provide a complete line up of Tecnam flight solutions and full technical support for personal and corporate ownership, as well as flight schools.
Tecnam, among the top world's piston aircraft manufacturers, produces the largest and broadest product line of General Aviation, LSA, Single and Twin Engine Aircraft in the industry up to the 11 seat P2012 Traveller, a very versatile piston twin for short-haul operations.
Tecnam recently introduced the P2010 TDI, which achieved FAA certification. This is a new entrant for the General Aviation market, as it is capable to burn JetA1, Diesel and soon Sustainable Aviation Fuel (SAF). All Tecnam aircraft are the most recent to be awarded FAA Certification in the market and represents the company's dedication to delivering the most innovative, safe and efficient aircraft in the industry.
David Copeland, North America Sales Director for Tecnam US said: "These new appointments represent the best of the best in each territory and our prospects and customers will benefit greatly from their expertise in representing the Tecnam brand."
Walter Da Costa, Chief Sales Officer for Tecnam: "The United States is a strategic market for Tecnam and we want our customers to be feeling our presence and our listening. Together we can shape the General Aviation in the upcoming years."