People have totally different reactions during a crisis time. Corona isolation and stayathome months had very different impact on professionals of all kinds. Some of them becomes creative and are using the time to create, to reinvent, to find solutions.
Aviation has been hit hard, now when a shy comeback, do you think it will be different due to the many restrictions and hygienic standards that airlines have to follow?
Aeronautical engineer, as the rest of France, had to stay at home and… Despite all constraints of "work from home" , he created something, we think is quite necessary to commercial aviation in this "post covid-19" world.
We could not keep us from asking at least a few questions:
Q. The choice of aeronautics, if it was a dream since childhood or it happened otherwise?
A. Aeronautics is indeed the fruit of a passion that emerged from childhood. I also learned to fly a glider before driving. I oriented my studies towards engineering because it corresponds to my analytical mind and my interest in physics. But I only discovered late that I also have a certain creative force. I think my projects come from the combination of all of this.
Q. Do you believe that aeronautics can "reinvent itself" following the corona crisis?
A. It is very difficult to say and it is outside my field of competence. We can say that an industry is characterized by strict processes and large volumes / flows, otherwise it is crafts. So this industry will be destabilized until it can function with normal processes, and until flows are restored. For my part, I aspire to make the plane trip the real experience, because you can only observe the Earth from above, and this is not so frequent. I think humans have dreamed of flying for millennia, not watching a movie or having wifi while flying. It's my opinion.
Let us tell you about a removable separation kit concept for unused seat, PlanBay, proposed by Florian Barjot. After the outbreak of corona virus, he started the research for unoccupied seat concept. The result is PlanBay. Some explanation by Florian " Bay' refers to the initial concept EarthBay which will provide an outstanding flight experience on widebody aircrafts. 'Bay' can refer as well to the unoccupied seat. On another hand, the entire industry, and the World, is working under a 'Plan B' mode during the outbreak and the recovery.In French , the pronunciation of the letter 'B' matches the way to pronounce 'Bay'".
This solutions is meant to be temporary, removable kit for the time of an epidemic outbreak, designed for economy class seat rows.
The goals:
Provide a kit solution for an empty seat to increase physical distancing
Easy to produce & low-cost
Quick & easy to install and remove
Maintain the direct view control by the cabin crew
No modification to the seats and compliance with CS25.785 & CS25.853
Have a look at photos and you will get all the main futures so fast: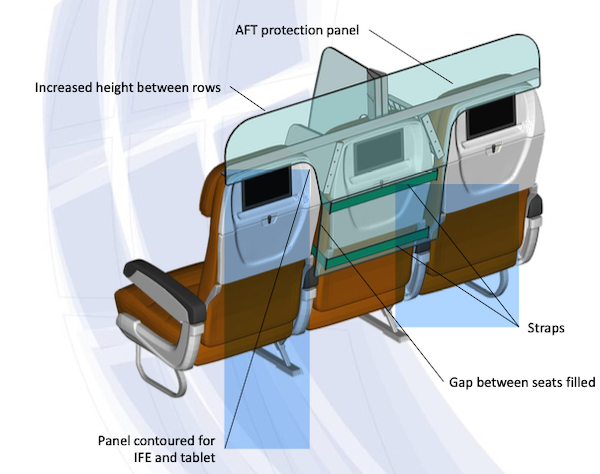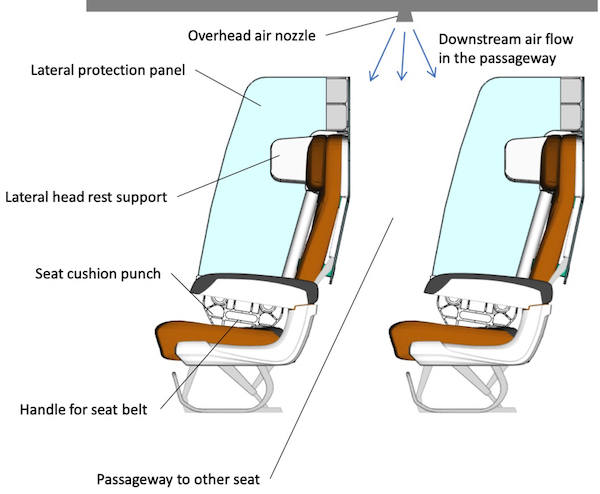 Are there liitations? Yes there are some:
No installation at emergency exist
No reclining to be consistent with distancing measures, but compensated by a lateral head rest
You might tell us, the idea is good, what now? What are next steps to be taken so the idea would actually become a reality in a post covid commercial aviation?
The essential is to have a plan, and Florian Barjot has one:
Obtain Airline/Operator interest for the concept
Partnership with aircraft interiors suppliers with production, logistic and certification capabilities
Produce a prototype for the first adopter(s)
Final design & certification
Production & Entry Into Service
Be a part of "new" commercial aviation, for any question or idea, contact Florian and let give this concept a real life as soon as possible, to let millions of people fly and travel again! For more information, visit earth-bay.com.