Belgian police investigating the deadly Brussels airport blasts that killed 28 travellers have concluded their investigations on site, officials say.
A provisional survey of the terminal found the main building was stable.
Meanwhile, a Belgian news agency says prosecutors charged a second man in connection with a foiled attack in the Paris region. There is no confirmation.
Belgian police carried out 13 new raids on Sunday and took nine people for questioning. Five were released.
In Brussels a march against the attacks was cancelled, and people paid tribute to victims at a makeshift memorial in the central Place de La Bourse.
However, a group of self-declared fascists making Nazi salutes and chanting stormed the area, confronting Muslim women.
The BBC's Anna Holligan, who is at the scene, said police were overwhelmed.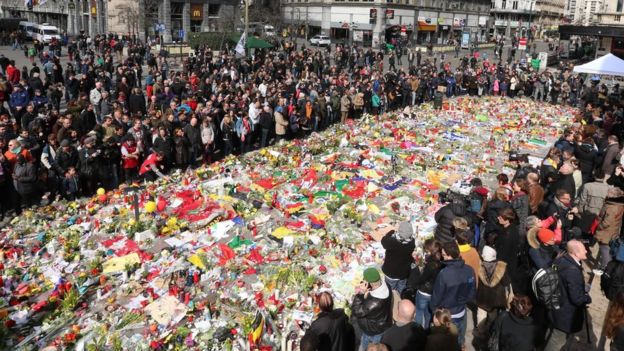 I
mage copyrightAFP
Image captionFloral tributes to the victims have continued to attract crowds in central Brussels
Several people have been arrested on terrorism charges in Belgium, France, Germany and Italy since the attack in Brussels on 22 March, which left 28 people dead. A previous death toll of 31 counted the three suicide bombers.
The latest charges reported to be laid were linked to a raid in Argenteuil, near Paris, on Thursday. French police said an attack was in an "advanced stage" of preparation.
The state-owned Belga news agency ( in French) quoted prosecutors as saying the man, named as Abderamane A, was charged with involvement in a terrorist group.
He was detained on Friday after being shot in the leg at a Brussels tram stop.
Abderahmane A is the second man to be charged by Brussels prosecutors in the past two days in the wake of the arrest of Reda Kriket, 34, in Argenteuil. The other was named as Rabah N.
Belgian prosecutors said on Saturday they had charged a man named as Faycal C in connection with last Tuesday's attacks.
The third man?
The charges were "participation in the activities of a terrorist group, terrorist murders and attempted terrorist murders," a statement said. A search of Faycal C's home had found no weapons.
It gave no further details and made no comment on Belgian media reports that he was the third man in an airport CCTV image that showed the two suicide bombers - Najim Laachraoui on the left, and Brahim el-Bakraoui. Belgian media say the third man is Faycal Cheffou, a freelance journalist.
The third man, wearing a hat and pale jacket, also had luggage packed with explosives. However, he was said to have fled without detonating his device. It was detonated in a controlled explosion once the departures hall was cleared.
Brahim el-Bakraoui's brother Khalid carried out the Maelbeek metro attack.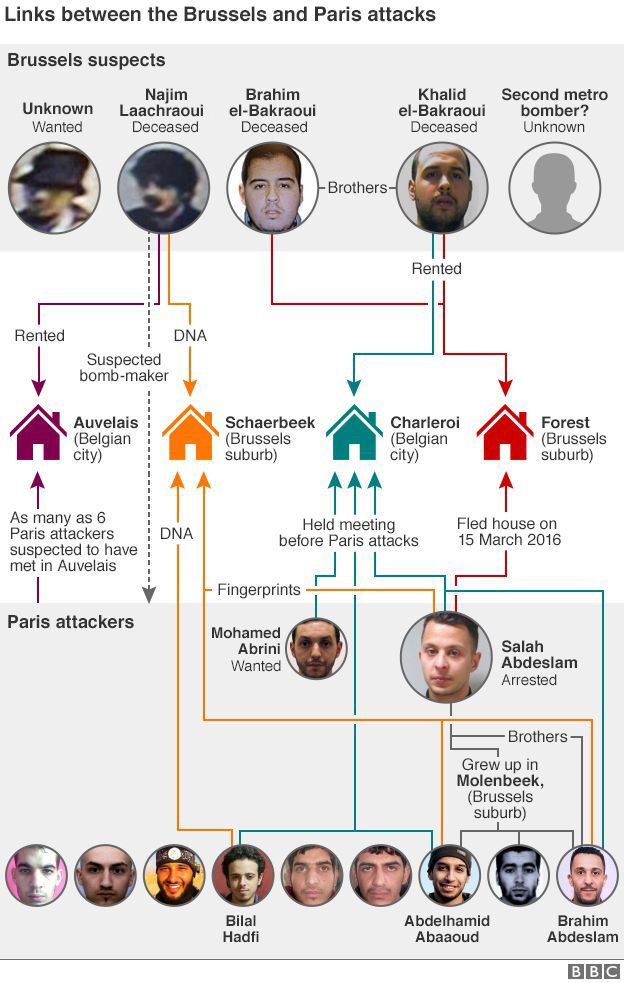 In figures released on Saturday, The Belgian Crisis Centre said (in French) that 28 people had been killed, in addition to three attackers. Of the 24 identified so far, 14 had been killed at the airport, and 10 at the metro station. Eleven of them are foreigners.
In addition to the dead, 340 people were injured. One hundred and one remain in hospital, of whom 62 are in intensive care.