The newly launched IEMA Sustainability Impact Awards 2019 already found the lucky winner - TAG Farnborough Airport for the airport's achievements in energy efficiency and carbon management.
The Institute of Environmental Management and Assessment (IEMA) is the largest professional body for environmental practitioners in the UK and worldwide, with nearly 15,000 members. The new IEMA Awards recognise people and businesses that are transforming the world towards sustainability, with winners selected by a panel of judges featuring leading authorities in the environment and sustainability sector.
Receiving the award, Miles Thomas, Environment Manager at TAG Farnborough Airport, said: "This award represents another important milestone in our ongoing energy efficiency and carbon reduction efforts. TAG Farnborough Airport is committed to developing its business in a responsible and sustainable way through the comprehensive management of our environmental impact."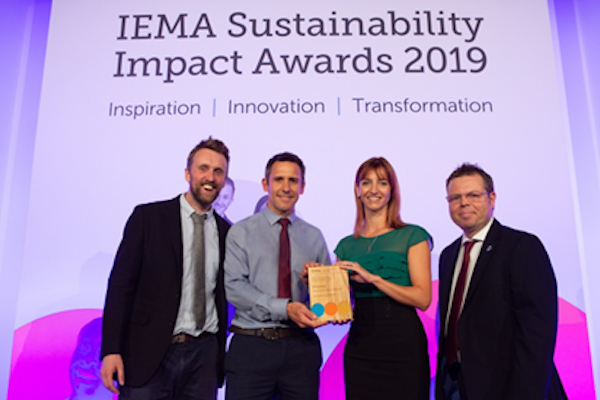 In 2018, TAG Farnborough Airport became the first business aviation airport in the world to achieve carbon neutrality and since then has continued to make further substantial reductions in its carbon footprint, with a confirmed offset totalling 1,605 tonnes of carbon emissions for the last year. Over the past five years alone, TAG Farnborough Airport has invested more than £1 million into energy efficiency projects, such as a complete upgrade to LED lighting, and in 2018 committed to 100 per cent renewable energy supply through OFGEM's REGO scheme (Renewable Energy Guarantees of Origin). As a result of these projects, the overall reduction in carbon emissions over which the airport has direct control now stands at 73 per cent. The airport has offset residual emissions through credible and certified offsetting projects, such as the planting of trees, both in the local area and overseas and the installation of a solar power system at a local school.

Underscoring its more recent work to address environmental impact beyond its direct control, TAG Farnborough Airport recently hosted "Fuelling the Future", a Sustainable Alternative Jet Fuel initiative in support of alternative fuels for use in the aviation industry. The airport continues to work with industry partners to promote and facilitate this initiative.