As the largest airline based in Berlin-Brandenburg, easyJet today opens a new chapter with the opening of Berlin Brandenburg Airport "Willy Brandt". The first easyJet aircraft, special flight EJU 3110, was the first to land on time at 2pm at the new airport.
The fuel-efficient Airbus 320neo was ceremonially welcomed with a water salute and by representatives from politics, industry and media. Tomorrow, on 1 November, easyJet will again achieve a first, as its flight to Gatwick at 06:45 will start commercial operations at BER.
Deutsche Bahn is set to become the first rail partner for easyJet's unique connection service, Worldwide by easyJet
easyJet today also announced a new cooperation between easyJet and Deutsche Bahn as part of the "Worldwide by easyJet" programme. The tie up will ensure convenient transfers between flights and trains in future. The airline's unique connection will soon be available and easyJet customers will be able to seamlessly connect to Deutsche Bahn trains, initially via Berlin, by combining plane and train tickets into one single booking. They will thus benefit from security in the event of missed connections and smooth transfers. Plans to extend the cooperation to other destinations are underway.
The easyJet Worldwide program enables customers to connect easyJet flights with other flights across its own network as well as with flights operated by partner airlines. The network of more than 5,000 departure and destination points booked in combination with partner airlines is growing continuously.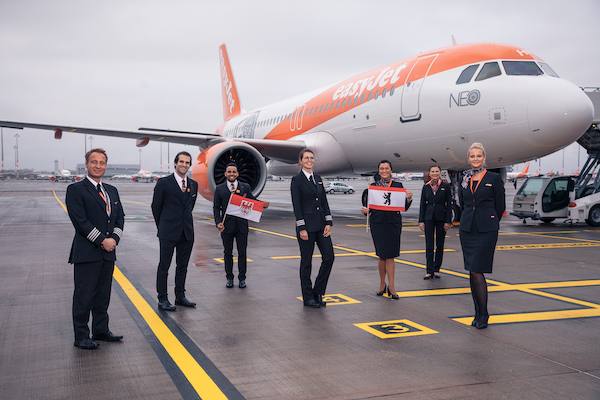 Johan Lundgren, CEO of easyJet, said:
"As Berlin's largest carrier we are really excited to move all of our Berlin-based operations under one roof at BER. We have a long history in the Berlin Brandenburg region, operating flights since 2004 and consistently expanding our base with over 12 million passengers flying to and from Berlin with us last year alone.
"After months of preparations, we are ready and proud to be the first airline to start commercial operations at 'Willy Brandt' airport tomorrow. Our customers will benefit from an improved experience in Terminal 1 with easy connections between flights and rail including with our new Worldwide by easyJet partner Deutsche Bahn.
"Despite the pandemic, we remain committed to sustainable flying now and in the future through our partnerships with Airbus and Wright Electric where we are focusing on the development of hybrid, all-electric and hydrogen technologies. In the interim, we continue to offset the CO2 emissions from the fuel we use.
"So we look forward to continuing to make an important contribution to the region – connecting the vibrant city of Berlin and wider region with the major cities and holiday destinations in Europe for many years to come."
With the relocation of its Berlin Brandenburg fleet from Tegel and Schönefeld to BER, easyJet now connects the metropolitan region directly from the new main terminal (Terminal 1) to all of Europe. In addition to its shops and spacious architecture and its good rail and public transport connections, the new airport offers its customers an enhanced customer and travel experience. In addition, easyJet Plus customers at BER can use the fast-track security checkpoint, saving valuable time in the check-in process. For easyJet itself, operational processes are simplified as the Airbus fleet and crew are now under one roof, making flight operations even more efficient. The first commercial flight – coming from Fuerteventura – will land at BER this evening at 20:05.
First easyJet maintenance station on the European mainland
Since June this year, easyJet has had its first maintenance station outside the UK on the south pier of BER. This is where the fleet based at BER is routinely maintained and serviced (Line Maintenance according to EASA Part-145). Smaller ad-hoc repairs on other easyJet aircraft as well as Covid-19 maintenance are also carried out by a 50-person easyJet on-site team. The company expects that the in-house maintenance will result in an efficient and cost-effective process. easyJet is thus once again demonstrating its commitment to the Berlin-Brandenburg region and its German base.