The clock ticks and excitement is building up. In just a couple of month, on October 29, the world`s largest greenfield airport will open its gates. Serving flights to more than 300 destinations, Istanbul New Airport (INA) has an initial capacity of 90 million passengers, which is expandable to up to 200 million passengers once all phases are completed. With its three runways INA will initially host 2,000 flights.
To satisfy modern travellers the baggage handling system, which is critical for the operation of the airport, is equipped with the latest technology to track and trace baggage throughout its journey through the airport. This will make a difference in our airports ability to attract and keep major airlines using our new hub. The baggage handling system completed last December was a milestone in the construction of Istanbul New Airport. "The baggage system will ensure an uninterrupted passenger experience by bringing down the waiting period for the baggage items to the minimum level", says İGA Airport Officials. Under the name "İGA" a joint venture group of five companies – Cengiz – MAPA – Limak – Kolin - Kalyon – constructed the 10,2 billion Euro project and will operate INA for 25 years.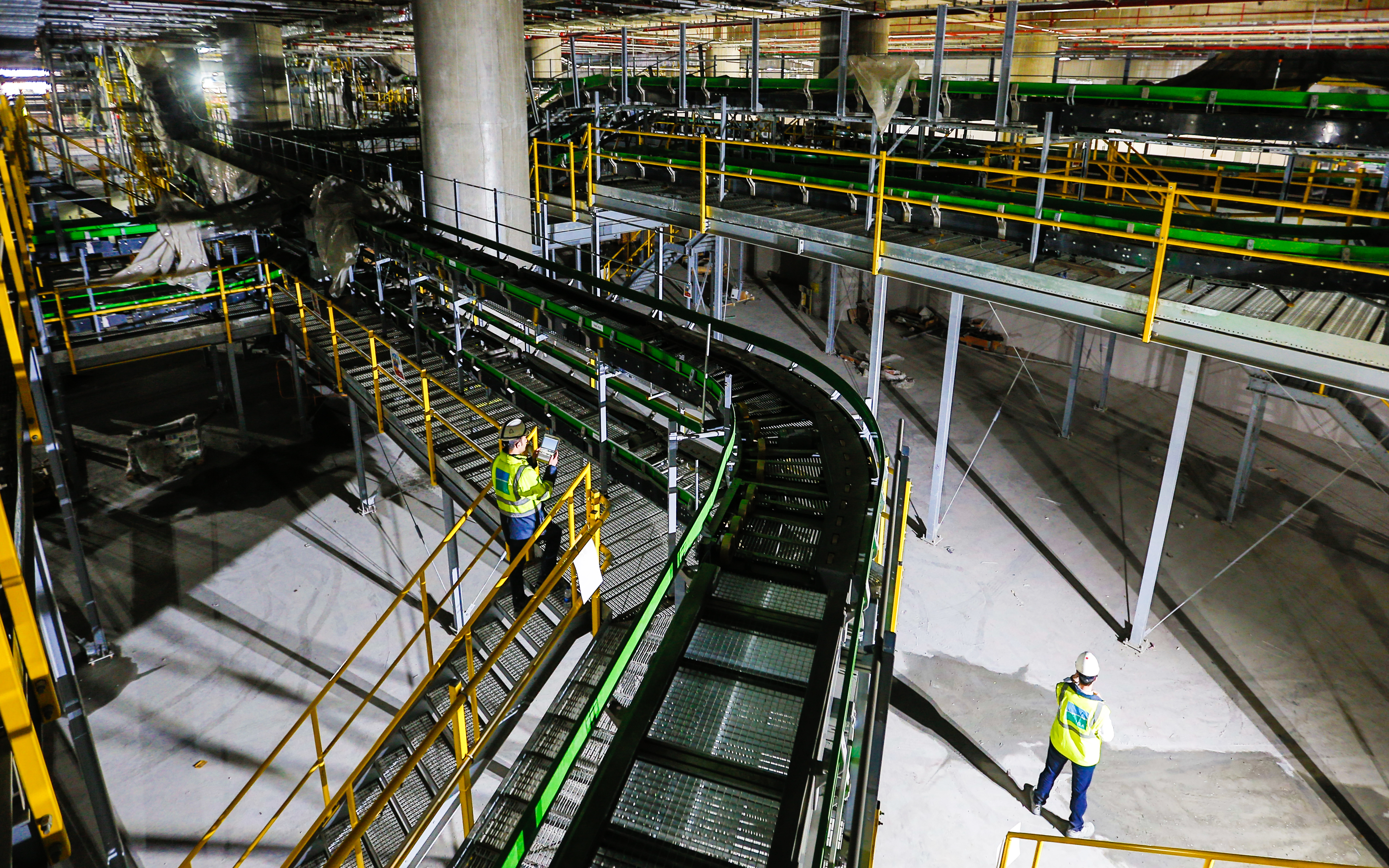 To build INA took just 42 months, the baggage handling system emerged in record time, too. Design, production, delivery and assembly of the system was completed in a period of only 24 months, never before in the world was a system delivered with such a speed. 3.300 tons of steels were used, 650 kilometers of cable laid to establish a hightech-system, which covers the distance of a marathon: 42 kilometers. It is the largest single-phase system of its kind.
Responsible for the supply of the entire baggage handling system at Istanbul New Airport is Vanderlande Industries, global leader in the baggage handling market. The systems and integrated solutions of the Dutch based company operate at about 600 airports worldwide, including many of the top 20 hubs by passenger volume.
On the whole our airport technical innovations and state of the art technologies are used to enhance passenger experience and reduce stress levels. Baggage sorting and storage will be made by smart devices operated by 170 PLCs, which can handle 30,000 baggage items per hour. Automated processes and the integration of robot technology are a hallmark of the system. 12.000 independent carriers transport the luggage from one location to the next to deliver the baggage with full tracking from end to end.
As air traffic grows and creates new routes, airports need to adapt to the requirements and to become smarter and proactive to changing aviation dynamics and passenger needs. For passengers using Istanbul New Airport, one central improvement will be a bag drop desk. It enables them to check in their luggage quickly and easily. The system is simple: having checked in online or at the airport kiosk, passengers will be able to weigh their bags and use their boarding pass at the self-bag tag kiosk located in the airport terminal to generate a label for their bag. The passengers will then be directed to the designated bag drop zone where they can transfer the luggage themselves.
Furthermore, the terminal building is equipped with 13 check-in islands and 468 points where passengers can hand in and check in their luggage. With its 1.4 million m2 it is the world's largest terminal complex under one roof. Another advantage is the enormous size of the early bag storage system. It has a capacity of 10,800 baggage items which means that passengers who arrive at the airport early will be able to hand in their luggage whenever they wish.
Moreover, in case of a delay, INA will not have any problems with space to store the baggage. The baggage items will be put away to shelves from 48 early baggage-storing robots. The system also includes 28 (10 domestic, 18 international) incoming passenger baggage reclaim carousels. Eight of these carousels have the capacity to receive wide-body aircrafts (F and E class). There are also baggage make up carousels which will sort outgoing baggage based on flights.
Hence, INA is ready for action. To identify possible shortcomings and ensure functioning without failures, a process called ORAT (Operational Readiness and Airport Transfer) has started. For the airport to be ready on an operational level, all systems must be in order, tested, and capable of working together. This includes not only the closing of Atatürk Airport and opening of INA, which will result in the world's largest airport transfer to date. For the first time in history an airport of 70 million passengers will be transferred in its entirety to a new location 45 kilometres away.
In our ORAT trials, three thousand passengers will arrive at the airport as if they were ready to go on a trip. They will pass through check in and X-Ray scanners; all information flow will be available including matching passengers with their luggage and transfers to the airplane. In another trial, a group will test landing in from abroad and taking a domestic flight. At this stage 30.000 pieces of luggage will circulate within the system. At the peak point nearly 10.000 passengers are involved.
Further tests include contingency planning including aircraft, adverse weather conditions, accidents or fire incidents. A total of 200 scenarios are planned so that all stakeholders will get familiar with the airport. INA is not letting luck decide over anything but banks on excellent planning and preparation.