December 5, 2019 became special in Istanbul's new airport - SkyTeam has officially opened the doors to its seventh branded lounge, designed by Brandimage. The facility located in the West Wing on Level H, is served by seven alliance members: Aeroflot, Air France, KLM, Korean Air, Middle East Airlines, Saudia and TAROM. The lounge is open 24 hours a day, ready for passengers at any stage of their journey. The perfect place to relax, enjoy a drink, catch up with work, take a refreshing shower, or simply do nothing at all.
SkyTeam style with a local touch
Brandimage designed the interiors in line with SkyTeam's lounge signature sleek, modern style while integrating a specific local touch. The huge entrance lobby walls are covered with a semi-transparent pattern inspired by Turkish culture. Here the guests are welcomed in a peaceful ambience where shaded light reflects the pattern inside.
Elegance, privacy and individual comfort
After walking through this impressive lobby, customers discover the lounge area with its subtle harmony of elegant, warm colors, curved lines and natural accents of wood and moss. The unique decor makes an instant impression and endows the lounge with its distinctive atmosphere.
Guests are free to choose among a large variety of seating in the different areas of the lounge. Relax in comfortable chairs while enjoying the view or protected by the nest-room dividers for more privacy, sit in more animated areas like the bar or at the tables in the dining area, choose the cozy alcoves…
For those who want all-in-one, Brandimage designed custom-made chairs and sofas with built-in tablets and lamps, allowing to work, relax and have a snack and drink.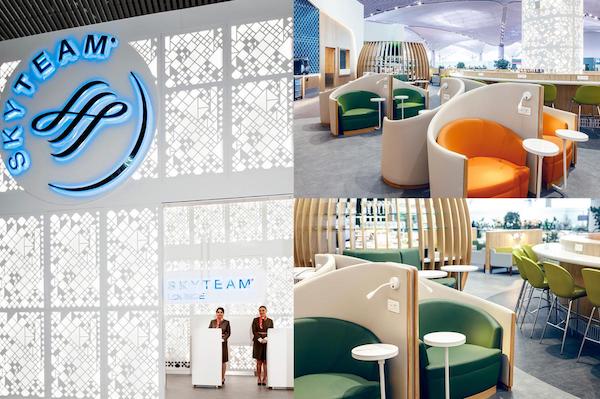 Local culture inspires design and cuisine
The dining area is set around a buffet island designed to showcase the selection of international dishes combined with authentic Turkish cuisine. At the live cooking station freshly cooked pide (Turkish pizza) is prepared on-demand. Brandimage also imagined a spectacular setting for the bar with high seating around a pillar decorated with the same pattern as the lobby entrance.
The 582 m2 lounge, with more than 145 seats, never feels crowded - even at its busiest. Customers can enjoy the view above the airport shopping areas, with no other limit than the terminal's magnificent vault. It is a refuge from the bustle of the airport, the perfect place to relax and refresh before flights.
Next SkyTeam lounge opening in Chile
Brandimage is currently working with SkyTeam on its eighth branded lounge which will open in Santiago de Chile in early 2020.
Other SkyTeam lounges: London Heathrow, Dubai, Hong Kong, Beijing, Sydney, Vancouver.