Meet a unique, one of largest in Europe museum right at Riga International Airport. Riga Airmuseum is a treasure, a rare pearl where you can see by yourself the largest collection of Soviet aircraft outside of CIS. The exposition of this museum has been created for over 40 years. It exists completely independently since 1997.
The founder and permanent director of the museum is Viktor Petrovich Talpa. After graduating from the Irkutsk Military Aviation School in 1962, he served in the naval aviation of the Black Sea Fleet. Then he flew in Aeroflot as a flight engineer and at the same time led the club of young pilots. When you meet him, you will never believe he's 81 years old! Obviously, aviation is a very special remedy and doesn't let you get older.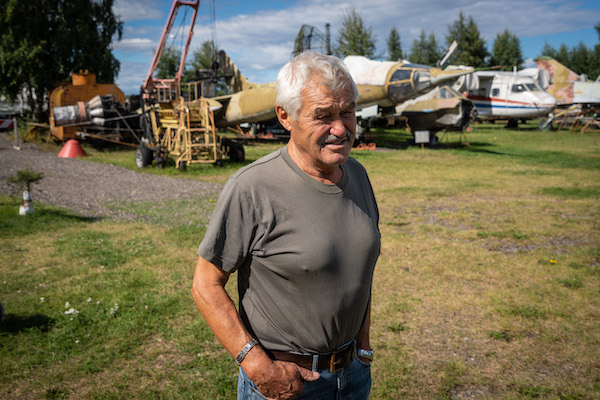 The history of the museum dates back to the formation in 1965 of the Young Pilots Club. F.A. Tsander. After the collapse of the USSR, funding stopped and it became problematic to place aircraft. Riga International Airport management found a place for museum. From 1998 to 1999, the equipment was relocated and the new territory was equipped. Not without damage to the equipment, of course, but we managed to reduce them to a minimum.
We will take our time and tell you about some of most impressive aircraft and helicopters, there are so many that it is impossible to fit one single article.
First what we would love to present you – the Soviet Heavy transport helicopter Mi-6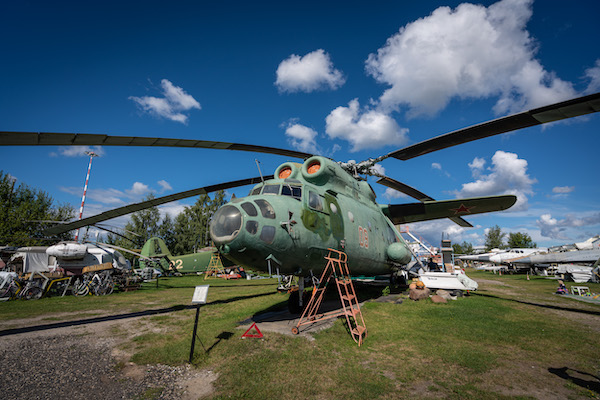 When you enter the museum it is one of first things you will see. This huge helicopter is just too enormous so you will for sure first pay attention to this giant. Meet Mi-6 09 N 10680704B, which gives you the year and the production site, as well as serial number. This giant is 60 years old!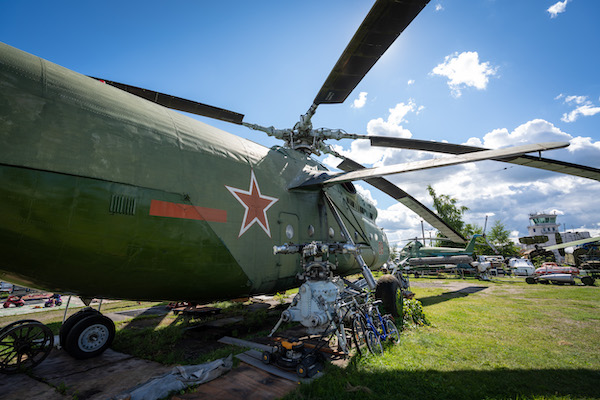 Let us remind you some basic information about this amazing helicopter.
The Mi-6 resulted from a joint civil-military requirement for a very large vertical-lift aircraft, which could be used to add mobility in military operations as well as assist in the exploration and development of the expansive central and eastern regions of the USSR. Flown for the first time on 5 June 1957, the Mi-6 was the first Soviet turboshaft-powered production helicopter.
Just have a look at key general characteristics:
Crew: 6 (pilot, copilot, navigator, flight engineer, radio operator, technician)
Capacity: 90 passengers / 70 airborne troops / 41 stretcher cases with 2 medical personnel
Payload: 12,000 kg (26,455 lb) maximum internal cargo
(source – Wikipedia)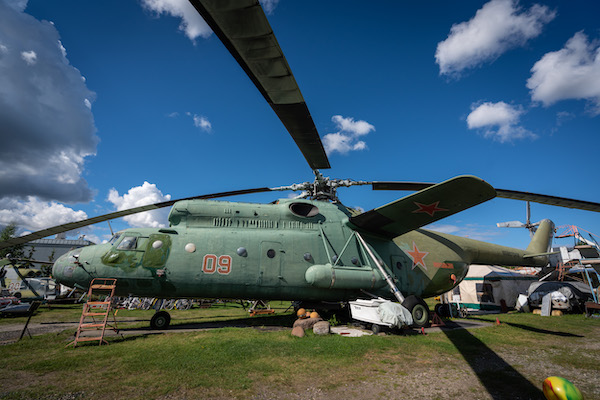 TMi-6 helicopter took his first flight on June 5, 1957. At that time, it was the largest helicopter in the world.Mi-6 has set 16 world records, including an absolute world speed record of 340.15 km / h on a 100 km closed route, set on August 26, 1964. Even if it sounds surprising, this record remains unsurpassed to this day.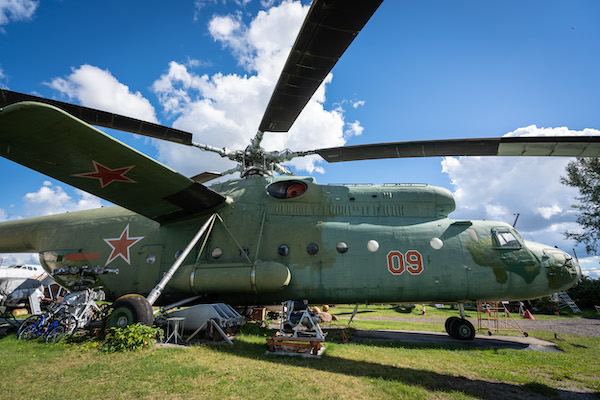 Mi-6 you can see at the museum is a very early modification. It came from Kaunas 367th Separate Helicopter Regiment at the very beginning of the 90s. Victor Talpa personally met the crew and received the Mi-6. This Mi-6 was planned to be written off "because of old age", but Talpa got through the USSR Ministry of Defense that the helicopter was handed over to the museum.
To be continued!