On September 19th, 2019, the third runway was put into operation at Sheremetyevo International Airport. The official opening took place with the participation of the Special Representative of the President of the Russian Federation on environmental issues, ecology and transport S.B. Ivanov, Minister of Transport of the Russian Federation E.I. Dietrich, Head of the Federal Air Transport Agency A.V. Neradko, Governor of the Moscow Region A.Y. Vorobyov, the Chairman of the Board of Directors of JSC "MASH" A.A. Ponomarenko, management of specialised organisations and airlines.
Aeroflot's Airbus A321 flying from St. Petersburg to Moscow became the first airliner to land on the new tarmac. By tradition, the aircraft was welcomed with a water salute.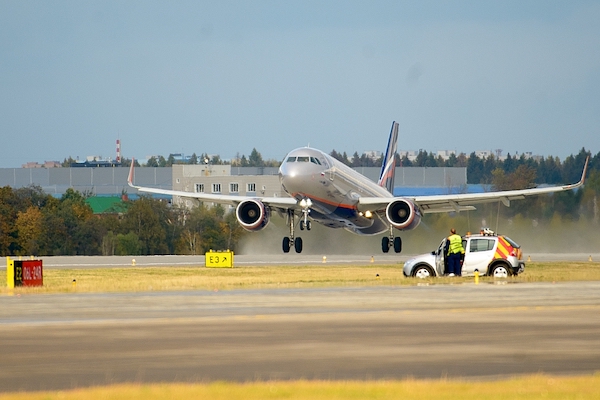 Thanks to the new independent runway, Sheremetyevo significantly increased the airdrome capacity from 65 to 90 takeoff and landing operations per hour and became the first Russian airport with three runways. The modern airfield and terminal infrastructure of Sheremetyevo opens up new wide opportunities for long-term growth and development for base carriers and new airlines.
Runway-3 will remove infrastructure constraints, create conditions for increasing demand for air transportation at Sheremetyevo Airport and the possibility of restoring the operational suitability of existing elements of the airfield of the airfield, including the planned reconstruction of Runway-1, while maintaining and further increasing the volume of air transportation.
Runway-3 has dimensions 3200x60 m, which allows landing of all types of aircraft, both Russian and foreign. Runway 3 will provide III A ICAO category approaches.
During the construction of Runway-3, an innovative solution for the construction of a bridge crossing designed for aircraft traffic was implemented for Russia. This is the first project of this kind in the country. The bridge design will be able to withstand all types of modern and promising aircraft, as well as the modifications, including the A380.
The Chairman of the Board of Directors of MASH JSC Alexander Ponomarenko emphasised: "The third runway is the most complicated technical object of the airfield infrastructure, necessary to expand the capacity of the Sheremetyevo International Airport. The commissioning of the new runway, Terminal C under construction, and a number of other facilities together create favourable conditions for achieving our strategic goal by 2026 to enter the top 10 largest airports in the world with a capacity of 100 million passengers per year."