HondaJet Central Europe has announced that the region's first HondaJet available for charter has made its official debut with an appearance event at the Chopin-Warsaw Airport. The debut took place on April 12thand was attended by many high-level executives and dignitaries including His Excellency Satoru Takahashi, the Japanese Ambassador to Poland.Honda Aircraft Company was represented at the event by Simon Roads, Senior Division Director of Sales and GE Honda Aero Engines was represented by Steven Shaknaitis, Executive Vice President. The aircraft is owned by Chopin Vodka and is the first HondaJet available for private charter in Eastern Europe and charter throughout Europe, the United Kingdom, Russia and Scandinavia
Chopin Vodka CEO and Founder Tadeusz Dorda was on hand to accept the aircraft, he commented "Honda Aircraft Company's President and CEO Michimasa Fujino has not only abandoned the notion of what is considered conventional aviation, he has redefined the category. I have the same passion to elevate the spirits category." When asked about the recent acquisition Dorda said "Whether someone is wanting a vacation getaway or hosting a meeting in the top business hubs of Europe the HondaJet will deliver. It is a game changer."
Delivered to Poland in early March, the Chopin HondaJet features many modifications tailored to the European market. The aircraft will be managed and operated by JetStory, recently named the "Best Foreign Business Airline" by Wings of Business.
According to Steve Shaknaitis, EVP of GE Honda Aero Engines, "The class-leading HF120 engine was designed by a global team including Honda R&D from Tokyo, Japan, and a GE team from the Engineering Design Center right here in Warsaw."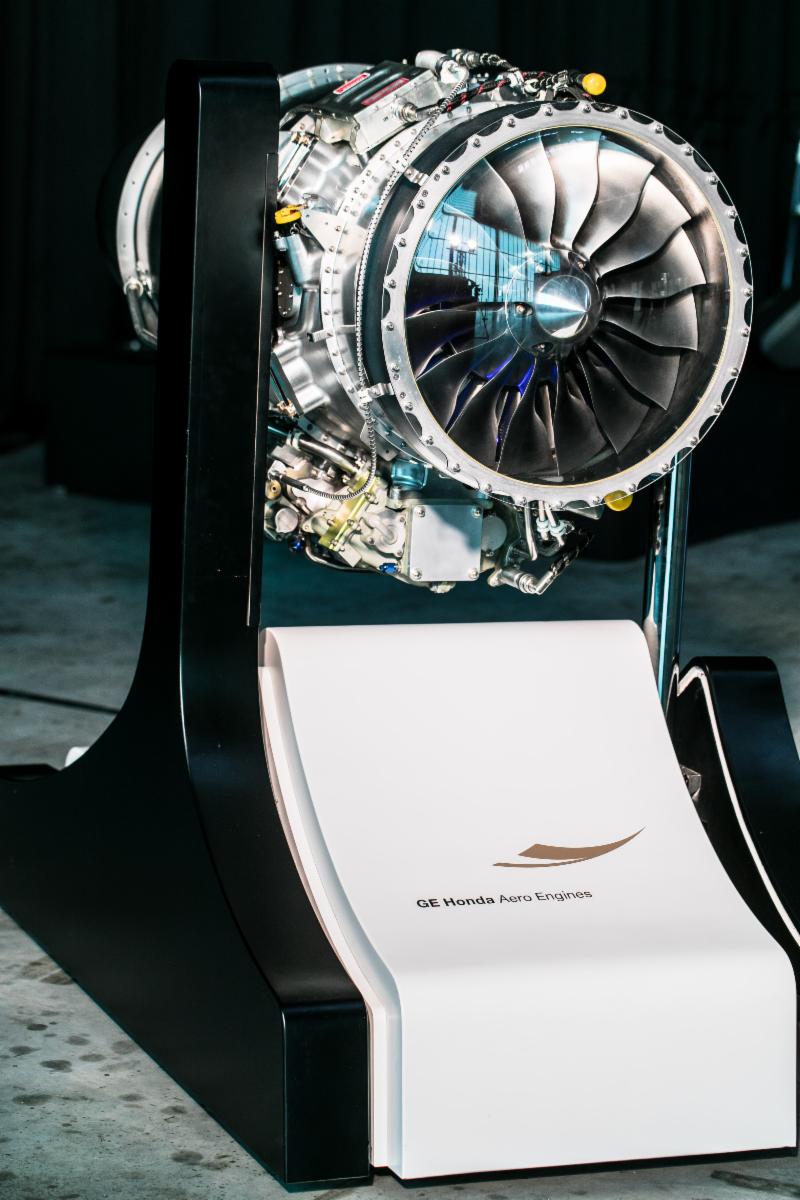 About HondaJet
Designed by Honda Aircraft Company's President and CEO Michimasa Fujino, the HondaJet is a game changer in the business aviation industry. An advanced light jet, the HondaJet was the most delivered aircraft in its category in 2017, has broken 13 speed records and has been certified and delivered in countries around the globe.
A clean-sheet aircraft, the HondaJet was created to provide the customer the best value by utilizing advanced technologies, including the unconventional Over-the-Wing Engine Mount (OTWEM), a newly developed natural laminar flow (NLF) wing and fuselage nose as well as a composite fuselage. These innovations contribute to the aircraft's superior performance, allowing it to fly higher (maximum cruise altitude of FL430) and faster (maximum cruise speed of 422 knots) than its direct competitors, which results in a shorter flight time, unparalleled efficiency and exceptionally smooth riding quality.
The HondaJet's unique OTWEM design also minimizes noise and maximizes available fuselage space, making the aircraft's cabin and baggage capacity the largest in its category. The HondaJet can seat up to six passengers and has a completely private lavatory with a full-size toilet, sink with running water and mirror.
The significant aeronautical breakthroughs engineered by Honda Aircraft coupled with the fuel efficient GE Honda Aero Engines' HF120 engines allow the HondaJet to be operated with an ultimately reduced cost of operation. Tight tolerance controls and exceptional build quality deliver low fan and core vibration levels contribute to lower vibration of cabin structure.
The HondaJet is the fastest, highest-flying, quietest, and most fuel-efficient jet in its class. The HondaJet incorporates many technological innovations in aviation design, including the unique Over-The-Wing Engine Mount (OTWEM) configuration that dramatically improves performance and fuel efficiency by reducing aerodynamic drag. The OTWEM design also reduces cabin sound, minimizes ground-detected noise, and allows for the roomiest cabin in its class, the largest baggage capacity, and a fully serviceable private aft lavatory. The HondaJet is equipped with the most sophisticated glass flight deck available in any light business jet, a Honda-customized Garmin® G3000 The HondaJet is Honda's first commercial aircraft and lives up to the company's reputation for superior performance, efficiency, quality and value.
For more information, visit hondajet.com.