Embraer has signed a contract with GrandView Aviation for a Phenom 300MED STC conversion. The aircraft will be converted at Embraer's Service Center in Fort Lauderdale, Florida, and operated by on-demand charter operator GrandView Aviation.
"We originally selected the Phenom 300 as our national fleet platform due to its flexibility and high utilization reliability. With the Phenom 300MED conversion, our aircraft can transition from a passenger cabin interior to medevac in a matter of hours, allowing for maximum operational efficiency," Said Jessie Naor, Chief Operating Officer at GrandView Aviation. "We already operate diverse missions, and the Phenom 300MED further adds to our ability to meet a wide variety of client needs."
"We are delighted to sign this contract with GrandView, the Phenom 300MED launch customer," said Marsha Woelber, Head of Worldwide Executive Jets Customer Support & Aftermarket Sales, Embraer Service & Support. "We are sure this will be the first of many conversions around the world. This contract is an example of Embraer's ability to add value in our industry-leading product portfolio."
The Phenom 300MED is a unique Medevac solution for the Phenom 300 series aircraft, the most successful light jet in the world, and is available through a STC, developed and certified by Embraer and umlaut utilizing Aerolite equipment. The Medevac solution, which is also available for new aircraft, is exclusively installed by Embraer's top-ranked Services & Support organization, ensuring the highest quality, reliability, and service experience, direct from the manufacturer.
As a purpose-built Medevac solution, created in collaboration with the leading companies in the aeromedical industry, the Phenom 300MED is designed to provide crucial air transportation for both civil and government applications, and to be quickly and easily configured to meet the various needs of both healthcare providers and patients.
The Phenom 300MED is based on the fastest and longest-ranged light jet in production, benefiting from the platform's heritage of class-leading performance, low operating costs, high mission flexibility and state-of-the-art avionics. With best-in-class cabin altitude of 6,600 feet, passengers and crew enjoy more oxygen in the cabin. This feature equates to a healthier flight experience, which is essential for medical staff and patient care.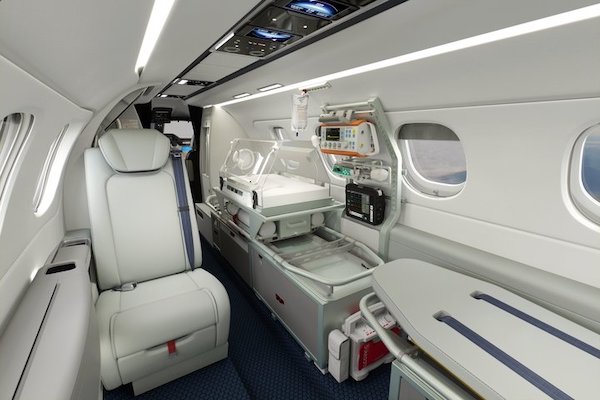 The Phenom 300MED is further distinguished by the integration of Aerolite medical equipment. Aerolite is a leader in the design, engineering, production, and installation of Air Medical interiors. With over 500 Medevac interiors delivered, the company offers the ideal blend of equipment for the mission.
Embraer's products, including the Phenom 300 series, are recognized for high reliability and utilization. Embraer recently announced the delivery of the 600th Phenom 300 series business jet, which entered the market in December 2009. Since then, it has accumulated over 1.2 million flight hours and is in operation in more than 35 countries. According to VREF's 15-year business aircraft residual value forecast, the Phenom 300 series retain the highest residual values in the industry.