Congratulations ABS Jets Prague! It just became the first European FBO to receive IS-BAH Stage III certification. Since launching as a full FBO service provider at Bratislava airport last year, the company has also been awarded IS-BAH Stage One certification for its Bratislava base. The three-day-long audit was conducted remotely because of the ongoing pandemic. It again proved an effective method of auditing while stringent restrictions remain in place. Extra thorough preparations were essential to ensure a smooth communication flow. Various communication channels were used to walk the auditors through the facility to observe real-time operations and implemented safety standards. The IS-BAH accreditation process involves an audit of compliance with emergency procedures, training protocols, safety and security regulations, operational procedures and FBO safety management systems.
Director of Ground Operations Michal Pazourek commented: "I am pleased with the results of the audit, which showed zero findings. The ABS Jets Team is rigorously continuing to build on the safety culture already in place. Indeed, we will keep investing in safety and risk management to prove our commitment to clients, employees, partners and shareholders."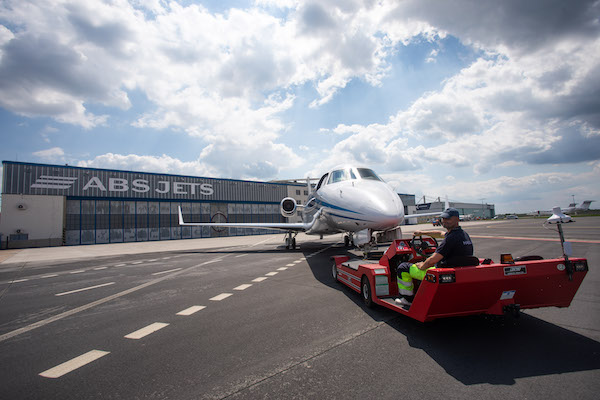 The IS-BAH (International Standard for Business Aircraft Handlers) is based on the long-established format and structure of the IS-BAO (International Standard for Business Aircraft Operations) programme. The IS-BAH programme, developed by the International Business Aviation Council (IBAC) in collaboration with the National Air Transportation Association (NATA), features a safety management system (SMS) at its core, helps promote progressive SMS, and sets the threshold for best practices in business aviation ground handling. ISBAH Stage III certification confirms that safety management activities are fully integrated into the operator's business and that a positive safety culture is being sustained.
Headquartered in Prague, Czech Republic, with a second base in Bratislava, Slovakia, ABS Jets is one of the largest business jet operators in Central and Eastern Europe and a leading organization on the Czech and Slovak markets. The company operates a large maintenance and overhaul organization with EASA Part-145 approval. It is an authorized Embraer Service Centre, providing worldwide, 24/7 AOG support. ABS Jets specializes in large and ultra-long-haul jet operations and offers a comprehensive portfolio of services worldwide, including aircraft management, CAMO to ground handling, flight planning, jet charter and brokerage/travel management.