The first Embraer Praetor registered in Germany is delivered! "Aircraft acceptance is an important and critical part at the very beginning of the aircraft management process. Therefore, experience and reliability are key when choosing a partner," states Günter Geldhauser, Customer Representative. "Our aircraft was delivered according to schedule and we are proud to announce that our new Embraer Praetor is in operation in the meantime," he adds.
The RUAG MRO International team was contacted by a customer, located in Munich, Germany, with the request for on-site support in Brazil for the aircraft acceptance process on their brand-new Embraer Praetor aircraft. RUAG MRO International partner, Executive Aviation Consulting, safeguarded the aircraft acceptance process on site at the Embraer facility in São José dos Campos Airport, Brazil.
RUAG MRO International successfully supported the aircraft acceptance of a factory-new Embraer Praetor on behalf of the Germany-based aircraft owner. The aircraft acceptance process was fulfilled on site at the Embraer facility. This new aircraft is just the second of its type in Europe.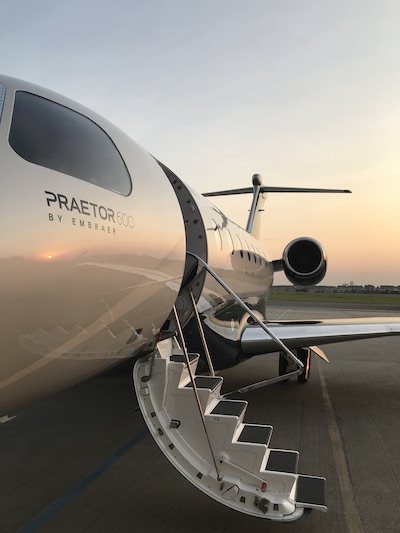 "We are keen to support our customers throughout all phases of the aircraft management process, where and when they need us. Together with key partners, like Executive Aviation Consulting, our experienced team of Embraer specialists strive to find the best solution that suits each customer and their individual needs," confirms Volker Wallrodt, Senior Vice President Business Jets, Military & Dornier 228, RUAG MRO International.
RUAG MRO International offers specialized one-stop shop business aircraft solutions at Munich-Oberpfaffenhofen, Germany, where all required services are performed within one single downtime, suiting individual customer schedules. The comprehensive portfolio includes line, base and heavy maintenance (MRO) checks, cabin interior restyling and refurbishment, avionics and system upgrades, component services, aircraft painting, modifications, pre-purchase inspections (PPI), AOG, and support and consulting. RUAG MRO International is an official OEM partner and Authorized Service Center for Embraer, a recognized Service Center for Bombardier, and is certified for the Gulfstream G550.