Geneva Airpark underwent continued its momentum in 2019, with an increase in Daily formulas, very regular activity for aircraft movements and IS-BAH certified services for planes and crews. These new signs of satisfaction from customers demonstrate their interest in the personalized hosting options.
5,000 aircraft movements
Geneva Airpark provided a daily average of 14 aircraft movements on its tarmac and in its hangar in 2019. All these operations are organized under optimal conditions, thanks to equipment adapted to the volume of activity, including 5 Lektro tugs, IS-BAH certified procedures and perfect team organization.
9 additional planes hosted in the Daily formula
The Daily formulas for short and medium-term stays increased by 10%, with 99 different aircraftmanaged in 2019.
For this same year, Geneva Airpark recorded nearly 4,000 days present in total, including:
· 85% from the 20 planes hosted annually
· 15% from the 99 planes treated in the Daily formula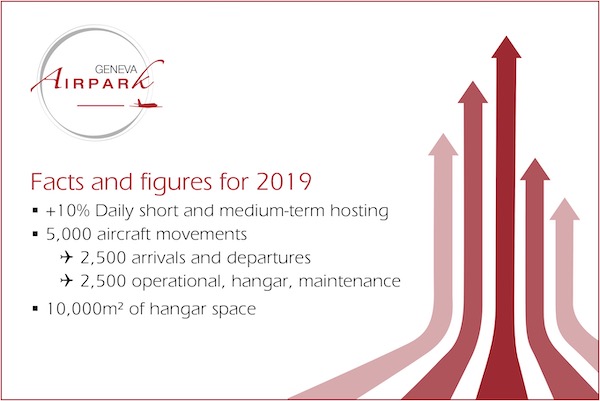 5,100 personalized services
These fully internalized aircraft and crew services are provided by the specialized and ultra-professional Geneva Airpark teams on the tarmac or in the hangar, and are part of the personalized services offered to Geneva Airpark customers. Its teams carried out the following in 2019:
· 4,400 aircraft services: cleaning, , management of potable water, toilets etc.
· 700 laundry services for crews
A reliable team for privileged customer contacts
Geneva Airpark is above all 13 employees who have been members of the team for 7 to 11 years (2 years for the last person to join the team). The loyalty and expertise of this team makes it possible for Geneva Airpark to guarantee its customers personalized, high-quality services, adapted to the needs of each aircraft and crew.