New company is going to start helicopter flights in Tahiti and Bora Bora from May 2018.
HBG Helicopters Group and Air Tahiti Nui are creating a simplified share company, which will be owned by HBG Helicopter Group and Air Tahiti Nui.
HBG will bring their expertise, their know-how, their AOC (air transport certificate) as well as their PART 145 maintenance and ATN their operating network.
For the launch of its subsidiary, four helicopters should arrive on the territory. Three helicopters - two H135 plus one H125 two helicopters will be based in Tahiti and one H125 in Bora Bora.
Tahiti Nui Hélicoptère will offer passenger transport flights, flights on demand, sightseeing flights, aerial work, mountain rescue and medevac flights.
We have an unique opportunity to let you see a work in progress :
future Tahiti Hui Hélicoptères logo: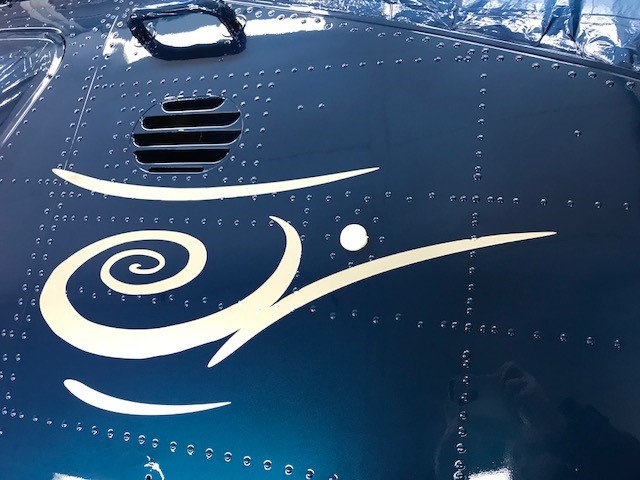 Tahiti Hui Hélicoptères livery :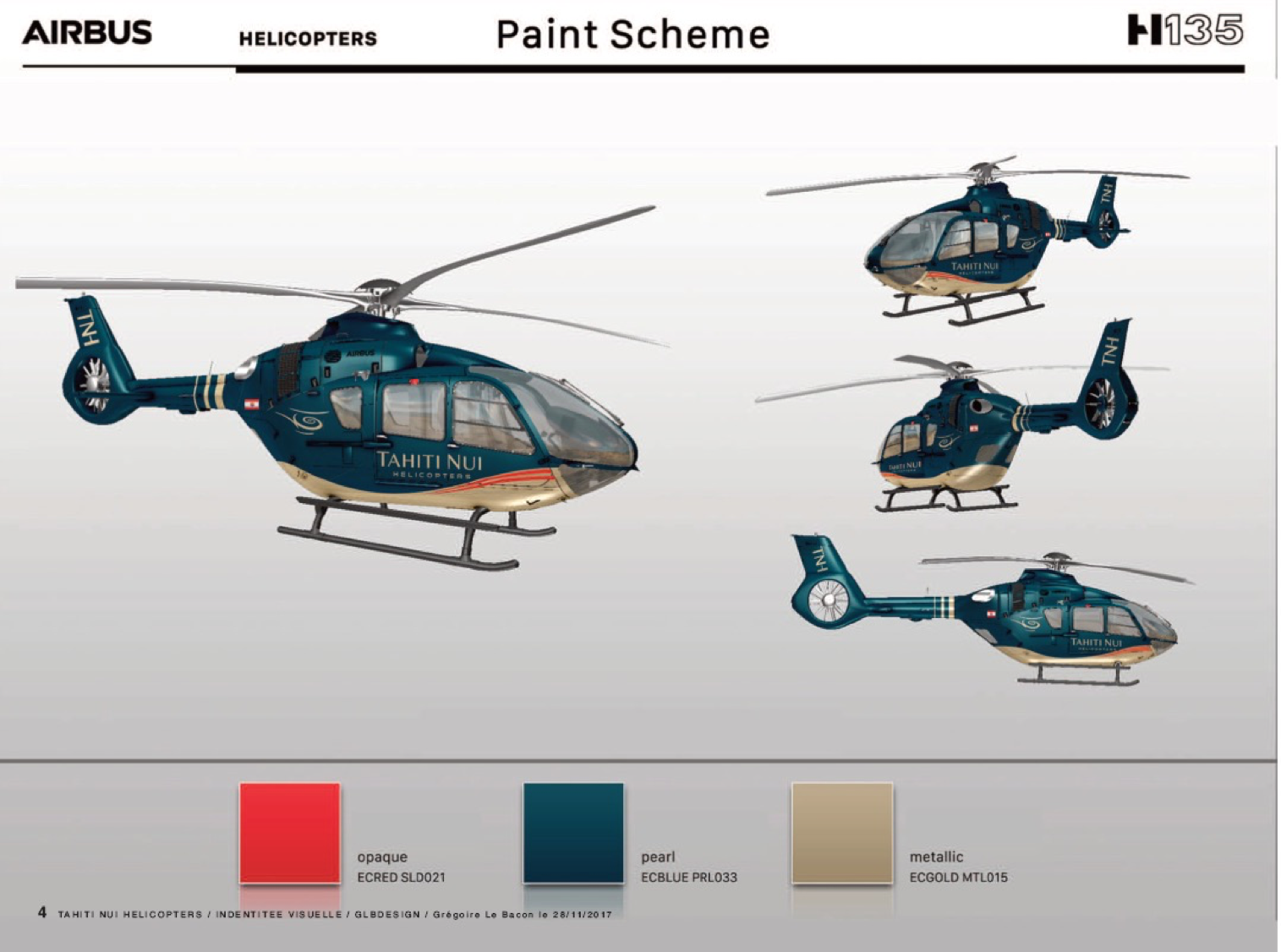 HBG is a Swiss-French Helicopter Group. French leader, it is also one of the European leaders in the niche market for helicopter air transport thanks to its subsidiary Mont Blanc Hélicoptères. This one was born in 1980 in Annemasse, in Haute-Savoie (France).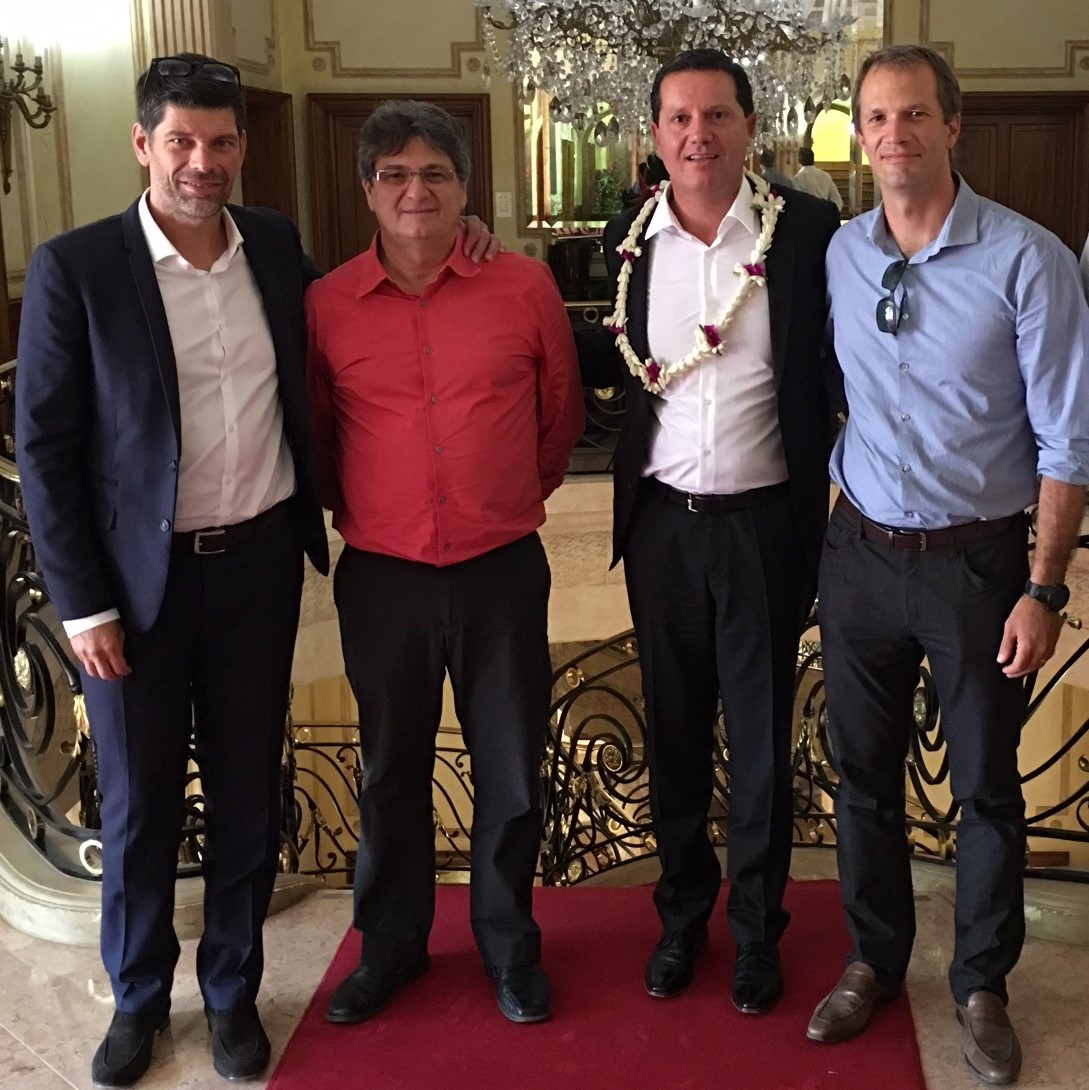 The team of HBG Group and ATN
Stéphane Woitok VP HBG Group/ Michel Monvoisin CEO ATN/ Renaud Blanc President and CEO HBG Group/ Mathieu Bechonnet COO ATN
We had a possibility to have the feedback on this from HBG Helicopter CEO and owner Renaud Blanc :
Q. For HBG Helicopters Group what does it means, the creation of this partnership with Air Tahiti Nui and the start of operations in Tahiti?
A. It is a great adventure and we are delighted with the creation of this future company TAHITI NUI HELICOPTERES.
The success of this project is already the cohesion of two teams who met and who immediately wanted to work together on this project.
It is true that for us it is easier to have a partner of our choice and of such high quality like the ATN.
This new TNH company allows us to follow HBG Group development strategy in the Pacific region. This is a major asset for the development of the group, we are proud to provide our support and our know-how to the local authorities and also to the local population by bringing our experience in emergency medical transport by helicopter.
The group operates a fleet of more than 80 helicopters and has 31 bases on three continents: Europe, Africa and South America. HBG employs 300 people and has 150 pilots.
Stay tune for updates on Tahiti Nui Hélicoptère in the nearest future.