There are dozens of business aviation hotspots across Europe, the Middle East and Africa, and for our 'Touch &Go' series EBAN drops in on some of the most frequented destinations. Our purpose is two fold: why do operators base themselves at these locations? And why do clients repeatedly choose to fly to and from them?
Moscow is the subject of this month's discussion.
When is comes to land mass, the rest of Europe is dwarfed by the size of Russia. It comes as no surprise that its business aviation activity is substantial, not least given its exceptionally high number of billionaire citizens (88). Its principal hub is Moscow; the city dominates commerce and private flying is regular. The three key airports, Vnukovo, Sheremetyevo and Domodedovo, all have their part to play in this.
There have been around 8,000 business aviation departures from Vnukovo airport so far this year, according to the data of WingX Advance. "This ranks it the eighth most active airport in Europe for private jets, some way down from the top spot it occupied only a few years ago," says MD Richard Koe. "Sheremetyevo handles about a fifth of Vnukovo's private jet traffic, and Domodedovo also manages a handful of flights, although much reduced this year. Vnukovo itself has seen a reduction of at least 20 per cent in private jet flights this year, with latest numbers for November suggesting a 33 per cent year-on-year decline. "Business aviation activity at Vnukovo, and Russia in general, has slumped since the Ukraine crisis in February 2014, partly for diplomatic reasons but, increasingly, also as a reflection of the country's economic slowdown. Connections with eastern Europe have been affected most, but also flights into major western European capitals, as well as Mediterranean holiday resorts, which
are down at least 10 per cent. "The most recent decline is due to business aviation flights between the two countries dropped off close to 50 per cent last month."business aviation flights between the two countries dropped off close to 50 per cent last month."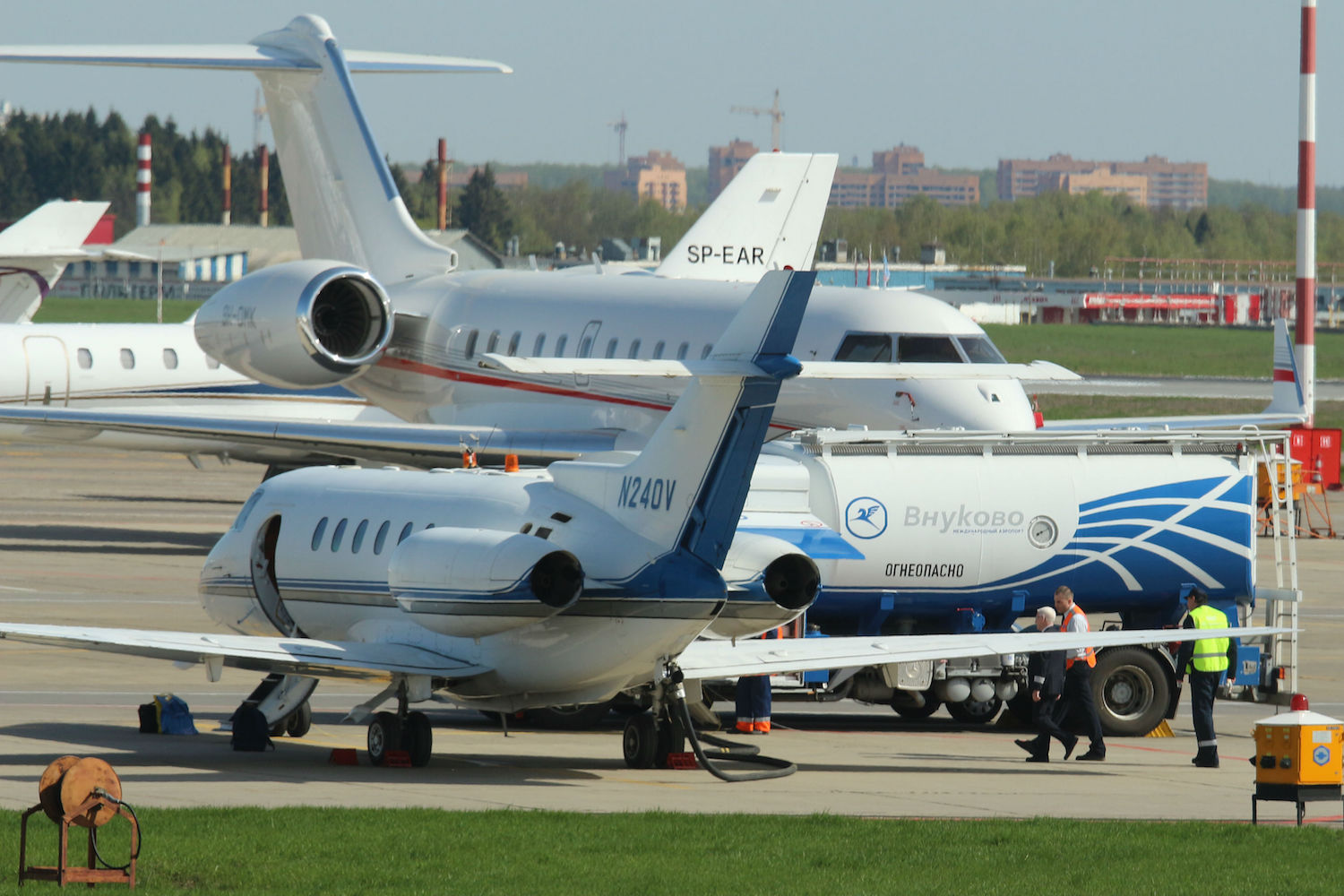 Photo Dmitry Petrochenko
Despite these downward trends, a persistent demand from Moscow clients means that there is still a healthy amount of business that operators can compete for. Here is what they had to tell us. Emperor Aviation has been active from 2013 and since its formation it has collaborated with Petroff Air, Rusaero, DC Aviation and Vibro-Air.
Its fleet consists of 10 aircraft including the Global XRS, Global 5000, Falcon 7X, Legacy 600 and Hawker 4000. "We are the first Maltese operator working exclusively
on the Russian business aviation market," says founder and CEO Irakli Litanishvili. "When we opened a representative office in Russia in 2013 we chose Moscow as a base city without hesitation. According to our estimates, about 90 per cent of all Russian business aviation flights are performed to or from Moscow. It is a funny thing to talk about advantages and disadvantages of being based in Moscow, as this city actually represents the entirety of Russian private flying." He says that increases in corporate profits and the high volume of socalled high net worth individuals are key growth drivers for the industry of business aviation across the world, and that Moscow is no exception.
Photo Dmitry Petrochenko
"The economic system of Russia dictates that the lion's share of income is concentrated in the capital of the country. As we know, business aviation is a reflection of the financial relief of any country." According to Litanishvili a minimum of 70 per cent of Moscow traffic is destined for locations in other parts of Europe. "In our monthly reports, which we publish for the media, Nice leads the way with at least 20 per cent of all flights monthly heading there," continues Litanishvili. "It is followed by Geneva, Vienna, Paris and London. In May and during the summer, destinations such as Ibiza, Dubai and Karlovy Vary become popular." Domestic routes from Moscow include mining, industrial and agricultural centres in Tyumen, Ekaterinburg, Krasnodar, Nizhnekamsk and Belgorod. St Petersburg and Sochi are popular too. "The flight map is affected by large Russian and international events," Litanashvili explains. "For example, at the beginning of September 2015 we noted an increase in requests in Vladivostok, where the Eastern Economic Forum took place. In
October, the demand shifted to Sochi, the location of the New Wave international music festival.
"The main challenge our industry faced year this was the crisis that began in December 2014. The beginning of 2015 was difficult; in January and February the market dipped more than 20 per cent. Later the situation stabilised, and in summer the traffic has shown gradual growth. According to our activities in June, July and August 2015, the average traffic growth reached 20 per cent, which redressed the balance."
By both Russian and European standards the Emperor Aviation fleet is substantial, with a focus on heavy jets. "We analyse the results of our business on a monthly basis and can say that the most popular business jets between Moscow and Europe are
roomy aircraft, that is to say long range jets, large cabin jets and super midsize.
Photo Dmitry Petrochenko
"These aircraft choices are borne out of the sheer size of our territory. One has to fly far to get anywhere, and these aircraft are also a reflection of the cultural preferences of the Russian passengers. The most popular types are the Global XRS, the Challenger 605 and Legacy 600. The G650 is also gaining popularity," concludes Litanishvili. Swiss operator Nomad Aviation has had aircraft based in Moscow since 2008. "Russia is a considerable market in Europe," comments charter sales and customer care director Florian Weger. "Costs in Moscow are especially high, but for
clients the region is a very promising corporate environment. Weather conditions can be very challenging, and depending on where you are, technical issues are sometimes
tough too." Nomad offers a CL605 and three CL604s, a Legacy, a CJ1 and a Global
5000 for charter. Only the CL605 is based in Moscow. "All these aircraft types are popular in Russia," Weger adds. "The winter months, New Year and Russian Christmas will be high season periods with plenty of flights. As I mentioned, these may well be problematic in terms of weather."
Austria's Avcon Jet has had aircraft based in Moscow more or less since the beginning of its operation. Says key account manager Alexei Lancerotto: "Moscow has always been a good market for us. We started with two long range Gulfstreams, a
G450 and a G550. I would say that long range aircraft are favourite here. There seems to be a 50/50 split between large cabins like Gulfstreams and Globals, and we also have a lot of midsize aircraft that are chartered on classic holiday routes to other parts
of Europe." He acknowledges that the Russian market has faced recent obstacles,
but believes the situation to be a temporary one. "We are seeing positive signs, both in terms of aircraft management and on the charter side.
"As we are one of the major operators in and out of Moscow, our customers have the advantage of an aircraft always being available. This can save a lot on repositioning costs when you are booking the charter, because you can pick up these aircraft in Moscow. The city is definitely the business capital of Russia, and therefore it is a very
popular destination for people seeking business in the region. It also represents a very important market for charter flights. We should not underestimate this because of the
quantity of wealthy individuals who live in Moscow, or who have Moscow as a main place of business." Avcon currently has over 20 long range and midsize cabin aircraft in its fleet. As with many companies EBAN spoke to, Lancerotto sees the Russian climate as particularly challenging. "Of course we are speaking of a very cold country," he says. "This means you often have delays on the ground caused by de-icing of the aircraft. I believe that we are very efficient at managing this, by communicating with handling agents and airport authorities very quickly. Nevertheless I think the main disadvantage of the Moscow market is the weather.
"We have a lot of plans for next year as we are seeing lots of encouraging signals from the market, and we believe that this is set to continue, despite the tendencies of
the last year. We will continue to invest strongly in developing our business."
In 2016 Sirius-Aero will celebrate its 25th anniversary which, it says, makes it one of Russia's oldest business aviation operators. Vnukovo is its home base and its flights depart from Vnukovo-3, the largest private terminal in the country. "We fly all over the world, but our main competitive advantage is that we, as a Russian company, can offer the widest range of services and the broadest geography for flights within
Russia, especially if you want to combine international and domestic flight segments," says commercial director Alexey Udodov. "We also offer a full range of services for the management of private business class aircraft, including maintenance
and support." Moscow is not only a critical city for Russia, but is one of the largest in
the world. It is a key business centre and the main state institutions of the country and all major business bodies are located there. "Moscow is broadly recognized as a world
cultural centre as well," Udodov continues. "That is why Moscow has become a leader in the development of the business traffic segment in Russia and preserves its dominant position now. Operating in the Moscow market means that you are as close as it gets to the customers." But with great demand comes great competition. "Intense competition from both Russian and foreign operators can contribute to problems in the Moscow region. Weak development of the network of aircraft maintenance can be regarded as an obstacle as well." Sirius-Aero has 12 aircraft registered either in Russia or on the registry of Bermuda, with types including the Hawker 700, 800, 850XP, 1000, Challenger 850 and Tu-134. "Our objective is to develop our fleet in the midsize jet segment, as well as keeping an eye on super mids and heavy jets. We will also be very focused on management," he concludes.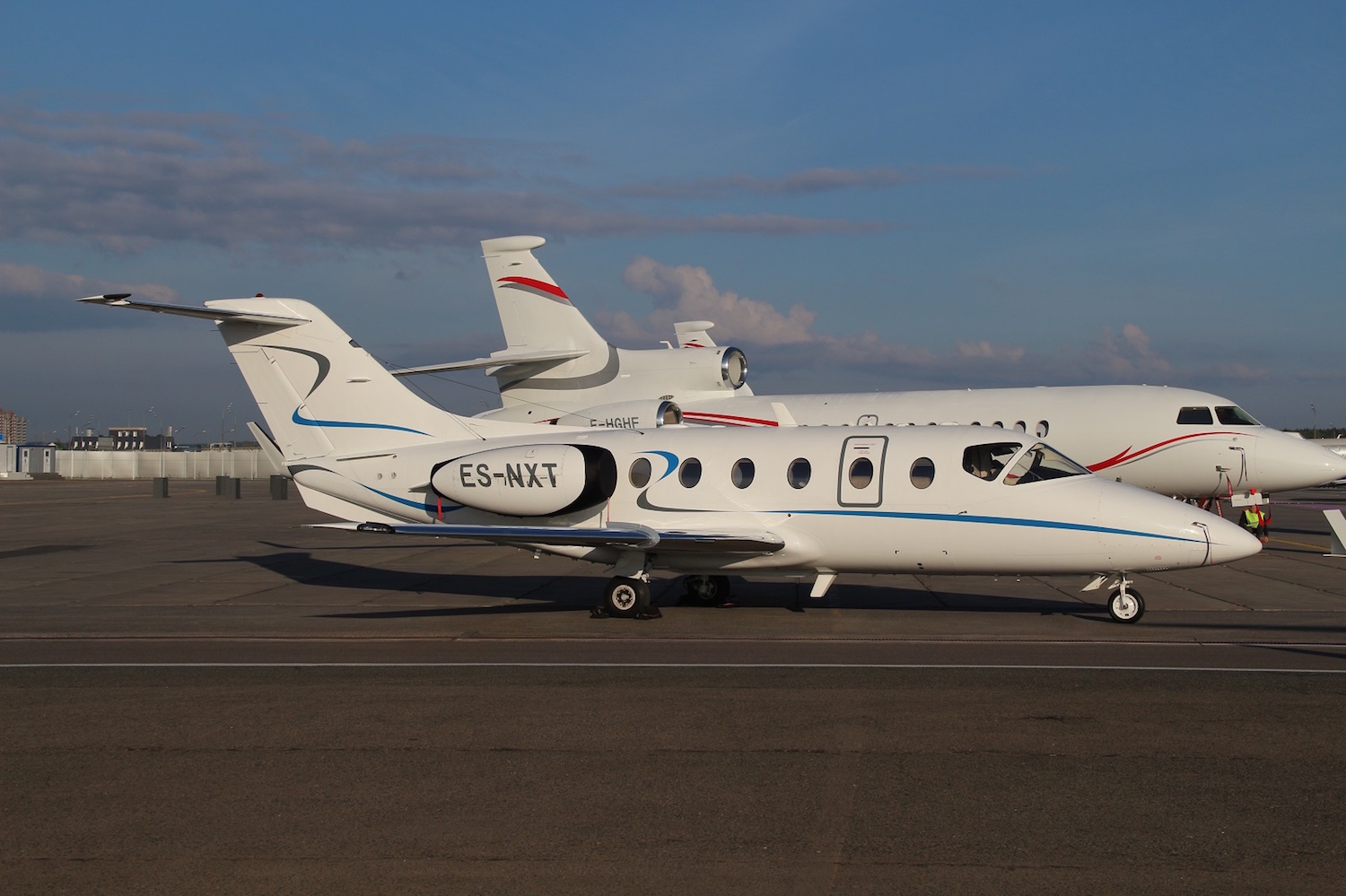 Photo Dmitry Petrochenko
Slovenian operator Elit'Avia has a long history in Moscow, because its five owners live close by. "We have been in the Moscow market for eight years," says Galina Bondarevskaya, owner of Elit'Avia's Russian representative Fly Upper Two. "We
have a lot of customers and owners from Moscow, because our aircraft park there. We have ten aircraft which land in Vnukovo and five of them have parking there. Other aircraft stay in Sheremetyevo. "We work a lot in Moscow; it is one of our main markets. We use Vnukovo more because it is more comfortable for our customers and our owner. Some people live near Vnukovo and some people live near Sheremetyevo,
so it depends on the individual. "Moscow is a huge city and Russia is a huge market, one of the world's most important markets. Russian people have different motivations for flying to mainland Europe. We don't have a lot of regular flights for our
region and that is why we need private jets." Elit'Avia carries out a lot of internal
flights, one example being Moscow to Sochi. Ongoing crises and instability have led to financial uncertainty, but Bondarevskaya maintains that the operator's old client base continues to work and fly. "We are in the same situation that we were in two or three years ago," she adds. "We still have the owner's aircraft. The difference between us and the Chinese market is that the Russian one is more regional. People prefer to use aircraft not only privately, but also as a business tool. That's why we are growing. "The weather here is undeniably difficult. At the moment it is winter and we haven't got a lot of hangar space. Some of our aircraft don't have a hangar and this is not very good for them. We also have a huge problem with the traffic. Because of the ice, taxiing can take a long time compared to the summer. This is a problem, particularly in Sheremetyevo where there are more commercial flights. We haven't got a dedicated business aviation airport and that is starting to pose a problem. Our customers always want to depart on time but it is not possible sometimes because of scheduled flights, de-icing and so on." Collaborations between governments have increased the popularity of legs to mainland China and Hong Kong, but transatlantic flights are greatly reduced. "We used to have a lot of flights to the USA but not any
more," says Bondarevskaya. Since the creation of Fly Upper Two this year she has found it far easier to work with Russian customers. "The communication is now much faster, and there are a lot of opportunities to meet with them and discuss all their wishes. We can invite our clients and partners to our comfortable office as well. So, now is a better time than ever before to build really good relationships with this
market. Our customers are already benefitting from the extra attention." The company has four Challenger 605s, which Bondarevskaya does not consider to be a long range aircraft. "It is small but it is very popular because it flies to Europe and can accommodate up to 12 passengers," she explains. "It is available at a good price and is not a very expensive aircraft to operate. "We also have a Gulfstream 450. It has more range and space for 13 passengers. It is more luxurious and expensive. In St Petersburg we have a Global 6000. We also have a smaller Challenger 300 which is a bit cheaper per hour. It is more popular in Moscow for regional flying." She states that it is 'very easy' to sell charter in the Moscow market. The most popular jet from Elit'Avia's point of view is the Challenger 605, and many operators have at least one
on their roster for that reason. "I hope that we will have two or three further aircraft join us next year, ideally the G650," continues Bondarevskaya. "This is harder to sell
on the charter market but we have an owner who wants to buy this aircraft. So hopefully the company as a whole will have 25 or 26 aircraft rather than the 22 we have right now, and I am sure we will be flying to longer distance destinations from Moscow, and from other countries too."