To mark the 10th year anniversary, Rotortrade broke ground on a first hangar and office complex in Florida at Treasure Coast International Airport-KFPR. with the appointment of Chris Mash as Sales Manager for the region.
The new facility adjacent to runway 32 features a hangar and office space of 10,000 square feet. Designed to accommodate the regional RT owned or exclusive inventory, the hangar has enough space for customers to land their aircraft and the capabilities to perform in house tear downs.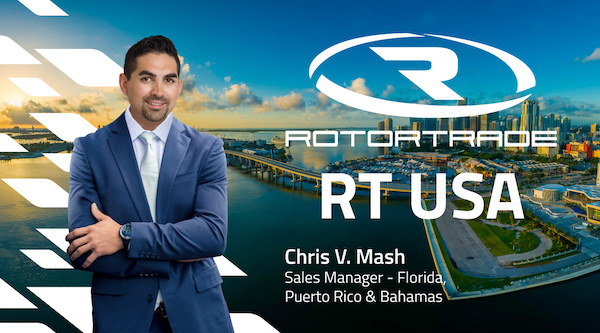 Chris Mash has been appointed as Sales Manager for Florida, Puerto Rico and Bahamas. He will be based in the new facilities and will be responsible for growing and developing the company's customer base in the region.
"This investment is the first hangar of Rotortrade and underscores our commitment to exceed the customer expectations by further strengthening our global presence. I would like to take this opportunity to welcome Chris Mash to the RT team. His knowledge, experience and network in the region will be of great importance for Rotortrade but most importantly, his customer focus. We always put the customers at the heart of everything we do." said Philippe Lubrano, President of Rotortrade.