The National Business Aviation Association (NBAA) recently announced the recipients of its 2016 Flying Safety Awards and granted Deer Jet a series of awards including the signature "Commercial Flying Safety Award", "Aviation Maintenance Department Safety Award " and "Commercial Pilot Safety Award" for its unmatchable record of more than 270 thousand hours of accident free operations.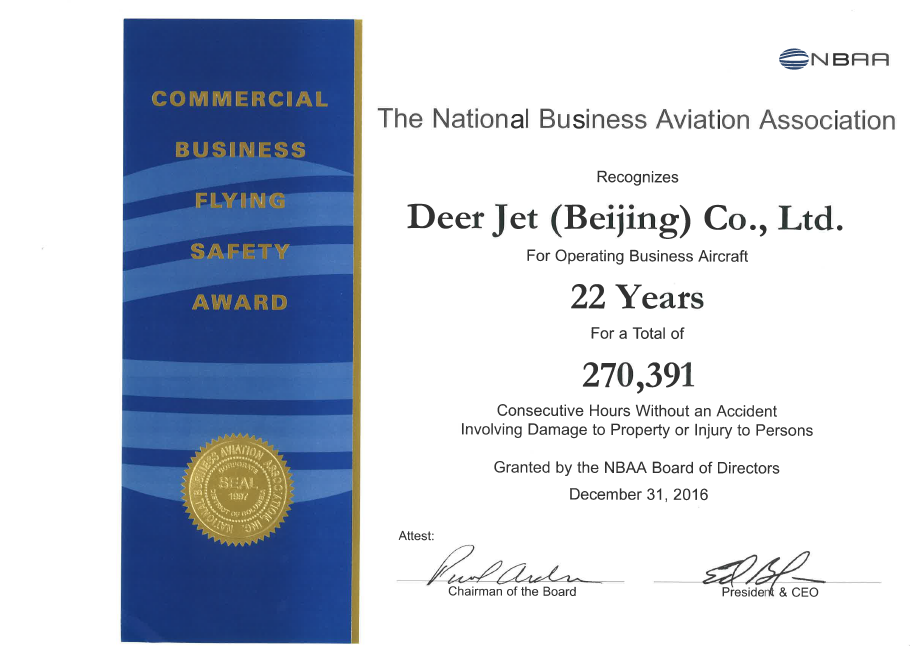 The awards highlight Deer Jet's flawless services and seamless quality across its jet charter, jet management, flight support and maintenance operations. As one of the leading private jet companies of the world, Deer Jet has invested heavily in the improvement of infrastructure, managing systems and service quality, not only optimizing operations but also taking international standards to new heights benefiting the global business aviation industry.
Deer Jet had implemented a unique set of safety policies and a culture of safety management at the core of its operations, going beyond the requirements of international standards and utilizing systems such as SMS and Bowtie Risk Management Methods. As evidence of its excellence, in 2017 the company passed the IS-BAO audit with perfect scores.
Deer Jet has also innovated in the field of safety operation management, developing the "Deer Jet Operation Risk Control system (DORCS)" which digitalizes and centralizes data for a holistic risk control management, providing reliable data for operations and flight personal to take accurate decisions, successfully increasing productivity and reducing errors.
The company has gone a major step toward digitalizing its air transport system with the Electronic Flight Bag (EFB), an electronic information management device that helps flight crews perform flight management tasks more easily and efficiently.
Already operating and managing one of the world's most diverse and advanced business jet fleets, Deer Jet's unparalleled safety record, awarded operational excellence and best-in-class services deliver remarkable experiences for business travellers worldwide, a vivid interpretation of its motto of "Making Travel an Art" through its philosophy of performance, elegance and distinction.
For 60 years, NBAA's Flying Safety Award program has recognized member companies and their employees for their outstanding safety records. Much more than awards, these recognitions serve as testimony to the high degree of professionalism inherent in business aircraft operations, and as tribute to the skill of a company's management, maintenance, pilot and support personnel teams.