Private jets can be an important time-saving machine for business executives, especially when they need to fly in a hurry. They are also frequently used by surgical teams who travel far and wide with their patients' organs so that these life-saving procedures may take place near where the patient lives or works. But how exactly are these trips made? "It takes about an hour for the plane to land and unload the organ, so it's very tight," says an expert, who has overseen over 100 of these flights. "The pilot has got to be on the ball every second because every minute counts." More airlines are now investing in this service and introducing air ambulances for successful transport of organs and saving lives. One such venture is introduced by Blade Air Mobility. Rob Wiesenthal, Founder, and CEO say "Blade MediMobility will be a national organ air transport platform—shifting from ambulances to helicopters immediately while transitioning to drones and Electric Vertical Aircraft".
Let's take a more brief look into the air transportation of organs and its benefits.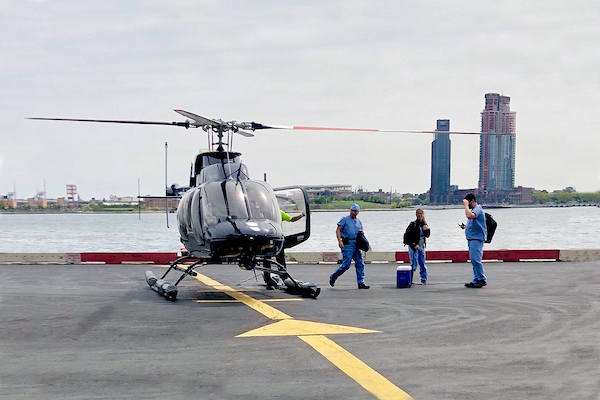 What Is Air Organ Transportation
An air ambulance is a lifesaving medical transport unit. Without it, many people would not have access to donated organs and transplant recipients can die waiting for their chance at life because they're too far from hospitals that offer this service in remote areas of the world where coverage isn't always possible or convenient. The pilots flying these planes are often risking injury themselves so you know what kind of words go along with your donation when considering becoming an organ donor!
Benefits of Air Organ Transportation
1. Speedy Transportation
Air ambulance pilots fly over populated areas. This means patients who need a donated organ can reach a treatment center in a fraction of the time it would otherwise take if they had to go by car. Moreover, it keeps the organ safe and ensures its survival till it reaches the recipient. Air Travel by helicopter is becoming more common in areas that are further away from hospitals. This means that the organs can be transported to recipients faster. Helicopter transportation also has a lower risk of damage due to bad weather conditions.
2. Transportation Of Special Equipment
Organ transport requires special equipment which can be more efficiently carried through air ambulances. This is possible with air travel of organs because it often involves smaller teams of paramedics, which allows them to work together more closely compared with an ambulance crew made up of different paramedics taking turns working on the same patient.
3. Strict Safety Regulations
In addition to these benefits, organ transport by helicopter adheres strictly to safety regulations. In the United States, for instance, all helicopter flights transporting organs must adhere to strict protocols before departure and after landing in order to ensure that tissue is not exposed from the time it leaves from the donor hospital until it arrives at the recipient's hospital. These protocols include a thorough screening of pilots and a comprehensive briefing on every trip. To assist with communication during flight, specialist equipment is used which allows communication between hospitals before and during transport. Organ transplantation provides many lives with the chance of survival. Since there are often few available donors compared with the demand for transplants, anything that can be done to increase donation rates will have positive effects for those waiting.
4. Effective Use Of Resources
On an average day, there are about 120 active organ donors in Australia and New Zealand. For possible transplant recipients, there are only three active donors located outside major cities. In most cases, air transportation allows for more effective utilization of resources from areas where many people have died from serious accidents or illnesses.
For many organ recipients, the safest and fastest way to receive a transplant is through air transport. The use of this transportation method ensures that organs are cared for during long-distance travel in pressurized containers with temperature controls. It also allows waiting patients to remain within their local area instead of traveling far distances to retrieve organs themselves or wait at hospitals while they await transplants. Air transport has successfully aided over 5% of all transplants in Europe since its inception. When you need your life-saving surgery, do not hesitate!