Different models of Airbus Helicopters are well know as reliable aircraft for EMS missions. This is a very important part of aviation business which is sometimes forgotten. Two great news from Heli Expo 2020 directly rlated to air ambulance services: Hungarian Air Ambulance becomes first helicopter operator to fully digitalise its support operation and Swedish air ambulance service orders three new H145. To remind, today more than 1,000 helicopters are connected to Airbus Helicopters. These include almost every helicopter type in Airbus' range – H125s, H130s, H145s, H155s, H175s, H215s, and H225s – performing a wide variety of missions including emergency medical services.
Hungarian Air Ambulance Nonprofit Ltd, has signed a three-year contract to deploy Airbus Helicopters' Connected Services for its new fleet of nine second-hand H135 helicopters, thereby digitising its entire chain of maintenance and flight operations. It is the first operator to purchase the complete end-to-end solution of connected services from Airbus, encompassing the digitisation, collection, storage, and analysis of data. Under this new contract, Hungarian Air Ambulance will roll out the core group of digital services: the Fleet Keeper digital technical logbook; the new Flightastic digital pilot logbook and compliance monitoring system; Airbus' homegrown Fleet Master maintenance information system (for small and medium-sized operators); and digital log cards, which trace the entire maintenance history of a single component.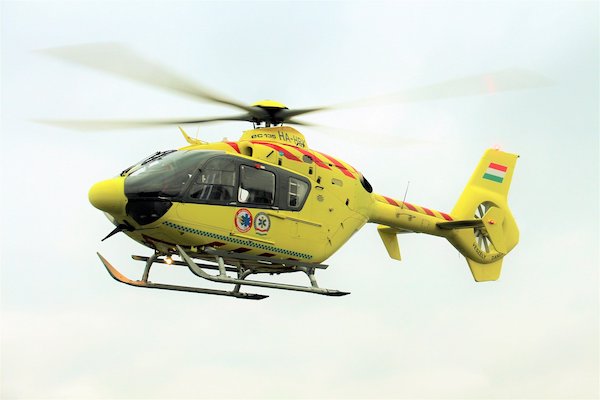 "The daily routine checks our crew performs with tablets will be made even more thorough with these additions," said Akos Boros, electronic flight bag administrator and documentation engineer at Hungarian Air Ambulance. These tools will enable the emergency medical services operator to convert its data into an easy-to-use digital format, which can then be exploited using data analytics. One of these analytics is Flight Analyser, for which Hungarian Air Ambulance becomes the first customer. Flight Analyser analyses flight data to prevent risky incidents that could have led to accidents.
"As our operation grows in terms of fleet size, and with the opening of a new base, we aim in parallel to put in place all the bricks of a data-driven organisation, so that we can begin harnessing and learning from our data all along our operational chain, from the pilot to the maintenance technician," said Dr. Laszlo Gorove, CEO of the Hungarian Air Ambulance.
"Every time an engine starts and with every beat of a rotor blade, a wealth of valuable data streams out of a helicopter," said Christoph Zammert, Executive Vice President of Customer Support & Services at Airbus Helicopters. "By digitising the processes and tools used to manage Hungarian Air Ambulance's maintenance, logistics and flight operations, and then applying analytics, we expect our customer will save time, improve data quality and processes, increase fleet availability, enhance operational safety and optimise costs."
Sweden's air ambulance service – Svensk Luftambulans – has ordered three new H145 helicopters.The operator will also have its existing three earlier model H145s retrofitted to the same standard as the new aircraft including an innovative five-bladed rotor, increasing the useful load of the helicopter by 150 kg while delivering enhanced levels of comfort, simplicity and connectivity.
The new rotor brings a significant increase in overall performance, with a maximum take-off weight raised to 3,800 kg and a useful load now equivalent to the aircraft's empty weight. The simplicity of the new bearingless main rotor design will also ease maintenance operations and improve ride comfort for patients, medical staff and crew, while the reduced rotor diameter will allow the H145 to operate in more confined areas.
Svensk Luftambulans' newly acquired H145s will feature the Wireless Airborne Communication System (wACS) to provide secure, two-way, operational and maintenance data communications in- flight as well as on the ground. The three aircraft are being added as a result of the Swedish counties of Norrbotten and Vasterbotten joining the current four counties – Värmland, Dalarna, Västra Götaland and Uppsala – for their helicopter service provision. Deliveries will take place in 2021 and early 2022.
Svensk Luftambulans CEO Gunnar Blomquist said: "The H145 has served us extremely well until now and the newly upgraded capability is ideal to support the expansion of our service to a wider population." Airbus Helicopters Head of Western Europe, Thomas Hein, said: "The new H145's capabilities bring important advantages to the HEMS community and we're delighted to see Svensk Luftambulans using it as the basis for their expanded operation."