A lot of professionals and aviation lovers were worried on the eve of Singapore Airshow opnening. What is th situation due to coronavirus? Is it safe to come and visit the show? Were all possible measure taken? Was it necessary to cancell the show in order to respect public health safety measures?
At this , when the trade segment of the show is concluded, we can already look back at the show, analyze what and how happened, all befits and potential for the next one. Returning exhibitors will include Airbus, Boeing, Changi Airport Group, Diehl Defence, Elbit, Embraer, Hensoldt, Israel Aerospace Industries, L3 Harris, Lufthansa Technik, Pratt & Whitney, Rafael and ST Engineering.
Kallman Worldwide, who organises US presence at the world's most influential aerospace and defence events, is the first to commit to returning with the USA Partnership Pavilion in 2022. Said Kallman Worldwide President and CEO Tom Kallman: "The success of the US Pavilion's 110 companies this year inspired Kallman Worldwide to be the first to sign up for 2022. The US participation was far-and-away the largest international group in the show and our government officials, military delegations, and industry partners all reported that their meetings were first class. As it does year-after-year, the Singapore Air Show delivered high-ranking decision makers and influencers from around the entire region. The USA Partnership Pavilion will build on the success of 2020 and return strong again in 2022!"
Other returning country pavilions for Singapore Airshow 2022 include Australia, Canada, Germany, Malaysia and Switzerland.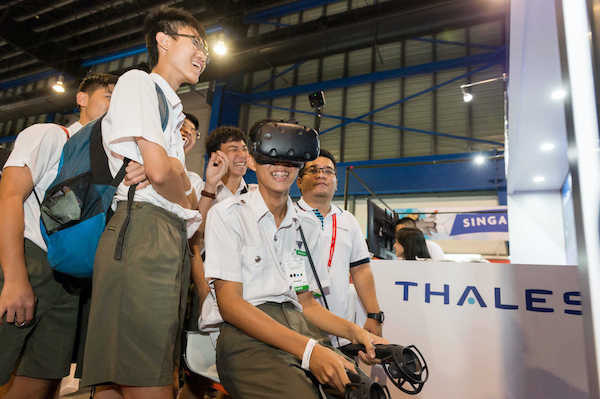 Mr Leck Chet Lam, Managing Director, Experia Events, organiser of the Singapore Airshow, said: "Singapore Airshow is a strategic node in the global aviation and defence ecosystem; one that is instrumental in the transformation of Asia's aerospace and defence industries. Despite current global concerns surrounding COVID-19, we are encouraged by the show of solidarity from our exhibitors and look forward to deepening collaborations and partnerships built during the past four days, and returning stronger with new ideas and concepts to transform Asia's aviation industry."
A strategic node in the global aviation and defence ecosystem
Over the past four days, Singapore Airshow 2020 witnessed announcements in new areas of development including JTC's signings with aerospace companies to bring in $500 million worth of new investments that will expand the aerospace ecosystem and supplier networks; CAAS' initiative with Airbus to improve regional connectivity in urban air mobility and ST Engineering's five-year contract to provide nacelle maintenance services to Qantas Airways' Boeing 737-800 and Airbus A330 fleet; showcase of new products and innovation such as Dassault's Falcon 6x and Airbus unveiling its blended wing body technology demonstrator which could potentially provide up to 20% lower fuel consumption.
"The presence of global players at the Singapore Airshow this year, in spite of the COVID-19 situation, reflects the importance and confidence that international businesses have placed in Singapore as a leading aerospace hub. The Singapore Airshow continues to be a strong testament to our vibrant aerospace ecosystem, and the value that Singapore brings to the global aerospace community. Long term prospects for the aerospace industry in Asia remain positive," said Mr Tan Kong Hwee, Assistant Managing Director, Singapore Economic Development Board.
Close to 30,000 trade attendees from more than 110 countries convened at Singapore Airshow 2020, where over 800 delegation meetings were concluded to establish networks and connect business opportunities around the world.
Innovation to drive transformation of the aviation industry
New concepts and breakthrough ideas to transform the future saw a total of 32 companies from eight countries pitched on topics in Digital Solutions, Artificial Intelligence and Cybersecurity, Automation and Smart Transport, Smart Manufacturing and Marketplace and Sustainability and Energy. The two days of pitching and discussions saw Lumitics, MicroSec, SenseGiz, CargoAI.co and Transkinect emerge as winning teams for their innovative solutions in their respective categories that are deemed to potentially transform the aviation industry. All winning participants receive three months of co-working space at BLOCK71 Singaporeh.
During the Education Days on 13 and 14 Feb 2020, Singapore Airshow Aero Campus welcomed almost 1,000 university undergraduates, full-time national servicemen and jobseekers to connect with nine higher education institutions such as Singapore Institute of Technology, Embry-Riddle Aeronautical University and Workforce Singapore for introduction to careers in the aviation sector, as well as meet with potential employers such as ATR, Boeing, Pratt & Whitney, Rolls Royce and SIA Engineering Company. This underscores the importance of Singapore Airshow in providing a platform for developing the talent pipeline to ensure the flow of new talents with relevant skills that would help the aviation sector progress into the next era.

An array of Public Day programmes
A logical question - due the actual situation with Coronavirus, what happens with public dayprogramme? The answer from organizers is the following - they had scaled down tickets for sale by more than half. Over the two public days from 15 – 16 February, visitors can to enjoy a total of four display performances from three countries that include the Republic of Singapore Air Force's aerial display team consisting of an F-15SG fighter jet and two AH-64D attack helicopters, China's People's Liberation Army Air Force aerobatics team Ba Yi, the United States Marine Corps' F-35B Joint Strike Fighter, and the United States Pacific Air Forces' F-22 Raptor. The United States Air Force's B-52 Stratofortress will also be performing a flyover on 15 February.
Other activities happening on ground include meet-and-greet sessions with the Singapore Airshow mascots, Captain Leo and Captain Leonette, roving Superhero characters, live-band performances by The Band of the Pacific from the United States Air Force, and the inaugural SG Experience which features home-grown F&B and lifestyle brands. Public can also have a taste of the Aerokueh and Brewerkz Afterburner Pacific Pale Ale, created specially for Singapore Airshow 2020.