A record-breaking Royal Air Force (RAF) bomber from Britain's golden age of jet flight is to be restored to airworthiness.
English Electric Canberra WK163 was the first aircraft in history to complete a transatlantic flight without refuelling, and once held the world altitude record.
It is hoped that a fund-raising campaign, launched by the Vulcan to the Sky Trust, will help ensure restoration can be completed in time for the RAF's centenary in 2018.
Joanne Writtle reports.
A record-breaking jet from Britain's golden age of flight is to be restored.
The Vulcan to the Sky Trust has launched a fundraising campaign to bring the English Electric Canberra WK163 back into action.
Trustees have already assembled the engineers and spare parts, including six engines, needed to get the project off the ground.
Fans will be able to see the work as it is carried out on at Robin Hood Airport, near Doncaster.
The Canberra once held the record for the highest flight, and the WK163 has been described as a "celebrity" in the golden age of post-war British flight.
The announcement for the restoration project was made at Coventry Airport by the team who put a Vulcan bomber back in the air.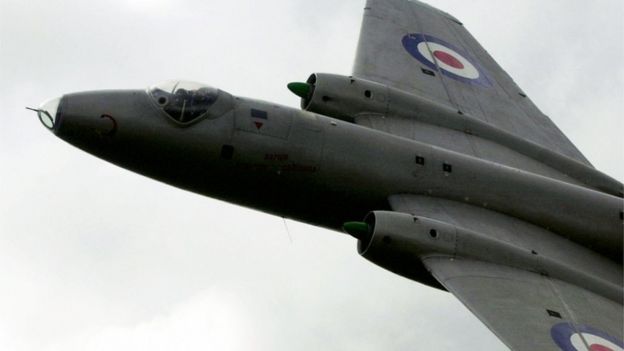 Image copyrightRUI VIEIRA/PA
Image captionThe trust hopes to raise enough from public funds to restore the Canberra WK163
Robert Pleming, Vulcan trust chief executive and leader of the restoration project, said the aim is to have the Canberra ready for the RAF's centenary in 2018.
"WK163 embodies so much that is remarkable about British courage and innovation in the jet age - qualities that she can continue to inspire in us all," he said.
Once the project is finished, the WK163 will be the only plane of its type operating in Europe.
English Electric Canberra WK163
The jet first entered service in 1951
In August 1957 it broke the world altitude record by flying at 70,308ft (21,430m), 13 miles above ground
It was replaced as a bomber by more modern aircraft, but continued to act in reconnaissance missions until it was retired by the RAF in 2006
WK163 last flew in 2007
Nasa still uses three American-built WB-57 versions to carry out satellite testing missions