With Aircraft Interiors Middle East (AIME) and MRO Middle East set to open 25 February at Dubai World Trade Centre (DWTC), leading companies in both sectors will be coming to Dubai to share their latest products and innovations.

The co-located events will host 330 exhibitors spanning the aircraft interiors and MRO sectors, including inflight entertainment and communication (IFEC), seating and flooring, maintenance and ground support, plus much more. Companies including Boxmark Leather, Joramco, FACC Aftermarket Services and Honeywell will be joined by many others demonstrating their expertise and products to up to 5000 trade visitors across the two days of the event.

Semmco, specialists in a wide range of aircraft access and ground support equipment will be demonstrating a wide range of products at the exhibition, including those manufactured at the Dubai facility: the DWC 4 Wheel Towable Wheel & Brake Changer Unit, DWC UCAS Access Steps, DWC MLG Access Platform and the DWC Nitrogen SMART Trolley. "We have had a fantastic few years growing the Semmco business in the Middle East, and the MRO exhibition will be a great opportunity for us to connect with existing and potential clients throughout the region, and to showcase our continuing commitment to manufacturing and servicing locally", says Stuart McOnie, Semmco MD. "We're looking forward to being part of the region's leading aviation maintenance event, and to demonstrate our localised product and support offering".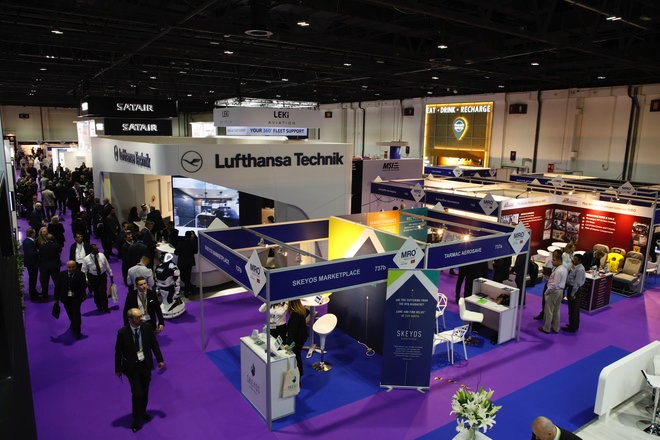 Returning to AIME following previous successful appearance in 2019, UK based aircraft interiors supplier Thomas King Associates will be displaying a range of sheet vinyl flooring, woven cabin carpets, aircraft interior plastic trim parts and on-board aircraft use wheelchairs. Managing Director Duncan King said, "We can offer Airlines lighter weight products to help reduce fuel burn and also cost effective parts and materials." He added, "The Middle East is an important market place that we expect to grow over the coming years."

Passenger experience is a key focus for regional airlines vying to attract customers on global routes. "Middle Eastern carriers are early adopters of innovation," says Franck Michaud, Business Development Director, SITAONAIR. "Inflight connectivity technology is rapidly changing and evolving. However, any decision an airline makes now has an impact for the next ten years or beyond. Airlines must bring new technologies to the air but also enable the best passenger experience and the best connectivity experience across their fleet, during their whole journey. They seek to deliver a robust inflight connectivity experience for passengers, crew and operations that meets the growing data demand from connected devices."

SITAONAIR will be demonstrating the value of connected applications for enhanced airline operations at AIME 2020 and will be discussing its developing enhanced Mobile ONAIR product, enriched with the 4G connectivity, which is set to lay the groundwork for airlines to implement the inflight mobile connectivity services of tomorrow.

"Seeing the show grow year on year demonstrates that there is a solid market demand for the event," says Caryn McConnachie, Aerospace Director of show organisers Tarsus F&E LLC Middle East. She added, "The biggest driver for the demand for both aircraft interiors and MRO is the growing aircraft fleet in the region."

"MRO Middle East is the largest gathering of commercial aerospace professionals in the region," says Lydia Janow, Managing Director/Events, Aviation Week Network. "With new exhibitors joining those that have been part of the event for many years, I look forward to seeing the business achieved on this platform again in 2020."

In addition, AIME 2020 will feature IFEC Seminars on the show floor, which are free to attend for all show attendees, while the exhibition will be preceded by the MRO Summit, taking place 24 February at the Conrad Hotel. Visitors can register to attend on either aime.aero or mromiddleeast.aviationweek.com