Qatar Airways is pleased to announce that two of its state-of-the-art fleet will be on display at the Paris Air Show.
Building on a year where the award-winning airline took delivery of its 250th aircraft, introduced a raft of new routes and unveiled a stunning new Economy Class product, the airline will once again take centre stage at one of the world's biggest air shows, where it will welcome thousands of visitors to its stand.
On display will be Qatar Airways' A350-1000 - the world's most technologically advanced aircraft, featuring unparalled ambience and design, contributing to superior levels of comfort and well-being and setting a new standard in terms of flight experience for all passengers.
Also on display will be the Gulfstream G500, the airline's ultra-modern executive jet that sets an industry benchmark by offering one of the quietest cabins as well as optimum cabin altitude pressure. Operated by Qatar Executive, the private jet charter division of Qatar Airways Group, the aircraft is perfectly suited for passengers who wish to maximise their travel time while experiencing the ultimate in comfort and privacy.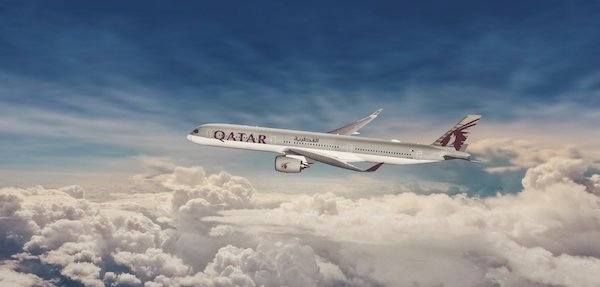 Qatar Airways Group Chief Executive, His Excellency Mr. Akbar Al Baker, said: "Qatar Airways is delighted to be returning to this year's Paris Air Show. It has already been a landmark year for us, as we took delivery of our 250th aircraft in March – an incredible achievement for an airline that started with just four aircraft in 1997. At a time when tens of thousands of visitors are coming to France to take part in the FIFA Women's World Cup France 2019™, where we are a proud sponsor, we look forward to exhibiting at the Paris Air Show and to welcoming visitors from around the world to our stand to experience our award-winning hospitality."
Qatar Airways' A350-1000 features the airline's patented, award-winning Business Class experience, Qsuite, which offers the industry's first-ever double bed in Business Class, as well as privacy panels that stow away, enabling passengers in adjoining seats to create their own private room, a first of its kind in the industry.
A multiple-award-winning airline, Qatar Airways was named 'World's Best Business Class' by the 2018 World Airline Awards, managed by international air transport rating organisation Skytrax. It was also named 'Best Business Class Seat', 'Best Airline in the Middle East', and 'World's Best First Class Airline Lounge'.
Qatar Airways currently operates a modern fleet of more than 250 aircraft via its hub, Hamad International Airport (HIA), to more than 160 destinations worldwide. The airline will add a number of new destinations to its extensive route network in 2019, including Davao, Philippines; Lisbon, Portugal; Mogadishu, Somalia and Langkawi, Malaysia.