Life is truly interesting and surprising sometimes, a summer job taken in between of studies can lead you to become Director General for Civil Aviation authority. Aviation is an industry which when you fall in love with you're never goingto look back and are there to stay.
Captain Charles Pace travelled a long road: from cabin crew, ground operations until he got his flying license and started to fly 737s as first officer, later a captain and going on to become Chief pilot Boeing 737 at the national airline. Later safety and compliance management for the national carrier and a private jet company. After being appointed to the board of directors of the Transport Authority in Malta he became Director General for Civil Aviation, the post he has held for last five years.
We caught up with Captain Charles Pace, Director General for Civil Aviation at Transport Malta during the Malta Aviation Conference and Expo 2021 (MACE 2021) and before we share some essential points of our discussion with him, we must confess: the reactivity, the accessibility and open mind of the authority is impressive and certainly contributes to the success of the aviation sector development.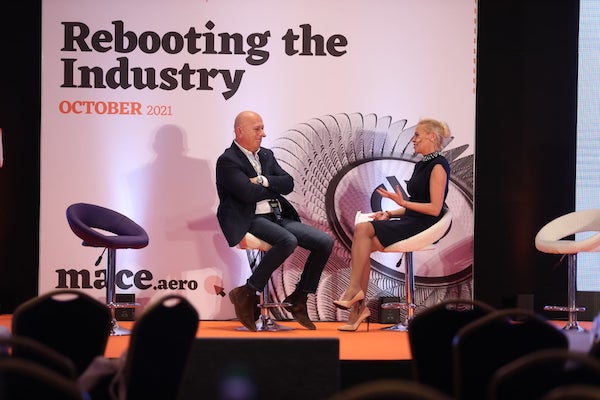 Q. Captain, what was your first reaction facing corona crisis, without even knowing all circumstances?
A. My first reaction… Anger, stupefaction, sadness. I have been long enough in the industry and during these years I've seen a lot – financial crisis, natural disaster, and many more tragic things. But it was obvious that Covid-19 is something unprecedent and it will impact aviation in a way we never knew before.
Q. What was the most challenging of tasks you had to manage at the very beginning of the pandemic crisis?
A. I can tell you – the chaos. Many decisions taken in a rush were incomprehensible, illogical, and counterproductive. Heath authorities took over the aviation industry. In fact, in aviation we already had many protocols that would be more than useful in pandemic crisis management. A lot of decisions and directives were guided by a panic. Some decisions were taken too late, some were too early. Aviation became an enemy who can bring this virus. So, countries went into lock down. We were building walls, hoping that the virus will stop that way. Instead of being united, each country managed the pandemic in its own way. Same scientific facts were translated into decisions taken in a different way by each country.
Q. How did you managed repatriation flights?
A. I must confess, it was quite challenging. Again, simple example, the flight which was possible at one point wasn't possible two hours later. We were constantly receiving new and new regulations and rules from Health authorities were ever changing. I can tell you, when Italy was considered as the most dangerous country in Europe – we had to repatriate a group of pilots from there. It was so far from being simple, yet we did it. Again, no logic in restrictions, panic effect. There were Maltese people we had to fly back home, expats had to fly back to their countries. Once again, I believe it could have been organized in a much better way if health authorities would listen to aviation leaders and would let us follow rules and protocols already existing in the industry.
Q. What measures were taken to help people working in the aviation industry?
A. The Government of Malta did a lot to help companies and people working in the aviation industry to live through this unprecedent pandemic caused crisis. Despite that, I know how many professionals left the industry, just because they were not sure about having their job, not even talking about being paid in a level before pandemic. In my opinion it is a waste of talents. Aviation professionals are highly skilled, and their education and training takes a long time. I think that aid programs for the industry must be sustained. The financial damage to the aviation industry is enormous. One great way to assist the aviation industry is let it fly, with less restrictions and better coordination.
Q. During the panel discussion on sustainability in aviation your remark was quite interesting…
A. As I said, it was not even a question, it was an opinion. Greed deal, sustainability, decarbonization – it is evidence, it is important and the way to go. I think aviation is already making a lot of efforts. My point of view is that governments need to allow the aviation industry to recover from the pandemic caused crisis, before imposing more economic burdens on the industry.
Q. During MACE 2021 we've learned that you were quite busy during the pandemic, can you share some details with us?
A. Yes. To tell you – we were quite busy. The workload increased significantly. I can tell you – we've registered a record number of aircraft, on average an aircraft every 2 days. One more impressive thing – a record number of start-up companies took their decision to move to Malta. We had a lot of things to do to help airlines who were switching to all cargo just trying to survive. We accelerated our online application system. We transferred all our exams to electronic format. I must tell you – we did our best to be there for industry professionals, be reactive, helpful and perform as best as we could. A huge Thank you goes to all the team in the Directorate of Civil Aviation!
Q. Industry recovery – how do you see it happening and what is your vision for next 2 years?
A. First what I would like to say that we must look back and take some lessons from the pandemic caused crisis. We have to be better prepared for the next pandemic; we need to correct things that went wrong. Thus, we're working on the basis of recovery for aviation industry. Again, I hope that in the future, the aviation industry will be given more space to manage itself and to avoid any sort of repetition. We are living day by day now, so I rather wouldn't give my vision for next 2 years. It's quite evident that to help aviation recovery we all need to keep work on electronic tools and facilitate the return to service as before. Now, when we know that the vaccinations work, we need to come out of cages. Electronic identity wallets, electronic passenger identity locator cards, quick passage through airports. All of this must be introduced on a global level. Malta has a strong aviation industry with both private and commercial aircraft. As I am optimistic, I will just say that in my opinion, the Maltese aviation cluster will come through the pandemic even more agile and ready to face new opportunities and new realities.