VR-CONNECTION, the leading French research and development force in virtual reality, will be at the Paris Air Show.
First hub for companies of virtual reality in France
The VR-Connection is an Economic Interest Group (GIE) created in November 2016 by two young entrepreneurs: Ian Toullec, Bialistok & Co and Alexandre Ibanez, IBA & CO.
This group is the first collaboration hub for virtual reality professionals in France. It already brings together more than 50 specialized companies and a thousand of professionals (June 2017), while guaranteeing their independence.
VR-Connection brings together all the skills in the value chain of these new immersive technologies. The panel of member companies is already very diversified with: Groupe XXII, UniVR, VRrOOm, Reeality, C2Care, la 25ème heure, 3drudder, VR Lines, Timescope, Optima Reality,…
A unique strength of production, Research & Development
All these companies pursue a double goal of professional acceleration and R & D.
By combining all the French know-how of virtual reality, VR-Connection disposes of broad expertise and offers a powerful force of proposition, creativity and innovation for all sets of problems.
"Each project is different, that's why the teams are modular and reach out to our entire hub to find the right solution," said Alexandre Ibanez, Co-Founder of VR-Connection.
Facts & Figures
● + 50 companies specializing in virtual reality
● + 1,000 professionals in all areas of expertise
● A reactive and adaptable operation in "project" mode
● Direction / production experiences in all sectors (aeronautics, space, automobile, sport, health, real estate, games, ...)
● International projects (Europe, Asia, China, USA, ...)
AIR-VR: helicopter flight simulation prototype at the show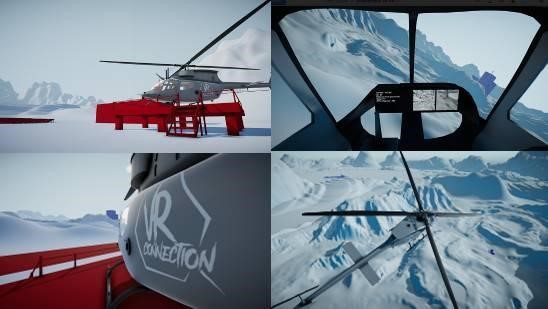 The VR-Connection Lab is exclusively presenting its prototype of a virtual reality helicopter pilot simulator, at the SIAE 2017.
Equipped with a virtual reality helmet and installed on a seat with a 6-axis rotating motor reproducing each movement, this experience allows one to discover the fine sensations of piloting.
Thanks to the work of a team of leading researchers and developers, the physical laws are respected and the movements coordinated with precision.