Even the best day since 2011 wasn't enough to reverse fortunes for European stocks, which resumed declines on Wednesday.
Investors have dealt with zigzags this week, as European stocks first slid the most since the financial crisis, before rallying yesterday after China cut interest rates. A late-day announcement that Monsanto Co. abandoned efforts to acquire Syngenta AG sent shares of the Swiss company down 18 percent, the most on the Stoxx Europe 600 Index.
The benchmark gauge for European equities lost 1.7 percent at 4:37 p.m. in London. It rebounded as much as 0.2 percent earlier from a drop of 2.7 percent after a report showed U.S. durable-goods data beat estimates. The optimism proved brief.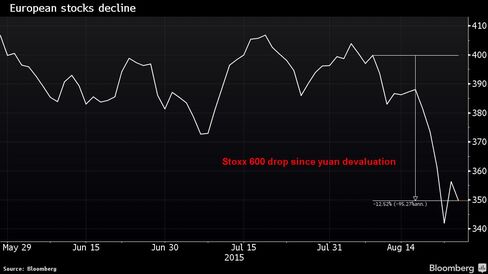 "We'll have more volatility until we get more visibility," said Jacques Porta, a fund manager who helps oversee 500 million euros ($570 million) at Ofi Gestion Privee in Paris. "The Chinese devaluation worried investors and the economic data has struggled. The sharp drop in prices of oil and commodities is concerning."
A global selloff triggered by China's currency devaluation on Aug. 11 accelerated early this week, deepening a correction for the Stoxx Europe 600 Index and sending Germany's DAX Index into a bear market. The European stock index has tumbled 11 percent in August, on course for the worst month since 2008.
The Swiss Market Index posted the biggest drop among western-European gauges on Wednesday, weighed down by Syngenta's record slump. Transocean Ltd. also contributed, sliding 8 percent. The offshore rig operator said it plans to halt investor payouts and book 2 billion Swiss francs ($2.1 billion) in asset impairments after an oil price crash.
Paddy Power Plc and Betfair Group Plc rallied 20 percent after the betting companies agreed to merge. Abengoa SA jumped 16 percent, taking its four-day advance to 55 percent. The Spanish renewable energy company surged yesterday after a report its planned capital increase will include Class A shares, which have more voting rights.
"Fears over a global slowdown intensified but it's overdone," said Christian Stocker, a strategist at UniCredit Bank AG in Munich. "European markets lost 12 percent over four days. This isn't based on facts but only on sentiment. We do not have signs for a recession or a new financial crisis. We see extremely oversold equity markets as a chance for medium-term investors to step in again."