Dubai Air Show became the place where SCHOTT, jetlite, Etihad Engineering and Lufthansa Technik have signed a ceremonial letter expressing co-operation in further exploring and promoting a new "Human-centric Lighting" technology and bringing it to the market. For those who are asking themselves - what is Human-centric Lighting - here is a bit of details by jetlite: "Human Centric Lighting supports health, well-being and performance of humans by combining visual, biological and emotional benefits of light. The circadian rhythm can also be supported by orienting the lighting solution to the natural course of daylight.By providing the right type of light at the right time, it is possible to adapt the biorhythms of passengers to the destination time zone and therefore reduce jet lag. Warm light for relaxation is supplied during periods of rest, whereas cooler light provides stimulation for more active phases."
Signees from left to right– Dr. Achim Leder (Founder & CEO Jetlite GmbH) / Abdul Khaliq Saeed (CEO Etihad Engineering) / Bernhardt Randerath (VP Design, Engineering & Innovation Etihad Engineering) / Niels Dose (Manager Product Sales Lufthansa Technik AG / Dr. Armin Plichta (Director Aviation & Automotive Schott AG)
The collaboration aims at combining SCHOTT's expertise in cabin lighting systems, jetlite's holistic and scientifically-proven solution for jetlag reduction, Etihad Engineering's and Lufthansa Technik's expertise for aircraft systems integration, design certification, and innovation capabilities. The result is an effective system for automated cabin lighting scenarios that will positively affect air travelers' well-being on multi-timezone flights by reducing jet lag and headaches, and enabling higher concentration and energy levels.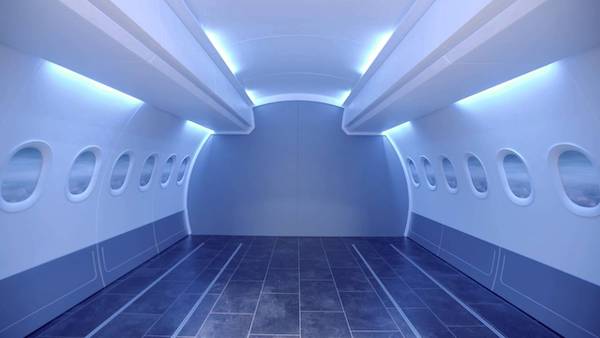 The jointly developed system makes use of SCHOTT's HelioJet® LED cabin illumination technology that enables a homogeneous light distribution as well as a high color stability throughout the cabin. It is combined with jetlite's intelligent automation software integrated into Lufthansa Technik's »nice« cabin lighting control system. The new lighting-pilot technology permanently calculates and executes the optimum illumination sequence for any flight route and phase or any desired lighting choreography, without the need for cabin crew to intervene. Etihad Engineering and Lufthansa Technik bring decades-long experience with aircraft and systems integration, certification, and validation into the partnership, contributing to development capabilities in design and parts manufacturing (EASA Part 21-J and 21-G).