FAI Technik has completed its latest refurbishment, "Project Pearl", a pre-owned Bombardier Global Express – D-AFAL (MSN 9016). The multi-million-euro project represents one of the most extensive refurbishment projects for the type.The project, which took approximately 10,000 manhours to complete, includes 15/30/60, 120 and 240-month inspections. The Global features an all-new cabin with the latest cabin management and entertainment systems. This includes Collins Aerospace's VenueTM enabling passengers to watch HD movies and listen to enhanced digital audio throughout the cabin and Honeywell´s Ka-Band broadband technology, delivering ultra-high-speed satellite connectivity.
Siegfried Axtmann, FAI´s Group Chairman commented: "FAI is proud to present this unique Global Express to the pre-owned Charter-Market. Ultimately, we believe it would appeal to a buyer looking for a striking pre-owned aircraft. I applaud Tim Callies for the first class design work and would like to extend my thanks to the FAI Technik team for realizing this challenging project"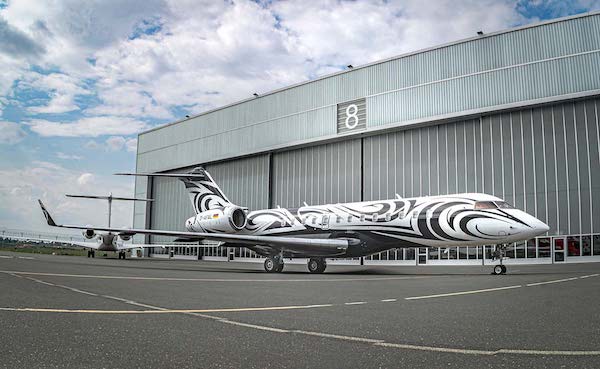 The aircraft's custom interior was designed by FAI's design partner, award-winning German design specialist, Tim Callies. Mr Callies is well known for his work on Boeing BBJ's, Airbus ACJ's and Global Express business jets.
The luxury interior features VIP seating for 12 passengers which includes two tone grey leather seating and two three-seat sofas covered in anthracite Armani fabric. The interior also features stylish heated grey-white marble stone flooring in the galley and VIP toilet areas which matches the granite countertops of the galley and bathroom. Galley appliances include a wine cooler, coffee maker and oven.
The interior is complemented by a striking customised exterior paint scheme, also designed by Tim Callies, that maximises the knowledge and skills of the team at FAI Technik. The finished paint scheme which took just six weeks to complete features black and white stripes laid out in a unique pattern.