The aircraft painting facility at the RUAG Aviation one-stop shop in Munich has repainted a Bombardier Global Express XRS, on behalf of long-time customer SBK Holding Ltd. The RUAG one-stop shop services optimised the downtime associated with a scheduled 15-month inspection. SBK Holding Ltd chose a full repaint of their eight-year-old aircraft to express their own dynamic and innovative image.
RUAG aircraft painting specialists reproduced a series of hand-painted, precise customisation graphics highlighting the intricate patterns found in high performance, fibre-reinforced technology materials, such as carbon and honeycomb structures.
"Our business jets customers can expect a flexible and integrated approach from a responsive organisation," confirms Volker Wallrodt, Senior Vice President Business Jets, Dornier 228 & Components, RUAG Aviation in Munich. SBK Holding Ltd relied on this practice as they opted to combine a planned 15-month inspection of their eight-year-old Bombardier Global Express XRS with full exterior repainting. "Our status as a full-service Bombardier Authorised Service Centre, combined with our one-stop shop of quality aircraft support solutions, ensures our Bombardier customers have access to all services within the same designated downtime," he states.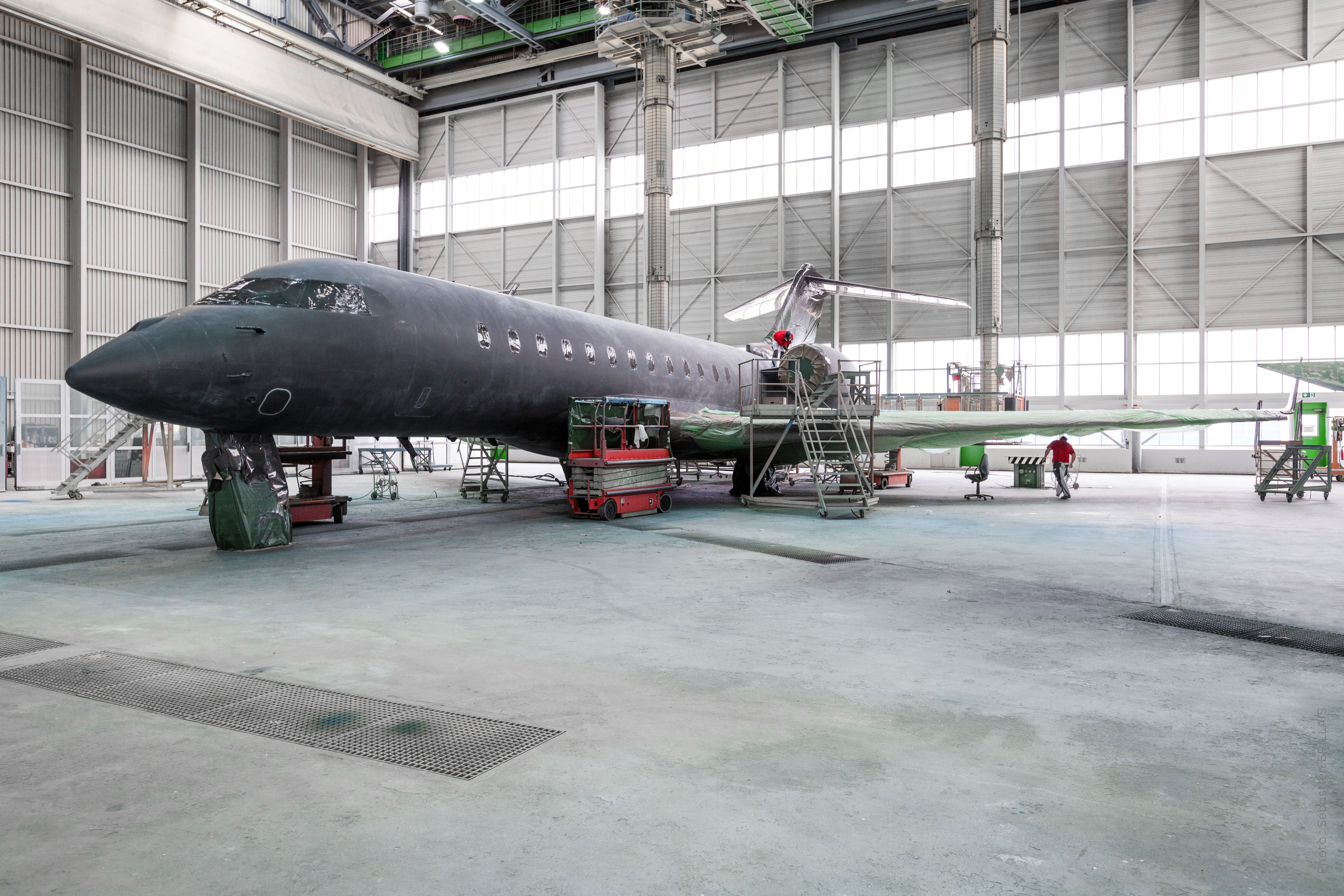 In fact, the project planning for the overall downtime was rigorous. SBK Holding Ltd decided in favour of a full repainting, instead of only partial, along with the exclusive design and the work-intensive process, shortly before the aircraft arrived for its maintenance visit. Decisive to this decision was the Carboneum design by Didier Wolff, Designer and Founder of Happy Design Studio. The project grew to include more suppliers and higher workhours than originally anticipated. Reproducing the subtle and elegant design required the digital creation of extraordinarily detailed templates for the honeycomb effect on the engine surfaces, the precise blending of 150 litres of the specially-mixed, dark grey mica-metallic paint, and the hand-painting of the woven pattern on the vertical stabilizer. Still, the entire project was successfully achieved within the designated timeframe, meeting customer expectations in full, and providing enhanced protection for the aircraft exterior.
"RUAG Aviation's craftsmanship and painstaking attention to every last detail allowed them to accurately reproduce my design, especially the intricate honeycomb effect on the engines and the carbon fibre weave pattern on the tail," asserts Didier Wolff. "Hand-painting this particular detail, while time intensive, ideally captures the innovative beauty of the design, as well as ensures improved durability, over and above the preprinted adhesive foils generally used within the industry."
SBK Holding Ltd understands the importance of innovation as well as reinforcing an image founded in the combined dynamics of entrepreneurial qualities, reliability and trust. "Our goal, as a world-class company is to provide an innovative platform for businesses and interests to increase their collective and individual value, within a framework which supports sustainable growth," states Kemal Pehlivan, Marketing Manager, SBK Holding Ltd. "We chose RUAG Aviation as our partner because they have continuously proven to be a reliable and trustworthy partner in the support of our aircraft and any necessary service it requires. They have again proven their excellent reputation for guaranteed, reliable one-stop shop solutions, including premium quality aircraft painting," he confirms.
RUAG Aviation in Munich provides one-stop shop solutions, performing all required services within one single downtime, adapted to suit individual customer schedules. The comprehensive portfolio of aircraft support solutions include line, base and heavy maintenance checks, cabin interior restyling, system upgrades, component services, FBO, AOG, and support and consulting.