Did you know Bell offers an extension of our world-renowned U.S. training academy experience in beautiful Valencia, Spain? Combining our world-class expertise with advanced simulations and experienced instructors, Bell's programs equip pilots with the tools they need to master vertical lift. Our top-quality simulator mimics emergencies and malfunctions in adverse conditions that are impossible to practice in the real aircraft, preparing customers to handle challenging situations. It's an unparalleled training experience that doesn't compromise customer safety.
Situated on the Spanish coast, the Valencia facility is as an easy-to-reach, exciting destination offering pilots and operators the chance to enhance their flight skills and explore a thriving community. During training hours, they can receive unmatched rotorcraft training in the first-ever Bell 429 EASA-certified Level D Full Flight Simulator (FFS). They can work with Bell instructors or reserve simulator time and bring their own teachers. When they're not training, they can discover museums, enjoy beaches, try delicious food and meet friendly people. With an idyllic location and intuitive learning equipment, the Bell Training Academy in Valencia provides thrilling experiences and invaluable knowledge for pilots to take away. Read what they had to say about their visit:
"The facilities, the simulator and the staff (administrative and instructors) are first class. The academy also possesses a family atmosphere where we can interact more closely with instructors. It is a hard-to-resist combo: first-rate training with extremely helpful staff and community." - THOMAS LINDELL (National Sweden Police)
"Valencia is easily accessible for travelling. As for the staff and instructors, it was very easy for me to make arrangements and book periods for training. The facilities are very suitable for the conducted training, complete with classrooms, resting areas and a high-standard simulator. - PABLO SLAVIK (Dirección Provincial Gobierno de San Juan, Argentina)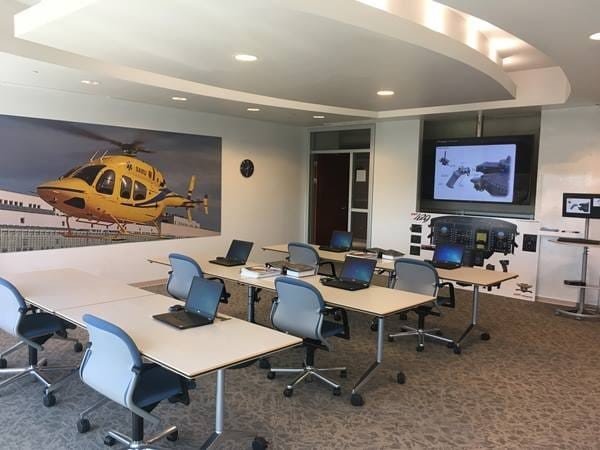 From flight maneuver training to maintenance instruction, Bell provides an extensive range of learning opportunities that incorporate knowledge of the latest industry trends and are customized to the needs of each student.