Currently most of airBaltic's Airbus A220-300 aircraft are parked wing by wing at Riga International Airport, waiting for the moment they can take off above the clouds again. Only some of them continue operating special flights to bring home the inhabitants of the Baltic States and transport face masks and respirators for medical needs. Meanwhile technical department continues working around the clock to fully service the aircraft and keep our fleet in tip-top flying shape to bring our full network back online as soon as it's safe to do so.
After the reopening of passenger air traffic, all airBaltic flights will be operated with the new Airbus A220-300 aircraft – 22 in total. The Airbus A220-300 offers an excellent flying experience with such benefits for passengers as wider seats, larger windows, more hand luggage space in the cabin, improved lavatories and much more.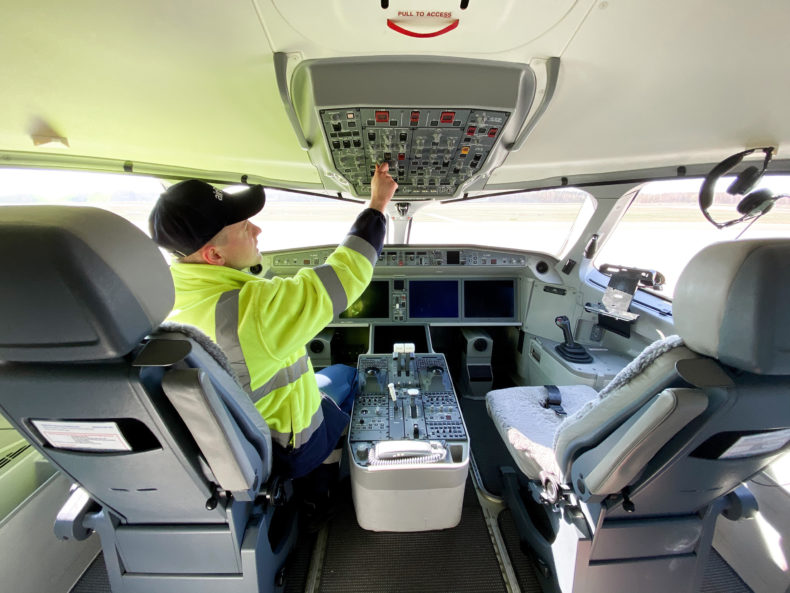 Safe parking is crucial
This is the first time modern aviation is experiencing such a massive fleet grounding, creating a huge challenge also for the airBaltic's technical team. They need to make sure the aircraft are in airworthy condition all the time. Parking the aircraft for many weeks is not exactly the same as putting a car in a garage – technical staff has to carefully prepare each aircraft for long term parking and continue performing regular maintenance tasks. All maintenance tasks on each aircraft type are performed in accordance with manufacturers recommendations and instructions. At least once a week during downtime our technical staff checks the condition of avionics, hydraulic, pneumatic and other systems of each aircraft.
Additional tasks include the installation of protective covers and plugs on the inlet cowl and exhaust of engines, air conditioning systems, pitot tubes (air data smart probes) and auxiliary power unit. This has to be done to prevent the presence of birds and the accumulation of dust and debris in the various open parts of the aircraft. Several aircraft parts have to be protected against moisture, but the interior – from the sun. The aircraft should be deenergised and disconnected from the electrical power supply.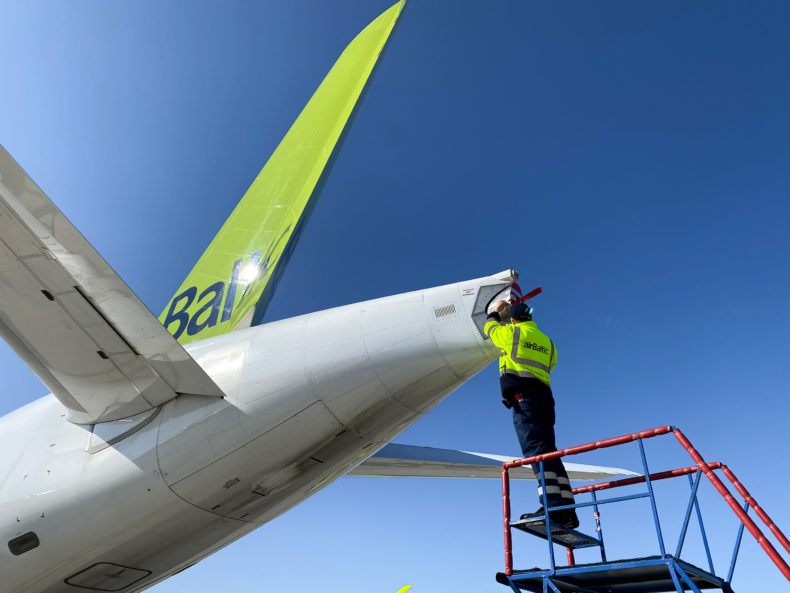 5 interesting facts about airBaltic's aircraft technical staff
1) airBaltic employs more than 100 aircraft mechanics and technicians, who work in shifts to make sure that every airplane is properly serviced and safe to fly. Even so, they have to be ready to work on call 24/7, including on weekends and holidays.
2) There are four categories of technical staff. The first are uncertified mechanics, who must always work under the supervision of certified staff. The second are certified A and B1 category technicians, who work on their own and are responsible for the engines and mechanical parts of an aircraft. The third are certified B2 category technicians, who also work on their own and take care of avionics such as the electrical power, navigation, communication and autopilot systems. The fourth are certified C category technicians, who are responsible for aircraft maintenance during base visits.
3) Technical staff usually work outside on the apron while carrying out line maintenance tasks and in a hangar when working on base maintenance tasks. That means they have to be prepared to conduct their duties not only in a heated hangar but in all weather conditions, including strong winds, battering snowstorms, bitter cold and heavy rain.
4) Teamwork is one of the most important elements of the job. It involves not only technicians and mechanics, but also pilots, engineers and employees from other departments. Sharing your experience and the problems and solutions that occur during a shift is a must in order to be on top of the latest developments with the planes that you service.
5) A sense of responsibility is crucial. There is no room for the smallest margin of error in this job, so you have to be extremely motivated. You have to be precise in your work and highly qualified in order to do everything right.
Special thanks to Mikus Zvirbulis, Vjaceslav Konstantinov and Kaspars Priede for the help with photos and article preparation.