As one of Key actors of business aviation industry, Bombardier is getting ready to impress during NBAA-BACE 2019, next week in Las-Vegas.
Righr before the opening, Bombardier announced new 10 City-Pair Speed Records! Challenger 350 had set speed records for 10 key American city pairings in 20.5 hours. This impressive feat was completed as the aircraft flew a cross country circuit between 10 of the top U.S. business aviation destinations, setting a city-pair speed record with each mission.
The Challenger 350 jet departed from Las Vegas at 07:56 AM local time and embarked on a 10-stop, U.S.-wide tour. As part of this mission, the aircraft flew at an average cruising speed of M 0.82 on most of each leg, with stops in Denver, Chicago, Teterboro, Washington, White Plains (New York), West Palm Beach, Houston, Dallas and Los Angeles, before returning to Las Vegas. The aircraft completed its extensive circuit and returned to its departure point at 04:20 AM local time on the following day, after flying over 5,600NM. This record-setting achievement is a testament to the platform's leading dispatch reliability, a critical productivity factor for corporate flight departments and large fleet operators.
"By connecting 10 of the top U.S. business aviation destinations in 20.5 hours, the Challenger 350 aircraft demonstrated once again its unmatched performance, exceptional reliability and unrivalled value," said David Coleal, President, Bombardier Aviation. "As the most-delivered business jet platform of the last decade, the Challenger 350 jet continues to outperform the competition on all fronts and to provide passengers with the ultimate flight experience."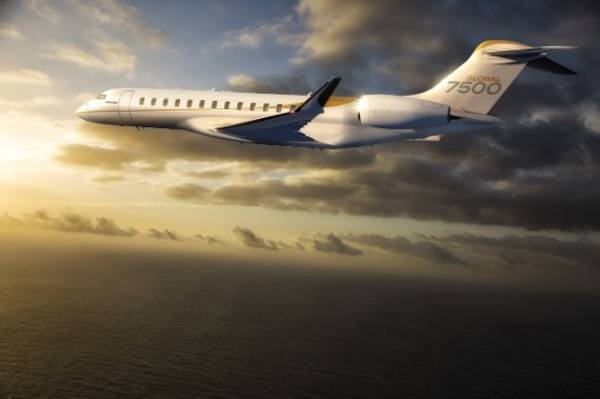 Now... can you tell what Opera and Bombardier have in common? Not yet? In that case, don't miss NBAA-BACE, as Bombardier's l'Opéra will be showcased there!
Bombardier's l'Opéra, the most advanced and high fidelity audio system in business aviation, was unveiled today, featuring full-range speakers, the latest in digital signal processing and seat-centric sound technology, developed for the Global 7500business jet.
"We're pleased to demonstrate yet another innovative feature, like Bombardier's l'Opéra on the Global 7500 aircraft," said Peter Likoray, Senior Vice President, Worldwide Sales and Marketing, Bombardier Business Aircraft. "The Global 7500 jet is redefining the in-flight passenger experience. To that end, we worked with our partners to develop the most advanced audio system in the industry providing an immersive audio experience designed to rival that of advanced home audio systems for the ultimate in listening pleasure."
Bombardier's l'Opéra features optimally positioned full-range speakers that deliver exceptionally balanced sound with an available 1,275 watts of power. A combination of high and mid-range drivers, designed to optimize frequency range and eliminate distortion, are customized by floorplan and positioned to achieve the most balanced sound in any cabin layout offered on the Global 7500 jet.
Bombardier's l'Opéra is a standard feature on the Global 7500 aircraft. With unmatched speed, range and the smoothest ride, the Global 7500 business jet continues to blaze a trail in this new market segment, setting the bar for excellence in the world of business aviation