September 12 2019 a special ceremony at Embraer main facility in São José dos Campos was dedicated to the delivery of first E195-E2, the biggest of the three members of the E-Jets E2 family of commercial aircraft! This is the reason to celebrate for all companies who were working ot this succes - Embraer, Pratt & Whitney, AerCap and Azul Linhas Aéreas Brasileiras!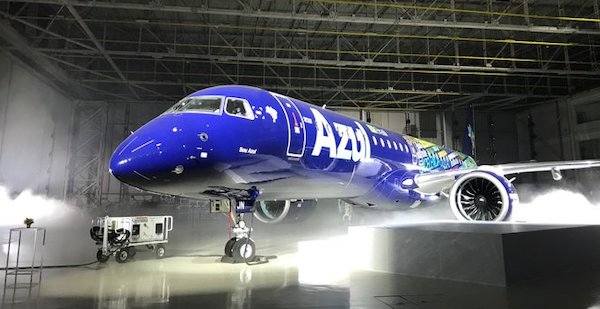 To remind, the recipients are AerCap, the world's largest aircraft leasing company, and Azul Linhas Aéreas Brasileiras S.A. Azul is the global launch operator for the E195-E2 and has placed firm orders for 51 of the type. The airline will receive another five aircraft in 2019.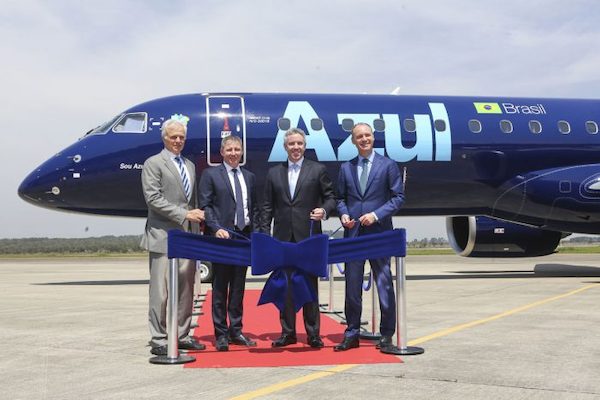 "Today's delivery is a momentous occasion," said John Slattery, President & CEO, Embraer Commercial Aviation. "It's the largest commercial aircraft Embraer has ever built. Passengers are going to love the new interior and airlines are going to love the extraordinary operating economics. It's absolutely ideal for Azul's low-fare business model and for AerCap's fleet portfolio. I'm proud of everyone on the Embraer team who worked so hard to see this day."
Azul is configuring the E195-E2 in a single class layout with 136 seats and will deploy the aircraft on several domestic and international routes.
"Over the last 10 years Azul revolutionized the Brazilian aviation market. We have helped to double the domestic market by providing service to regions, cities and communities that have never had service before, all thanks to the Embraer E195-E1 aircraft. Now with the E195-E2 we are ready to launch the next chapter in Brazilian aviation. We could not be more proud to bring this Brazilian aircraft, built with Brazilian technology and innovation to the Brazilian skies", said David Neeleman, Azul's founder and chairman of the board. "The E2 represents the next significant step in Azul's fleet transformation, further powering our margin expansion story well into the years to come", concluded Neeleman.
"Everyone at AerCap is thrilled to deliver the world's first Embraer E195-E2 aircraft to Azul. We have no doubt that this incredible aircraft will drive two of Brazil's global leaders to new heights. We wish both Embraer and Azul every success with the E-Jets E2 program and we look forward to working with both of them for many, many years to come," said Aengus Kelly, CEO of AerCap.
"On behalf of the entire Pratt & Whitney team, I'd like to congratulate Embraer and Azul Linhas Aereas on this exciting occasion. We are honored to power the E195-E2 and look forward to delivering the GTF's significant economic and environmental benefits when it enters service next month," said Chris Calio, president, Commercial Engines at Pratt & Whitney. "Azul has been a driving force in Brazil's commercial air travel growth, and we are proud to expand our relationship."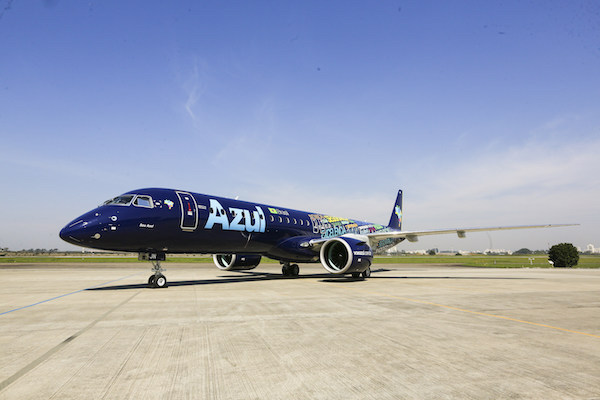 In April, the E195-E2 received its Type Certificate from three regulatory authorities: ANAC, the Brazilian Civil Aviation Agency (Agência Nacional de Aviação Civil); the FAA (U.S. Federal Aviation Administration) and EASA (European Aviation Safety Agency).
Flight tests confirmed that the aircraft is better than its original specification. Fuel consumption is 1.4% lower than expected - that's 25.4% less fuel per seat compared to the current-generation E195. Maintenance costs are 20% lower. The E195-E2 is the most environmentally friendly aircraft in its class, having the lowest levels of external noise and emissions. The cumulative margin to ICAO Stage IV noise limit ranges from 19 to 20 EPNdB, 4.0 EPNdB better than its direct competitor.
"The PW1900G's outstanding fuel burn and low noise will make the E195-E2 a fantastic airplane in today's super-competitive environment," said John Slattery, President & CEO, Embraer Commercial Aviation. "We've worked closely with Pratt & Whitney to ensure Azul has great reliability right from the first flight."
In addition to being selected as the exclusive engine for the E2 commercial aircraft, Pratt & Whitney's APS2600E auxiliary power unit (APU) is the sole-sourced APU for the E2 family. The APS2600E APU gives airlines greater flexibility, by increasing the altitude ceiling for ETOPS and other operations, and providing a significant increase in electrical power delivery, to meet the needs of today's airlines.
The E195-E2 aircraft has more than 25.4% reduction in fuel burn per seat than the previous-generation E195, with NOx emissions 50% below the ICAO CAEP/6 regulation and 19dB to 20dB of ICAO Chapter 4 cumulative noise margin.