A major milestone achieved by Liebherr LAMC Aviation – the delivery of the 100th landing gear strut from Changsha for COMAC's twin-engined regional jet ARJ21 program. Since the first delivery ceremony for the ARJ21's landing gear struts took place in 2016, a lot has happened at Liebherr LAMC Aviation (Changsha) Co., Ltd. The successful joint venture is not only celebrating the milestone of the 100th landing gear strut delivered to COMAC, but it is also on course to ramp up production to 90 landing gears struts per year by 2020.
"Delivery ceremonies are always an exciting event for us", said Arndt Schoenemann, Chairman of the Board of Directors of Liebherr LAMC Aviation (Changsha) Co., Ltd. and Managing Director at Liebherr-Aerospace Lindenberg GmbH. However, the excitement is even bigger when we consider and appreciate all the hard work, from planning to execution that took place since our inception in 2012 to get us to where we are today", he added.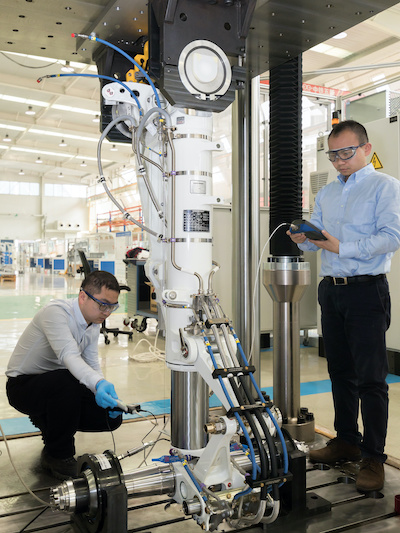 In addition to the ARJ21 program, LLA is also home to the assembly line for COMAC's narrow-body twinjet C919 landing gear struts. The ceremony for the first delivery of the C919 landing gear strut for flight test aircraft 104 from this facility occurred in 2018. The company is set to ramp up production to 145 landing gear struts per year by 2025, and its first delivery of 2 ship-sets (or 6 struts) for series production is scheduled for the 2nd quarter of 2020. COMAC plans to deliver the first C919 to its customer in 2021.
Liebherr LAMC Aviation (Changsha) Co., Ltd. campus comprises an almost 54,000 square foot state of the art facility, equipped with two separate assembly lines – one for each program, ARJ21 and C919. Its new and robust ERP system allows LLA to gain full logistics responsibility - streamlining planning, procurement and inventory turnover. Having logistics autonomy can significantly and positively impact operations as the plan is to grow not only deliveries of new final ship-set assemblies, but also the maintenance and repair of existing landing gears from established operators in the region.
"Chinese air traffic is expected to experience the largest growth globally by mid-2020, and we continue to make strides towards strategic investments in this market. We are very proud of the initiatives we have taken, and continue to take, to grow our footprint in China. We are gearing up to triple our engineering capabilities to support both assembly and service lines for the ARJ21 and C919 programs. Being able to fully support both programs in house considerably cuts down costs for our customers in this region, and, customer satisfaction, is always the ultimate goal for us", said Arndt Schoenemann.