U-Haul International two PC-12s got a newcomer in the family - PC-24 Super Versatile Jet!
Special ceremony was held at Pilatus Business Aircraft to deliver first of two PC-24 Super Versatile Jets to US customer U-Haul International.
In a stylish paint scheme featuring the distinctive U-Haul orange livery, the 27TH production PC-24 aircraft took to the skies for its new home base in Phoenix, Arizona.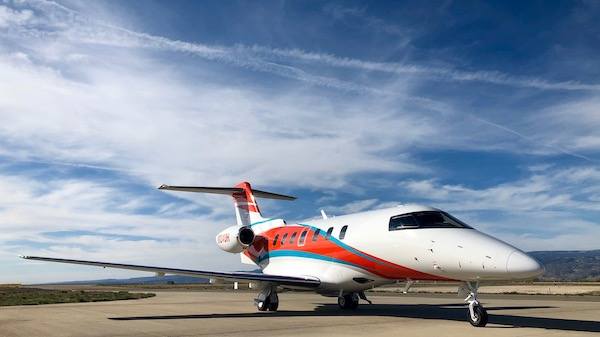 On hand to accept the keys to their first PC-24 was Joe Shoen, Chairman of AMERCO, parent company of U-Haul International, who stated: "We are delighted to start flying this great new aircraft. When Pilatus announced the new jet, we were confident that it would be a real workhorse that, alongside our two PC-12s, would help us manage our growing operations throughout North America. We have been eagerly looking forward to this day."
Thomas Bosshard, CEO of Pilatus subsidiary Pilatus Business Aircraft Ltd stated: "We are extremely pleased to have the honour of delivering the first of two PC-24s to U-Haul International, one of our great, long-time customers. Joe Shoen and his flight department have been on board with Pilatus and the PC-24 since we first introduced the concept to them more than five years ago. Throughout the development and certification of the aircraft they've been looking forward to this day, and we are thrilled to celebrate it with them."
With the aircraft now in operation, the global fleet of PC-24s has accumulated over 4,000 flight hours, with the fleet leader already clocking up more than 1,100 flight hours.
The PC-24 Super Versatile Jet will be on display at Pilatus' static exhibit during the European Business Aviation Conference and Exhibition (EBACE) in Geneva, Switzerland, 21 to 23 May. Reservations for personal viewings may be made onsite or with any Authorised Pilatus Centre.