Russia's United Aircraft Corporation held a press briefing where president Yuri Slyusar focused on the MC-21, SSJ100 and next-gen widebody programs.
Sales of modern jetliners to the developing countries in Asia and Africa were among other topics addressed at the press briefing. Certain carriers from Egypt (Cairo Aviation) and Azerbaijan (AZAL) have already signed for the MC-21. Others are considering the Superjet, whose promotion shall receive a boost through the recent opening of Sukhoi Civil Aircraft (SCAC) office in the Chinese capital Beijing.
Program status
UAC president used Farnborough as a convenient platform to brief international media on the MC-21 program status and plans. In his words, the June rollout was "a key milestone" and "very important event which we had been waiting for so long". The program started in honest in 2007, almost ten years ago. "The operable prototype that rolled out last month was made using the very same technologies that will be used in future to manufacture deliverable examples".
Next target is first flight which Slyusar expects in the first half of the next year. UAC plans to produce four deliverable jets in 2017 and twenty in 2020 before attaining the assembly line's capacity of seventy MC-21s annually in 2023.
Developed by Yakovlev design bureau in Moscow, the MC-21 is in production at the Irkutsk Aviation Plant (Russian acronym IAZ) located in Irkutsk, Western Siberia. It is a product of the Irkut Corporation, which controls both Yakovlev and IAZ, and itself a member in UAC. Apart from the baseline MC-21-300, the aircraft family also includes the -200 shrunk with 150 seats and -400 stretch with 220. Catalogue prices for the MC-21-300 and Airbus A320neo – both available with P&W GearedTurbofan (GTF) engines – are US$ 85 and 107 million, respectively.
According to UAC president, Pratt&Whitney's GearedTurbofan (GTF) is an essential element in the factory configuration of the MC-21-300. Out of the growing GTF family, the PW1400G is a special version for the Russian twin jet. Yuri Slyusar described GTF as "the most modern family of engines built to the innovative geared fan concept". Other members of the family are already in service on the Bombardier CS100 and Airbus A320neo. The latter types commenced revenue flights earlier this year.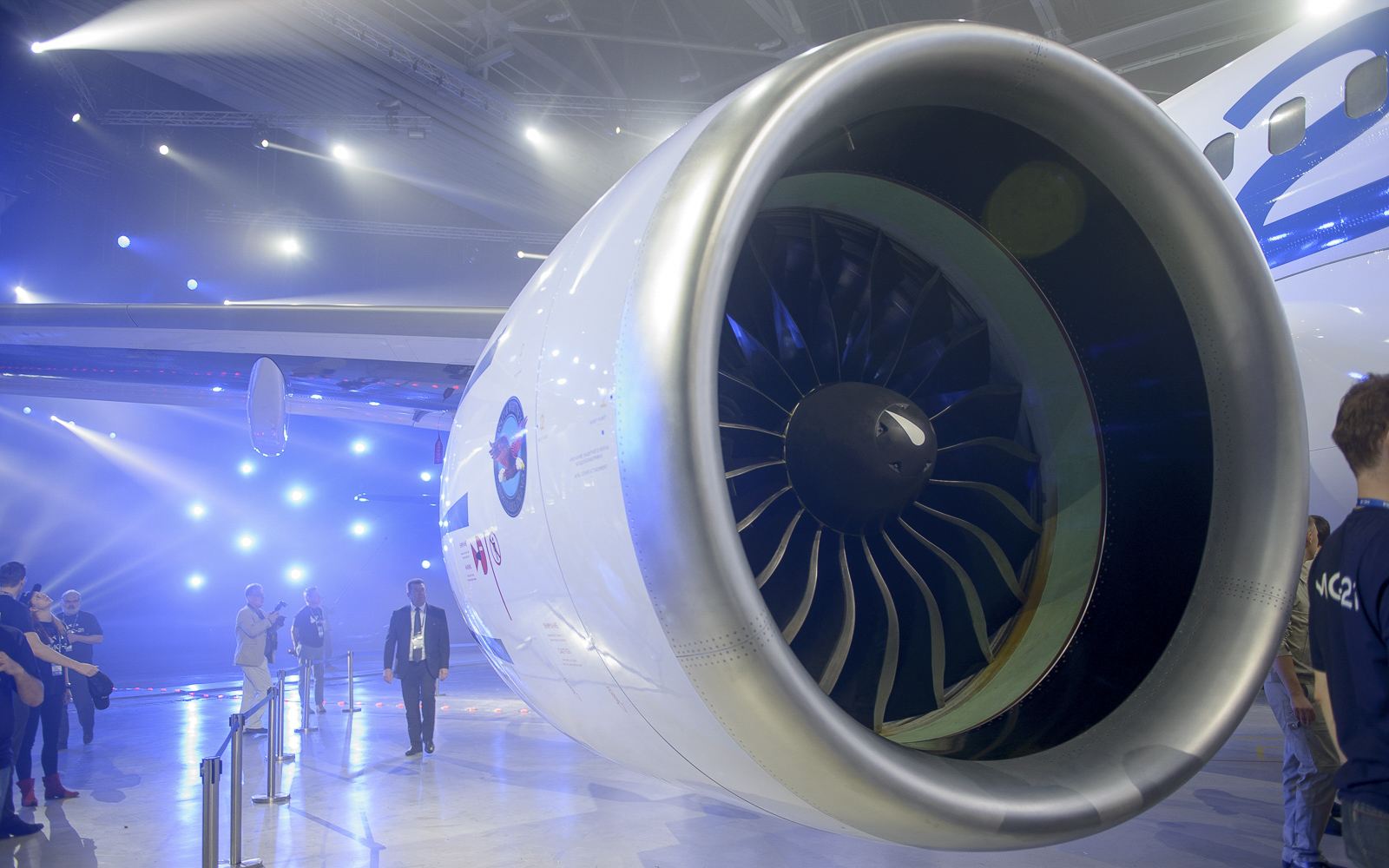 Optionally, the MC-21-300 is offered with the PD-14 turbofan developed by the Aviadvigatel design house in Perm. UAC president believes that "a choice of two engines is better than having no alternative". This improves attractiveness of the new jet in the eyes of airline customers "who can choose a configuration that suits them best".
"Our colleagues from the United Engine Corporation have pledged to acquire type certificate in 2017 from the Air Register of Interstate Aviation Committee (CIS civil aviation authorities). Their next target is timed for 2019-2020, when, after additional testing is complete, they shall win a complimentary certificate for use of that engine on the MC-21".
Gambling on technology
When the show at Farnborough was on, a freshly made set of wings arrived at in Zhukovsky at the Central Aerohydradynamics Institute (Russian acronym TsAGI). UAC president provided the following comment: "The MC-21 wing is made of composite materials using modern diffusion technologies without involving autoclaves. The ongoing tests on both the prototype and wing specimens are to make sure the newly manufactured wings are up to the advertised performance, and that the design targets are fully met. We are immensely proud of the work our employees did on the respective technologies, their implementation and making of the first sets of wings. From the scientific, technical, technological and innovative points of view, the work done deserves the highest praise. What's left is to prove in tests that the wing performs up to our expectations. Ahead of us lays a very tense period of preparations to maiden flight, which is expected in the first half of the year 2017".
The all-composite wing is notably lighter than metallic, and contributes 8% to the MC-21's combined 20% better fuel efficiency over in-service aircraft. To make 20-meter-long wing consoles, AeroComposite uses an automated system to lay down a pre-form as a set of twenty four carbon bents each 6mm wide. Then it goes into so-called vacuum sack. Where, the binding substance is being applied. Firming up is done in a special heating device (different to typical autoclave as it develops lower temperatures). The manufacturer asserts than no other technology makes it possible to manufacture the wing of that aspect ratio with given lift/drag and weight efficiency.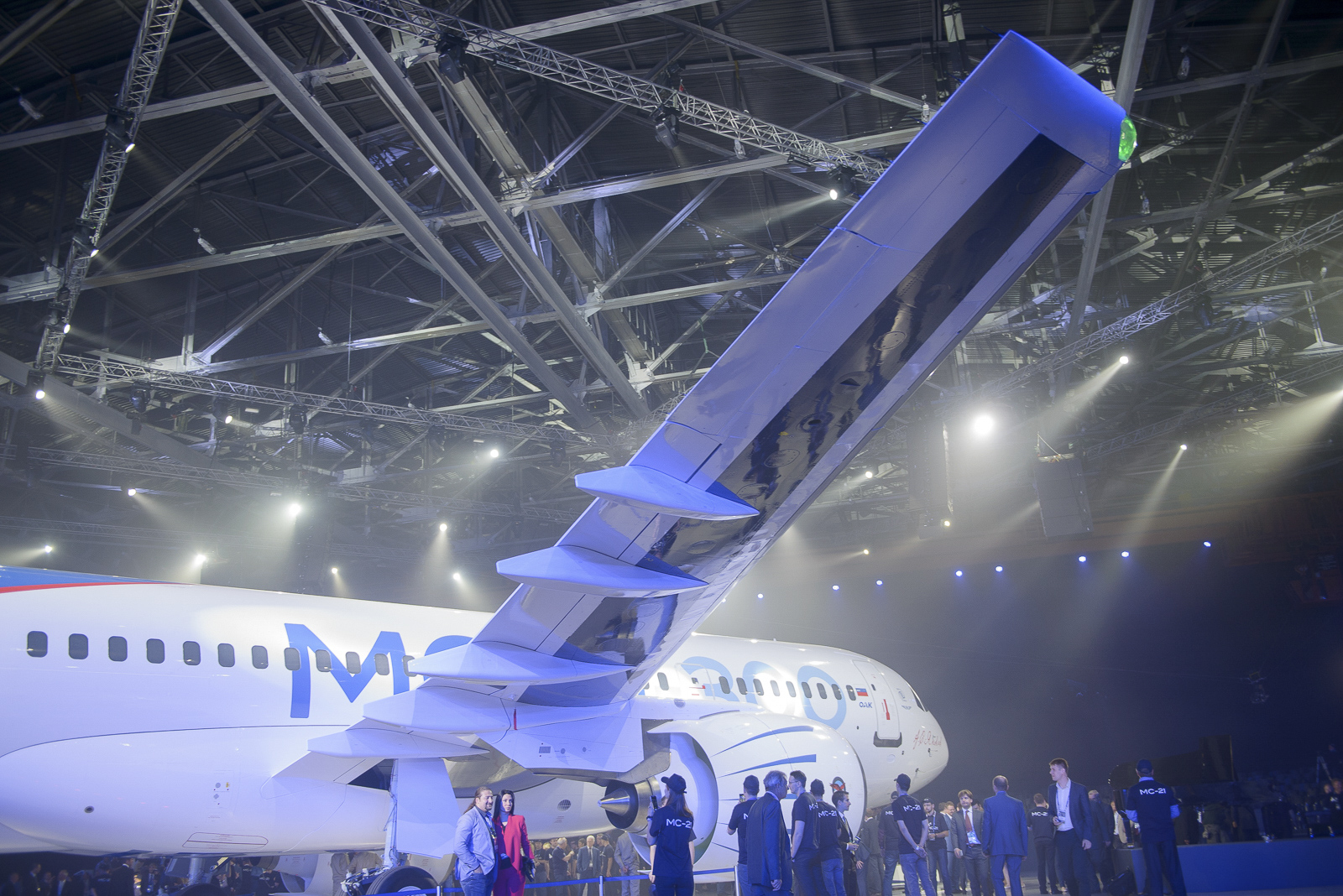 The wing consoles, and the center wing, are the single largest parts made of composites in the MC-21 airframe. Besides, composites are present en mass in the empennage, fairnings and other airframe parts. The share of composite materials in the MC-21 structural weight is at 40-45% compared to 10-15% for the Boeing 737NG and Airbus A320 attributed to the previous generation of the narrow body jets.
Composite parts for the aircraft are supplied by the recently erected factories in Ulianovsk and Kazan run by the AeroComposite company. These parts are made using the revolutionary technology of vacuum infusion (developed jointly with Hexcel, Diamond, FACC AG and other western firms). This provides a sharp contrast to all other makers, including Airbus and Boeing: these continue to rely on the classic manufacturing methods that necessitate use of big, expensive autoclaves.
Gambling on such promising technologies as the vacuum infusion seems inevitable for a manufacturer which is seeking to achieve a substantial boost in flight and cost performance in the domain of narrow body jets. The new technology promises substantial cuts in manufacturing costs. Even though it is yet to be declared mature enough for mass production, AeroComposite has already manufactured several sets of composite parts for testing and operable prototypes.
Other modern materials in the MC-21 airframe include Aluminum-Lithium alloys of a third generation. Unlike wings and empennage, the fuselage is made largely of metal using advanced manufacturing equipment from Broetje, Durr, Premium Aerotec, Demag, Hymer and other European firms.
The MC-21 production line is being set at the Irkutsk Aviation Plant, Russian acronym IAZ. Today, this enterprise is famous for manufacturing the Sukhoi Su-30 family of combat jets. The Su-30SM version is in service with the Russian Air and Space Force which employs them in Syria. Foreign customers for the type include India (which ordered 272 Su-30MKIs and negotiates for more), Algeria (over fifty Su-30MKAs) and Malaysia (18 Su-30MKMs). Over the past few years, IAZ annual production output averaged at 40-50 combat jets and assembly kits. This enables it to keep over 12,000 jobs and generate a profit, which largely goes for renovation of manufacturing equipment.
Reportedly, the Su-30 customers are very happy about the technical level, operational performance and reliability of their aircraft. Aftersales support have generally been streamlined and goes smoothly now. Russia is trying to explore this fact in the ongoing marketing campaign for the MC-21. "Once we make superb combat jets, why can't we make a good passenger plane?!" That is a sort of argument the sales managers have been using in talks to Asian customers. They seem to have successfully employed it in negotiations with CRECOM, having talked this Malaysian company to sign for 50 MC-21s in 2010.
Market niche
Boeing estimates the global market for narrow body jets at 26,730 units in 2015-2034. Combined monthly output of the Airbus A320 and Boeing 737 aircraft (the two major products in this segment) stands at eighty units. By 2020, this rate is going to increase up to 120. With a planned annual output of 70 aircraft, the MC-21s is unable to pose an existential threat to the duopoly. Realistically, UAC can only hope for a small share in the global market for new narrow body jets.
In today's market, demand exceeds supply. The European manufacturer sold 1,253 A320s in 2013, 1,321 in 2014 and 966 in 2015, while deliveries numbered 493, 490 and 491 respectively. As of January 2016, its backlog was 5,535 or 401 aircraft more than a year ago. The backlog is so huge that it gives Airbus ten years of production at today's rates. But orders continue to come; the European maker does not expect matching its manufacturing capacity against the new order intake earlier than 2020. Boeing delivered 495 Boeing 737s in 2015, and has a broadly similar situation.
Does anyone wanting a brand new narrow body have to wait for ten years in the queue? Surely, some would love their airplanes earlier. This gives a chance to the new entrants: Bombardier C Series, AVIC C919 and Irkut MC-21. They can eat out a portion of the huge market which may well justify the investments into R&D and production set-up, measuring in billions of dollars.
Airline customers
Four Russian airlines – Aeroflot, NordWind, IrAero and Red Wings - have signed for the MC-21. Two of them hold direct purchase agreements with the manufacturer. In 2010, NordWind Airlines signed for 3 firms and two options. Three years later, IrAero ordered ten airplanes.
Aeroflot hopes to benefit from the MC-21's performance that shall surpass that of the Boeing 737-800 and Airbus A320/A321 already in the fleet of the Russian flag carrier. That is why the airline agreed to take such aircraft from Rostec-controlled Aviation Capital Service (ACS) lessor which awarded Irkut the order for 50 firms and 35 options in 2011.
Other lessors that signed for the MC-21 are Ilyushin Finance Co. with 22 firms and 28 options (deal signed in 2010), VEB-Leasing with sixty (2011 and 2013) and Sberbank Leasing with 20 (2013). These and other signings gave the manufacturer a base to claim the backlog of firm orders and commitments at 175 units.
Red Wings CEO Eugeny Klyucharev says he is happy with Tupolev 210-seaters the airline flies inside the country and into popular tourist destinations abroad. "The Tu-204 has proved effective on our route network, demonstrating best performance on services lasting two-three hours", he insisted. "We are considering taking more such aircraft on operating lease terms and, later, the more advanced MC-21". In 2013, Red Wings and Ilyushin Finance Co. signed an agreement with on ten MC-21-300s. Earlier, the lessor provided the carrier with the Tu-204/214 aircraft, on financial lease terms.
Alexander Roubtsov, director general with Ilyushin Finance Co., says: "In my view, the MC-21 represents the best offering in the global market for narrow body jetliners when it comes to quality/price ratio. Compared to other types available today, it is eight to ten tons lighter. Consequently, it burns less fuel. Besides, the MC-21 comes with an all-composite wing of high aspect ratio. Such a wing generates less drag, which further improves the airplane's fuel performance. The next advantage is passenger cabin, which is ten to twenty centimeters wider than the competition. This ensures higher passenger comfort and shorter turnaround times in airports".