Kopter Group started the active promotionof SH09 in Brazil with the appointment of Gualter Helicopteros as its representative & distributor.
The partnership between the two companies was signed on the first day of the LABACE 2019. Christian Gras, Kopter Executive Vice President Customers declared on this occasion: "With more than 30-year experience in the helicopter business and having introduced several helicopter models in the Brazilian market, Gualter Helicopteros is the right partner to ensure the success of the SH09 in Brazil. The team has an impressive track record, having sold over 600 new and used helicopters on the Brazilian and South American markets".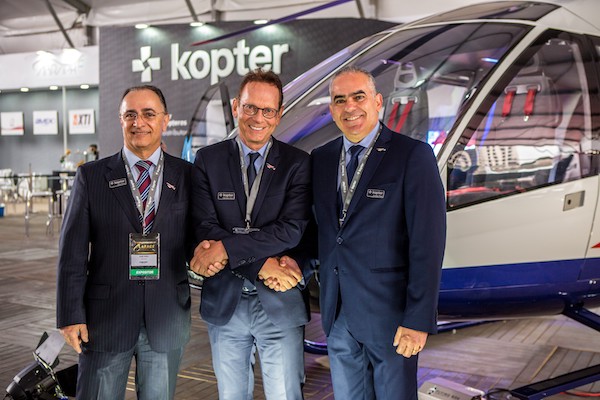 Brazil, which has a solid aeronautical tradition and is the world third largest aircraft industry, counts today more than 1,800 helicopters in operations, including a large part of single engine models.
It represents a unique opportunity for Kopter's SH09 as the helicopter perfectly meets the market expectations for a modern, performing and cost-effective platform to replace an aging fleet.
For the first time, Kopter is showcasing the full-scale mock-up of its SH09 in Brazil at the exhibition. The SH09 is fitted with a seven-seat transport configuration (five passengers and two pilots) developed and installed by Metro Aviation. The mock-up also features the Garmin G3000H, a state of the art avionics suite for which Kopter is the launching customer. The G3000H will be integrated in the SH09 since the very first delivery. It will significantly reduce pilot workload, increase situational awareness and boost the aircraft's operational safety margins.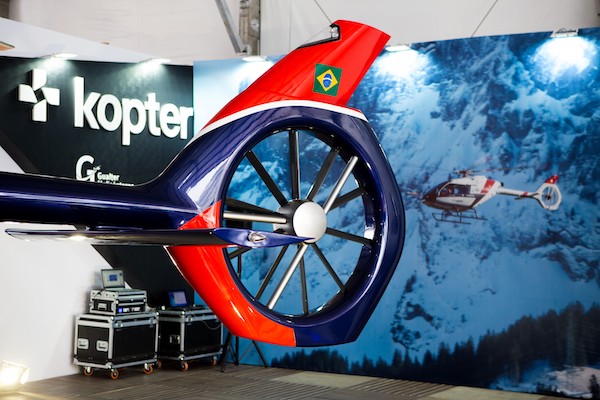 The multi-role SH09 helicopter is a highly adaptive and versatile platform to transport passengers with the highest levels of safety, comfort and visibility. Its large cabin offers the volume and flexibility typically seen on light-twin helicopters only. It allows multiple interior layouts that provide ample legroom as well as flexibility for added luggage loaded through the rear clamshell doors.
The helicopter's low vibration levels with its five-blade main rotor, as well as the silent noise signature of the shrouded tail rotor, create the ultimate flying experience.
The SH09 is generating a strong response on the worldwide market, having today a total number of orders amounting to 70 units, to which another 100 LOIs are to be added.
Kopter looks forward to welcoming Brazilian operators to its list of customers.