30 years of FACC: Since its foundation in 1989, FACC has developed from a start-up into a globally leading technology group in the aerospace industry. Today, all major players in the aviation industry are among FACC's customers. More than 3,500 employees develop and produce high-tech components for state-of-the-art aircraft. High growth and innovation leadership over the past three decades have driven last year's sales to a record level of EUR 780 million - all the more reason to celebrate these great achievements in style.
FACC invited partners, long-time companions and friends to its anniversary celebration under the motto "30 Years Beyond Horizons" at the Scalaria on Lake Wolfgang. FACC CEO Robert Machtlinger as well as the two owner representatives Ronghuai Luo, AVIC President, and Ruguang Geng, Chairman of the FACC Supervisory Board, were delighted to welcome numerous prominent guests from Austria and abroad, including representatives of all important customers who had flown in directly from the Paris Airshow, as well as top representatives from business and politics.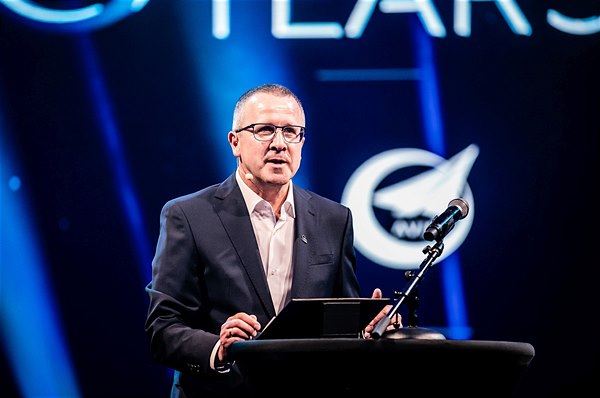 "What began as a vision of a handful of pioneers has evolved into a leading global technology partner for the aerospace industry over the space of just three decades. This required innovative strength, passion, the right partners and a motivated crew. We would like to express our sincere thanks to each and every one of you." These were the opening words of Robert Machtlinger, who took the opportunity to thank everybody who had contributed to the company's success. His future outlook for FACC remains promising: "We can be proud of our achievements - our pioneering spirit and passion remain unchanged. But more importantly, we must keep our eyes on the future. We will embrace and rise to the challenges of the industry. We wish to shape the mobility of the future in a sustainable and efficient way with novel technologies and the materials of tomorrow. Our aim is to manufacture the best possible products that will make us and our customers even more successful."
The guests were guided through the anniversary event by fascinating virtual worlds of experience in the Teatro of Scalaria, presented by ZiB anchorwoman Nadja Bernhard: The milestones of FACC's 30-year history and its 10-year partnership with AVIC were showcased in a specially created multimedia show. One of the numerous highlights was the impressive drone formation, which allowed onlookers to vividly experience FACC's innovations in the night sky of Lake Wolfgang. Modern and deconstructed classic background music accompanied by a ballet performance of a state opera ensemble as well as a modern opera show turned the celebration into an unforgettable evening.