Last week São Paulo hosted Latin America most important business aviation event - The Latin American Business Aviation Conference & Exhibition. Let's have a look on Dassault Aviation participation at the latest LABACE. Most important things showcased - Dassault's Falcon 8X, new Falcon 6X ultra-widebody twinjet, FalconEye Combined Vision System.
South America has emerged as one of the strongest markets for the Falcon 8X! The reason is quite simple - Falcon 8X is capable of connecting São Paulo with San Francisco and Moscow, Hong Kong with London and Shanghai with Los Angeles.
Dassault did promote its new Falcon 6X ultra-widebody twinjet, which is on track for certification and initial deliveries in 2022.
Dassault featured a virtual representation of the revolutionary new FalconEye Combined Vision System, the first head-up display in the industry to combine synthetic and enhanced vision capabilities.
As well as ensuring superior situational awareness in all conditions of operation, day and night, FalconEye makes it possible to reduce minima in low visibility landing conditions, providing a substantial operational benefit. FalconEye was recently approved for low visibility approaches with 100 ft minima. The option is available on the Falcon 8X, the 2000S/LXS model family as well as the ultra-versatile 900LX trijet.
"Operators appreciate the unparalleled safety, state-of-the-art technology and cabin comfort – particularly the smooth, quiet flight and seamless in-flight connectivity – offered by our Falcon line," said Eric Trappier, Chairman & CEO of Dassault Aviation. "With the business environment in South America, and Brazil in particular, rapidly improving we are bullish about Falcon prospects in the region."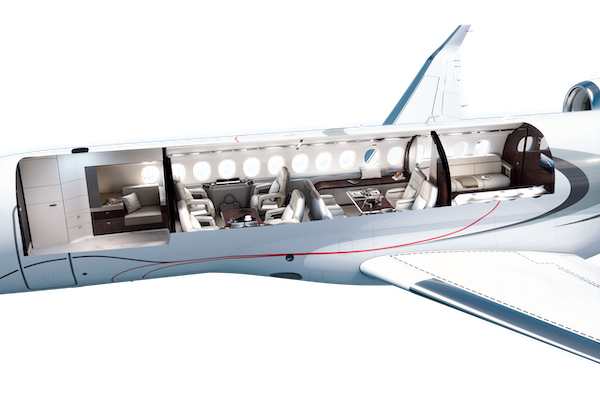 Strong demand in Latin America for Falcon 8X
The unrivaled airport performance and flying comfort offered by the Falcon 8X, particularly the ultra low noise levels in the cabin — the lowest in the industry — have made the big new trijet especially popular in Brazil and other Latin American markets.
The aircraft features a cabin 1.88 m (6 ft 2 in) high, 2.34 m (7 ft 8 in) wide and 13 m (42 ft 8 in) long and offers customers the most innovative selection of cabin layouts on the market including a shower option and a large entryway with a certified crew rest for very long flights.
The 8X recently provided a fine demonstration of its operating flexibility when it set a new coast-to-coast speed record, flying from Santa Monica, California, to Teterboro, New Jersey in just 4 hours and 28 minutes. What makes this performance particularly remarkable is the combination of range and speed realized during the flight and the challenge posed by Santa Monica's short 3,500 foot runway and strict noise abatement departure procedure.
The 8X's industry-leading Digital Flight Control System offers exceptionally smooth flying comfort and the cabin features the latest in high-speed connectivity, including Dassault's FalconConnect option, a new inflight broadband service that integrates all cockpit and cabin ground-based and satellite communications into a single bundled offering, making onboard connectivity systems easy to use and consumption simple to manage and control.
The Falcon 2000LXS, and its shorter range sibling, the Falcon 2000S, offer a short-field capability and low fuel burn comparable to smaller midsize business jet models but with a range and comfort level far better than those aircraft. Equipped with a next-generation EASy flight deck and the FalconCabin HD+ cabin management system, the 2000LXS/S models offer a combination of airport performance, cabin design and efficiency unique in their class.