MTU Aero Engines has been developing and manufacturing brush seals for many years. Made up from thousands of wires – each just a fraction of a millimeter thick – these seals are a highly effective way of reducing leakage in aircraft engines as well as in steam and industrial gas turbines and other industrial applications. Thanks to their flexibility, they perfectly adapt to the moving surfaces to be sealed. They also stand out for their stable operating behavior and high temperature resistance.
"As compared with conventional labyrinth seals, brush seals reduce leakages by up to 90 percent," says Benjamin Großkurth, senior manager, brush seal production at MTU Aero Engines. "This in turn boosts the overall efficiency of a power plant and reduces its ecological impact, as higher efficiency goes hand in hand with lower fuel burn and CO2 emissions."
Brush seals are not only used in engines, but have now found their way into further applications, such as in a special tool for additive manufacturing, or 3D printing, such as for extremely thin-walled aerospace components at Munich-based Ariane Group GmbH.
A powder scraper applies a thin layer of metal powder on a build platform. Then, a powerful laser melts the material exactly as defined by the computer-generated component design data. As a result, the component is built up layer by layer from bottom to top in increments of just a few micrometers, depending on the application.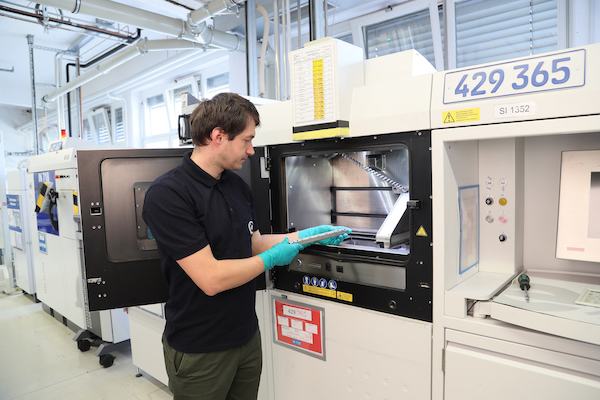 However, there was a point where the complexity of aerospace components, many of which feature sophisticated internal structures, pushed even the highly advanced 3D printing process to the limits of its capacities. MTU's brush seal experts came up with the idea of modifying the seals such that they can be used as "soft" powder scrapers in 3D printing facilities. While these scrapers are rigid enough to permit the metal powder to be applied in very thin layers, they possess sufficient flexibility to prevent breaking of wires as a result of contact with the component. The cut ends are custom-designed for the individual 3D printing facilities. "Thanks to this new technology, we have markedly fewer process disruptions and the scrap rate has gone down appreciably as well. MTU's brush seals help us save valuable production time," explains Ariane production engineer Dr. Fabian Riss. Meanwhile the scraper has proved its worth in production.

Germany's leading engine manufacturer has ample experience with tasks like this one: For years, MTU's design engineers have been using their expertise in the field of sealing to adapt brush seals for use, for example, in pumps, machine tools and special machinery as well as for marine applications and in coal mills. MTU also has set up a separate development and production area for the additive manufacture of engine components, such as borescope bosses for the geared turbofan engine family.