The Soviet aircraft industry really like building big. And the Russians can still claim the title of world's largest aircraft, with the Antonov AN-225 heavy lift transport, which has a larger wingspan than the Airbus A380. But during the 1930s, the Russians were working on a machine that may have dwarfed even the Millennium Falcon.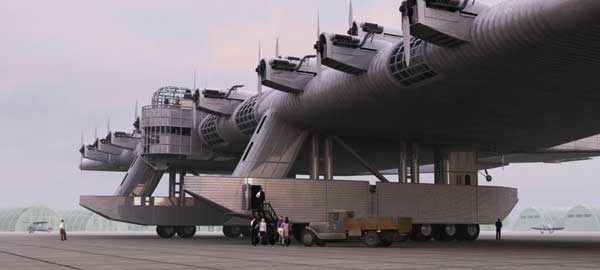 With a wingspan of 132.5 metres (a Boeing 747′s wingspan is 68.5 m) and 20 propeller engines, this design is based on a 1932 prototype called the Kalinin K-7, which was a Soviet heavy experimental aircraft. The K-7 was designed as a multipurpose civil and military aircraft. Passengers and payload were housed in the wing, with plans to carry up to 128 passengers. Other designs arranged 16 luxury cabins for 64 passengers.
The military version of the aircraft was a real "flying fortress", which emerged 10 years before the American Boeing B-17. It had as many as 12 gunner positions, which included an electric cart running along the tail booms to transport gunners to two tail machine guns. It could carry more than 16 tons of bombs, 112 fully equipped paratroopers or 8.5 tons of parachute droppable equipment. While no specs are provided for the 2.5-times-larger version, the original K-7 prototype did fly with a takeoff weight of 38 tonnes, although the aircraft was destroyed when it crashed in 1933, and no further prototypes were built.