The Chief of French Air- and Space-Force (Fr.: Chef d'état-major de l'armée de l'air et de l'espace, CEMAAE), General Philippe Lavigne, directs the air and space forces of France and acts as the principal advisor to Chief of the Defence Staff on subjects concerning the aviation and space. And he made a test flight in the Velis Electro!
On 19. May, the General Philippe Lavigne, Chief of French Air- and Space-Force and Colonel Anne-Laure Michel both flew the electric plane, Pipistrel Velis Electro, at the base of the 107th Villacoublay airport. The Air Jeunesse d'Evreux squadron welcomed them during a brief ceremony when the airplane was presented. The CEMAAE enjoyed the flight and expressed his satisfaction with the plane.
General Lavigne gave an impressive speech in which he stressed the importance of the union of the French Civil and Military aviation to promote innovation, and expressed his enthusiasm for the Pipistrel Velis Electro. He closed the speech with the words, describing the plane: "Incredible silence, incredible ease of riding and for a start of flight training, it is excellent."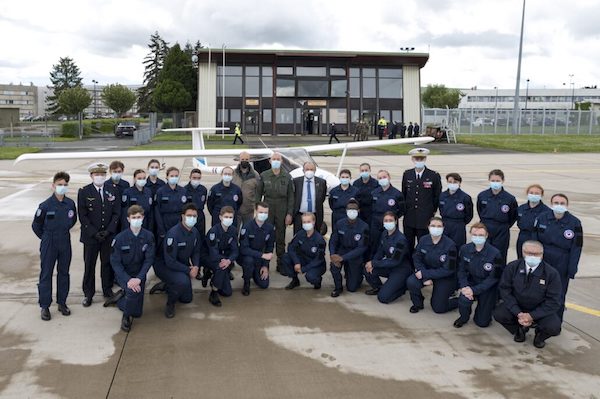 Pipistrel would like to thank the French Air Force, General Lavigne and his team for their interest in Pipistrel and the Velis Electro, looking forward to many flights in cooperation.
The Velis Electro is very well accepted in France and also appreciated within the French Aeronautical Federation (Fédération Française Aéronautique, FFA). The President of the FFA, Mr. Jean-Luc Charron, praised the airplane and gave his content at having it in the fleet.
Lately, FFA posted a beautiful video about learning to fly, which doesn't need to remain just a childhood dream. A Velis Electro is the star of the video. It is now broadcasted on all French national TV Channels.